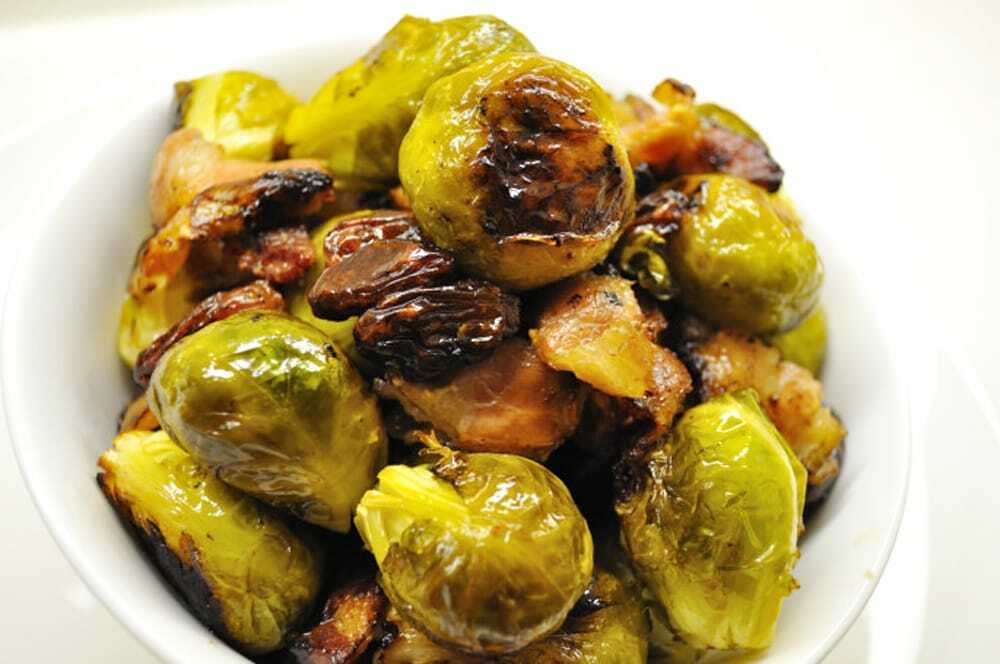 Green Candy – Brussel Sprouts & Bacon Recipe
Every second Sunday we feature a little slab of happiness on Food Gypsy… bacon is gooood.
Plus,  April is "Veg Head Month" but we don't want to go to fast into this while veggie thing.  So, veggies with bacon.
Mmmmmmmmmmmmmmm.
Four ingredients (six if you count seasoning) and you have a veggie dish that kids (of all ages) go crazy for.   Even haters of brussels have been converted by "Green Candy".
Roasted, those wee cabbage brains take on a sweet taste.  Roasting together with bacon fat, and some big juicy sultana raisins and they become pop you our mouth addictive.
How easy is that.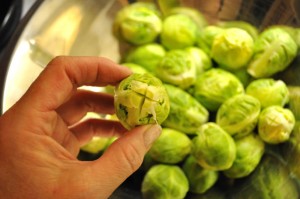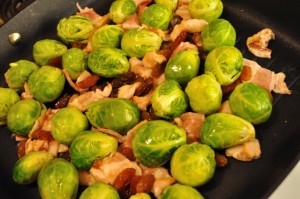 Green Candy – Recipe
Ease of Preparation: Easy
Time: 45 minutes
Serves: 4
Ingredients
1 1/2 pounds bushel sprouts, whole – cleaned & prepped
6 slices of lean smoked bacon, cut in 3/4inch pieces
1/2 cup large sultana raisins
1 tablespoon olive oil
salt & pepper, to taste
Preheat oven to 350*F
Method
With pairing knife cut small "X" in bottom of each brussel sprout. This helps heat to penetrate the stem so they cook evenly.
In large bowl toss brussel sprouts, bacon & raisins with olive oil to coat.
Evenly distribute, one layer deep in shallow roasting pan.
Place in 350*F oven for 20 minutes, remove and gently turn, return to oven 20 – 25 minutes.
Season as needed and serve.
That's it.  Serve as a side or as a snack.  Consume with great abandon. This has got to be good for you.
Bacon makes everything better.