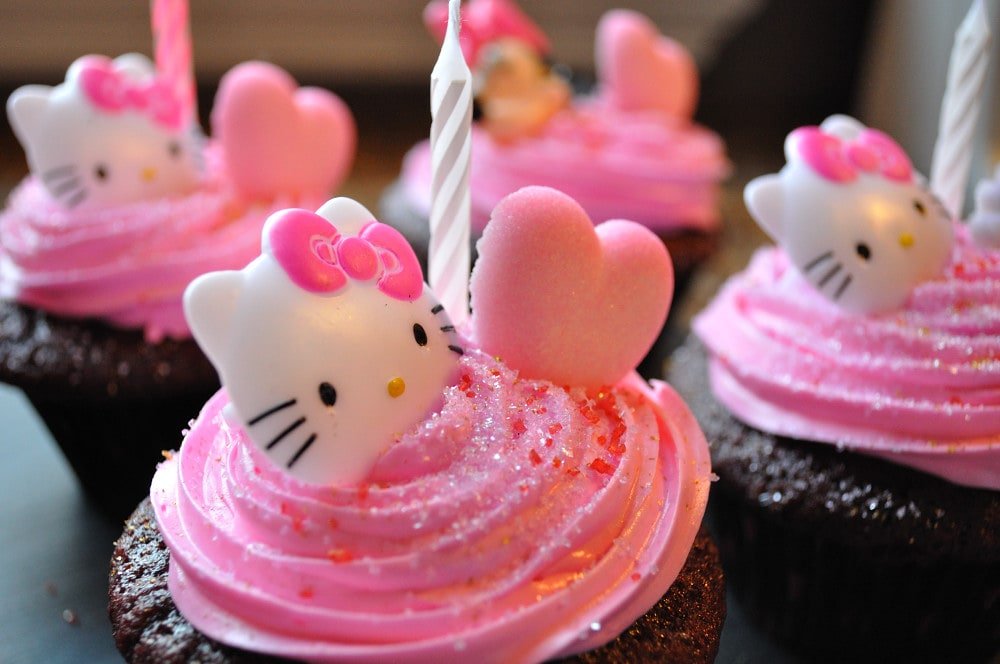 Red Velvet Cupcakes – Hello Kitty!
It's birthday season once again at Chez Gypsy. We begin with the Junior Miss and her fourth birthday celebration, and what better way to say "happy birthday" than with Red Velvet Hello Kitty Cupcakes.
She loves chocolate, we love chocolate. Red velvet tastes like chocolate but looks like sinfully rich, red cake. Topped with a perfectly pink butter cream, adorned with sugar hearts and Hello Kitty rings (which are now coveted pieces of jewelry that match her entire Hello Kitty wardrobe). Oh sure, Minnie Mouse may have made an appearance but I assure you she was a mere bit player to the superstar that is… Hello Kitty.
In the directions for the cupcakes below, you might note that I did not include an electric mixer in the method. As a general rule, unless I'm making a chiffon or angel food cake, I mix most cakes by hand in the home kitchen. Over beating a cake mix makes for tough cake. So I like to take a good old fashioned wooden spoon, or spatula to task to assure tender little cupcakes.
Besides, I had a little helper in the kitchen for the red velvet Hello Kitty cupcakes. Tasked at stiring batter and setting out cupcake liners, were tiny four year old hands, eager to learn. Start 'em young and bride 'em with licking out the bowl!r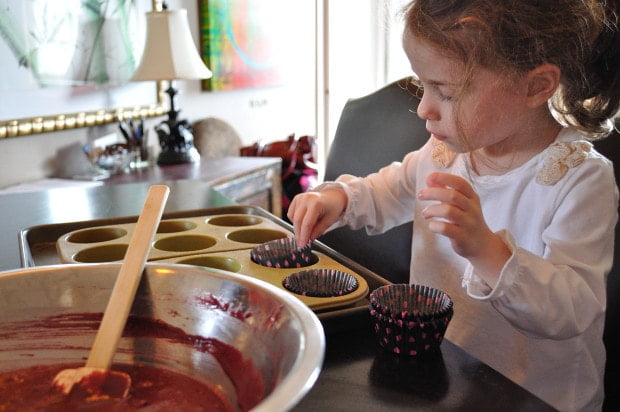 Red Velvet Cupcakes Recipe
Preparation time: 45 minutes (including icing)
Cooking time: 20 – 25 minutes
Yield: 18 – 20 cupcakes
2/3 cup unsalted butter, at room temperature
2 cups sugar
2 large large eggs, at room temperature
2 teaspoons vanilla extract
2 1/2 cups all-purpose flour
1/4 cup cocoa powder
1 teaspoon baking soda
1/2 teaspoon baking powder
1/4 teaspoon salt
1 1/2 cups buttermilk, at room temperature
1 1/2 tablespoons white vinegar
1 teaspoon red food colouring
Butter Cream Icing
1 cup butter, softened
3 1/2 cups icing/confectioners' sugar
1 teaspoon milk
1 teaspoon vanilla extract
1/8 teaspoon salt
2 – 3 drops red food colouring (to tint pink)
Method Cupcakes:
1. Preheat the oven to 350° F. Line muffin pans with cupcake liners, and if using a metal pan, spray surface with non-stick spray to prevent any overflow from sticking.
2. In a large bowl, beat the butter until smooth, then add the sugar and beat until light and fluffy. In a separate small bowl, lightly beat eggs and vanilla to combine, then add to the sugar mixture and beat until creamy.
3. In a separate bowl, whisk together flour, cocoa powder, baking soda, baking powder and salt. Add the dry ingredients, in two parts alternately with the buttermilk and mix until smooth. Using the same small bowl you used for the eggs, combine the vinegar and food colouring and add it to the batter, mixing, until blended in. Carefully ladle cake batter into the prepared cups, filling to 3/4 full.
4. Bake cupcakes for about 20 – 22 minutes, or until a tester inserted in the centre of a tester cupcake comes out clean. Cool red velvet cupcakes in their pans for about 20 minutes, then turn them out to cool completely before icing and decorating.
Method Butter Cream:
1. In your mixer bowl beat soft butter with paddle attachment until smooth, add salt, then add icing sugar, one third at at time, mixing on low until well blended.
2. Add the milk and vanilla and beat at medium for about minutes or until smooth and creamy. Then tint with food colouring to desired shade and beat another minute or two before piping or spreading as needed. For the cupcakes you see here we used a medium star tip and a bit of decorative coloured sugar.
Cupcakes freeze, unadorned, very well. Butter cream frosting also keeps well, it can store in the refrigerator for about five days, only requiring a bit of paddle work to soften it up to use, or freeze it and thaw when needed.