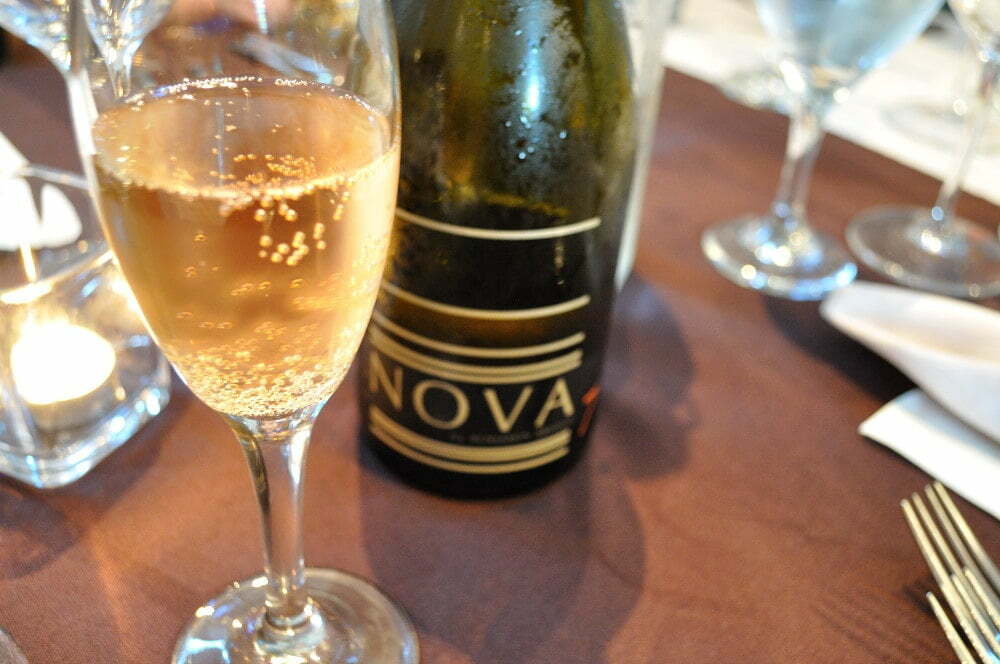 Benjamin Bridge, Nova 7 2013
A harmony of sea, sky and earth meet in Nova 7 from Benjamin Bridge, a light, fresh sparkling wine that is the toast of Nova Scotia.
With a cast of delicate rose in the glass, whispers of floral scent under toned with lime, and the crisp finish of apple, this is a wine that moves smoothly from brunch to aperitif. Off dry, this appellation blend relies on the resilience of Muscat in a short growing season and the blessings of Nova Scotia's Gaspereau Valley, just off the Bay of Fundy.
This region of Nova Scotia bears a surprising resemblance to the cool climate of Champagne, so Niagara based wine maker and consultant Peter Gamble decided to to treat the Muscat as a d'Asti to get the cash flowing while champagne style vintages age, with a result that is nothing short of extraordinary. Filling glasses since 2007, Nova 7 is now handled by local winemaker Jean-Benoit Deslauriers, with each vintage offering unique tasting notes and a loyal cult following.
Local Muscat, blended with the right whites for a balanced acidity, highlights Muscat's light, fruity flavour. Think dry Riesling combined with moscato d'Asti and it's tiny bubbles, for an off-dry wine with a mouth of apricot, a salty minerality and a green apple finish. That combined with a smooth, fresh effervescence an alcohol point of just 6.5% and you have a wine of surprisingly enduring quality. At a price point of $29.95 this release is expected to sell-out, much like it's predecessors. Gypsy Scorecard 91/100.
Pair with Asian dishes. Thinking this would be particularly good with a Thai Green Curry or Vietnamese Lemongrass Chicken. Also a natural pairing for seafood, or soft creamy cheese.
One of the key reasons I chose to review this wine is because, unlike many of it's provincial counterparts, Nova 7 is now available in much of Canada. Food Gypsy readers in Nova Scotia, New Brunswick, PEI, Quebec (SAQ), Ontario (LCBO Vintages), Manitoba, Alberta and the Yukon be sure to check the shelves of your local wine store for bottles of Nova's stunning bubbly (handy link: www.benjaminbridge.com/buy ).
A taste of Benjamin Bridge Nova 7 2013 has now put the vineyard on the top of our list of Nova Scotia winemakers to taste and explore on our next visit. Particularly interested in trying there other sparkling wines and Brute Reserves crafted in the time consuming Méthode Classique that are rumored to rival a decent French Champagne. (Hmmmm, really?! Can't wait to try that!)
A toast, to a beautifully crafted wine in challenging conditions; proof that inspiration can turn adversity, into opportunity!