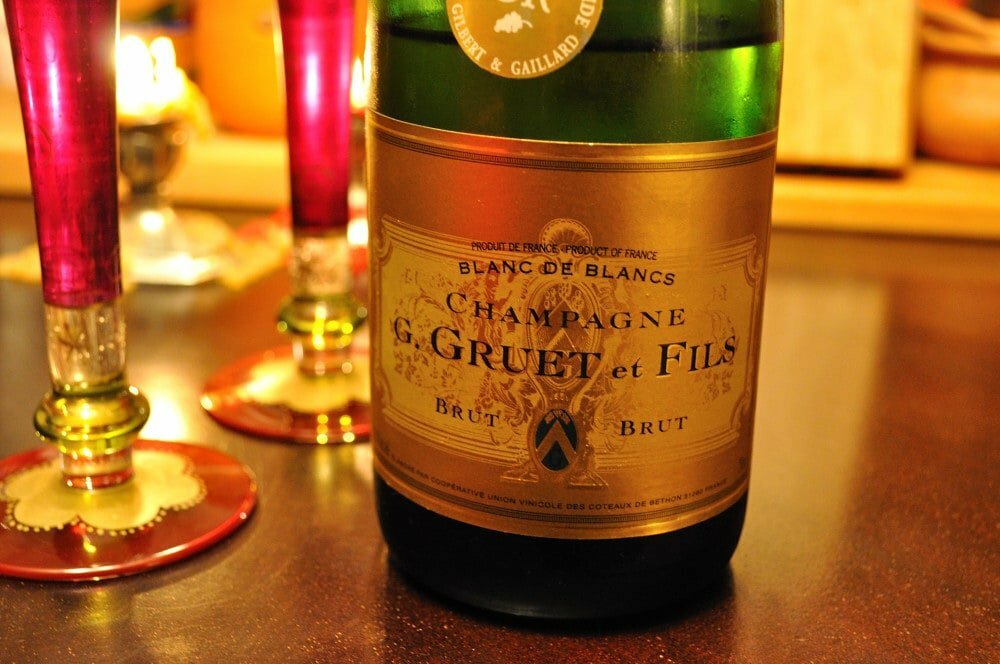 G. Gruet & Fils Blanc de Blancs Brute Champagne
Nothing says romance quite like champagne. Reminiscent of old Hollywood, synonymous with glamour and wealth. Fear not, with a little research you'll still have funds for dinner! Try G. Gruet & Fils Blanc de Blancs Brute Champagne for a whole lot of bang for your buck.
This Wino Wednesday we're offering you three great choices for Valentine's Day, all under $40 (CAD). Starting with Domaine Désiré Petit Cremant du Jura Rosé Brute ($22.95 CAD) we then shifted to Burgundy and the sensual Blason de Bourgogne Crémant de Bourgogne Brut ($22.95 CAD). Both a sparkling rosé, decidedly feminine and an excellent value. Now let's travel a little further north to Champagne for a Blanc de Blancs that – at this price point really can't be beat.
Wine stuff: Blanc de Blancs are champagnes made from white grape varietals only, in this case chardonnay, which loves the cool climate of the Champagne region. Unlike Blanc de Noir; a white champagne made from the juice of black skinned grapes like Pinot Noir and Pinot Meunier.
Retailing at $37.25 (CAD) G. Gruet & Fils Blanc de Blancs Brute Champagne might be on the bottom of the shelf as far as price goes, but it offers more than your typical budget friendly bubbly. A bouquet of crisp apple and pear with hints of minerality so often associated with this grape and a picture perfect effervescence, boiling and rolling in your glass like a true champagne should. It goes down smooth and easy.
Refreshing and light, there's a reason this wine is seeing a spike in popularity and being donned with the occasional gold metal. My pick for a true champagne experience that leaves you with funds enough to indulge in lobster this Valentine's Day. G. Gruet & Fils Blanc de Blancs Brute Champagne, Gypsy Scorecard: 88/100.
Pair with a baked brie finished with maple syrup & walnuts, honey garlic baby back ribs, herb roasted chicken, or a gooey bourbon sweet potato pie. Or nothing at all… and I do mean… nothing, at all. Drink naked. What you do after that, is up to you.
Happy Valentines Day.