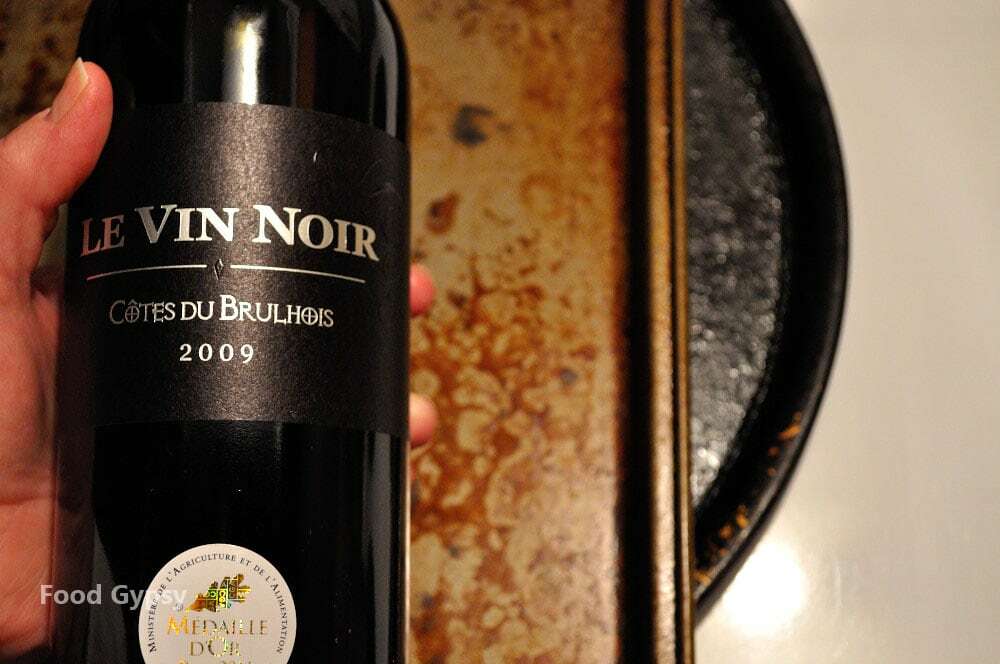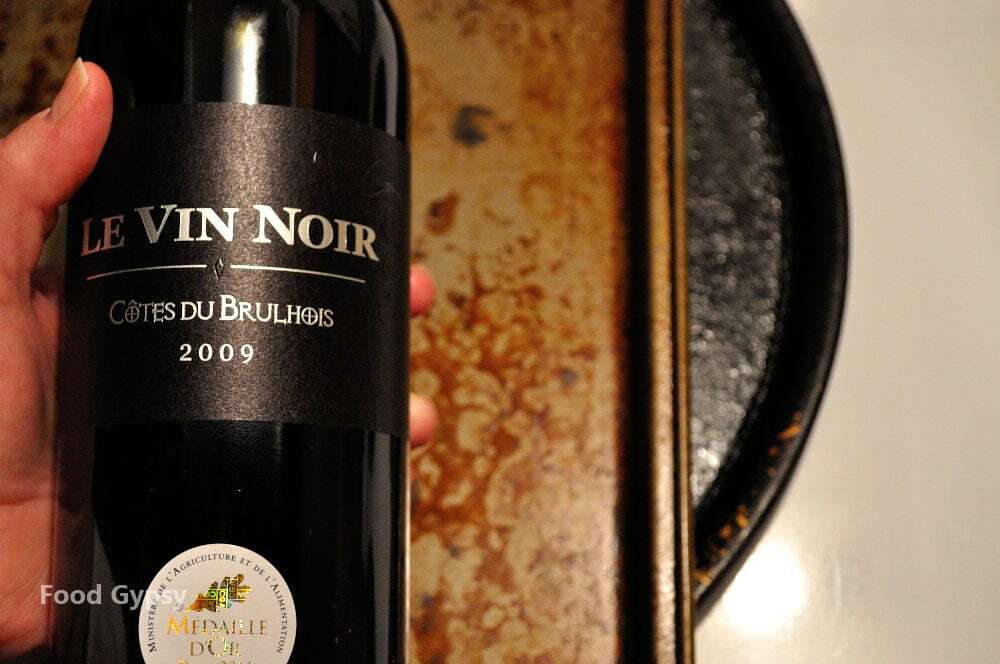 Le Vin Noir Côtes du Brulhois
Well backed and solid, Le Vin Noir Côtes du Brulhois is award winning for a reason. The 2009 vintage is a great buy for any wine lover, who likes to drink well — and often.
When it's my turn to take out the recycling I prefer to go under the cover of darkness. It's a covert operation. The bin clinks as it rolls across the uneven driveway, rattling along like a shopping cart full of empties. Once at the curb there's less chance of neighborhood judgement, that is until it loads into the truck with a mighty crash… tinkel… tinkle. Some might say we consume a little too much, but we maintain as staunch supporters of the wine industry and will continue to indulge as budget allows. Which is why we love a great wine deal.
Most of the wines we profile on Food Gypsy can be bought for under twenty bucks. This particular number retails for $18.90 (CAD) in my neck of the woods and it is well worth every penny. A deep purple-red wine, bursting with rich dark fruits, plum and spice. It has a simple, elegant nose and could easily pass for a bottle that could really tax your wallet, and yet it's so affordable.
The Land of Black Wines
Found between Bordeaux and Toulouse, Brulhois is known as Pays du Vin Noir ("Land of Black Wines"), for the deep dark colour of the region's wines, used for centuries to fortify some of the best names in Bordeaux. Dry and full bodied, with a rich velvety finish Le Vin Noir Côtes du Brulhois is a wine you could easily shelve. It will cellar well, give it about seven years of dust. Or, drink now and enjoy.
Pair with barbecue; a great steak, well seared magret, whisky sauce covered chicken or pork, Asian flavours, beef fajitas, burgers, a good tartare, braised lamb, shepard's pie, you know… what the hell, let's just say red meat in general, shall we. Go with that. Personally, I like it all by itself.
At 14% volume of alcohol this was the perfect wine to sooth a day of disappointment. The professional kind, that when the news hits, it makes you take a sharp inhale of breath and hold it for a very, very long time, wondering how your ego will ever recover. After the just the first glass the numbness began to set in and by the third I had the courage to indulge greatly in chocolate (leftover Easter chocolate if you must know) which made me feel MUCH better. Whoever said self-medication as a bad idea never met this wine.
For all of these reasons (and a few I've yet to think of) Le Vin Noir Côtes du Brulhois scores a hefty 88/100 on the Gypsy Scorecard.
Cheers.