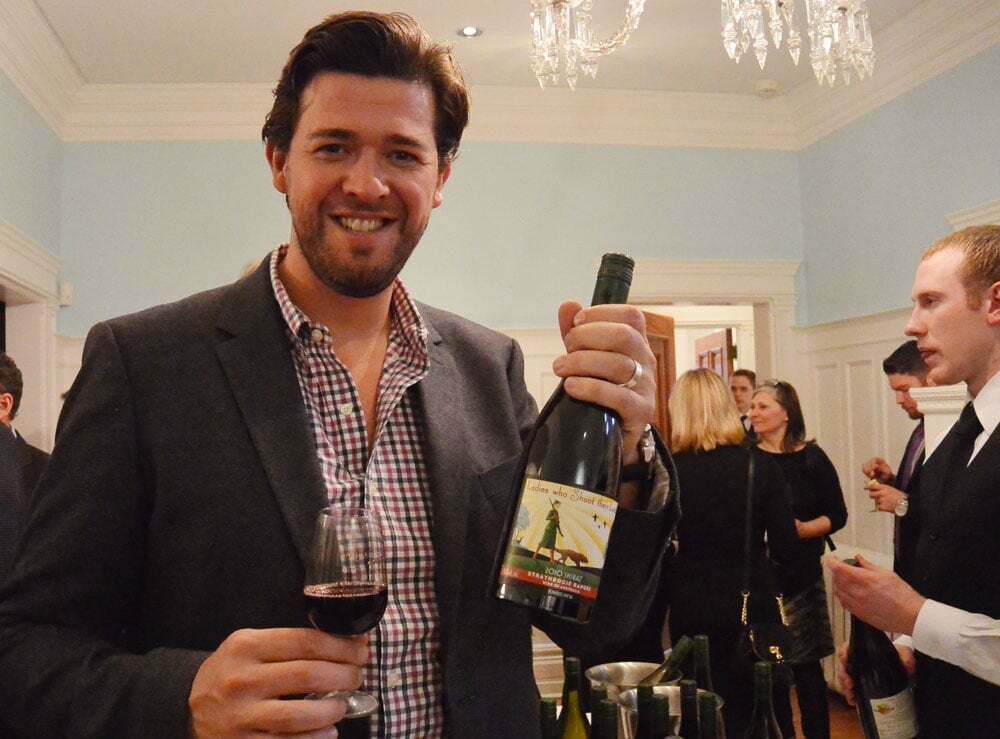 Matt Fowles Australian Wines, for Ladies Who Shoot Their Lunch
Meet Matt Fowles, renaissance man. A former Australian lawyer with a passion for food & drink, Fowles now turns heads with his unique talent for wine making as CEO of Fowles Wine. Building wines to suit his palate and pair with his love for wild game, he's created a line of wines with compelling structure and complexity.
There are few thing in life more worthy of an evening in heels than the sampling of a bottle or two of wine. An invitation from the Austrian High Commission to imbibe and meet Austrian wine maker Matt Fowles, could not passed over. A stately older home in Ottawa's Sandy Hill neighborhood is home to Australian High Commissioner Her Excellency Louise Hand PSM, and host to the occasional wine based soiree held by Ottawa's Australia/New Zealand Wine Society (ANZWS).
Elegant and tasteful are words that immediately spring to mind as you walk up the stairs and through the doors of the High Commission with it's high ceilings, glittering chandeliers and collection of art that compliment the decor. Yet, it feels surprisingly embracing, like a good Auzzie slap on the back. I half expected a "g'day mate" from the staff.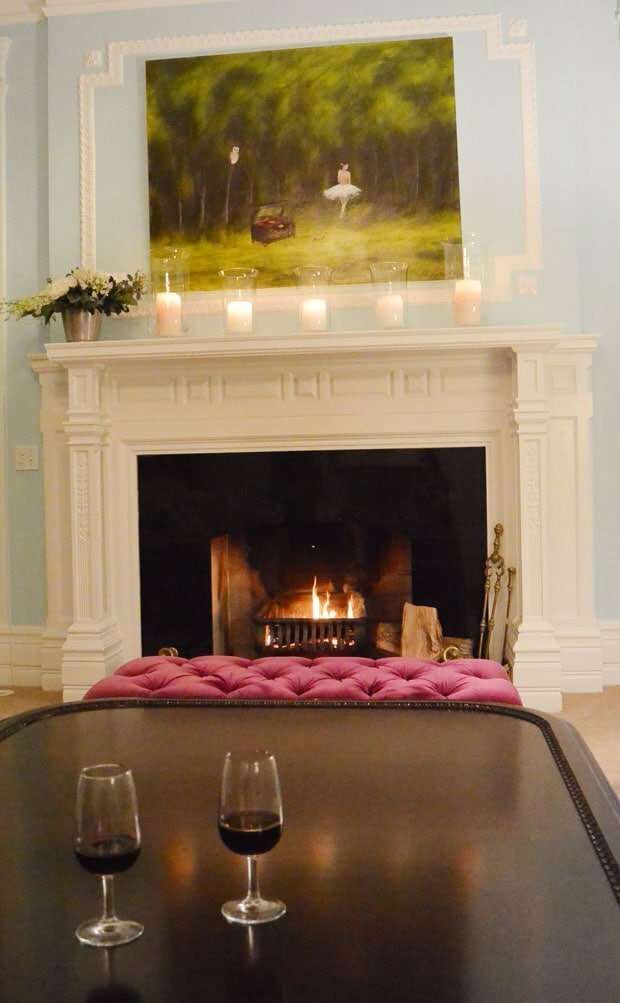 Finding our way to the sampling table, we began making our way through the offerings from Fowles Wines, staring with the 2012 Are You Game Fowles Wine Chardonnay ($15.95). Round, full and fruity with a hint of sourdough, I could see how this wine would compliment a gamey meal. It's bold for a chardonnay, yet surprisingly unmarked by strong oak, instead hints of peach and green melon make it clean and crisp. Pair with quail, pheasant or guinea fowl, one might even reach so far as duck or a rabbit paté, I believe it would hold up nicely against most small game. Gypsy scorecard 88/100.
Returning to the tasting table, I found myself shoulder to shoulder with the wine maker himself, who poured us a glass of his 2012 Are You Game Shiraz ($16.95) and chatted about life, food & wine. Noting the distinct blend of this vintage, the chef in my life wondered aloud "whatever made you blend [10%] tampranillo with shriaz?" "That's an excellent question," Fowels began "because tampranillo is not a common grape varietal in Australia. We blend blind to find the taste and tone we're looking for rather than saying this goes with that… I find it's the best way to build a wine."
Beautifully balanced, elegantly structured, the Are You Game Fowels Wine Shiraz 2012 is fruity, with just the right amount plumy, blackberry, richness. Pair with rabbit, pheasant, wild boar, a strong salty cheese or almost anything finished with butter, the balance of fruit would cut the fat and bring forward the flavour. Gypsy Scorecard 89/100
Next in the glass for a swirl, a sniff; the Ladies Who Shoot their Lunch Fowles Wines Shiraz 2010 ($35.95). Ripe, and dripping with sunny intensity, sour cherry, raspberry and pepper coupled with a dry astringent effect that makes a truly great food pairing wine. This is a vintage not to be overlooked, for me it rivals a good bottle of French Pinot Noir. Gypsy Scorecard 91/100
Fowles agreed that the Ladies Who Shoot their Lunch was perhaps his most versatile vintage, pairing with everything from venison to guinea fowl. Personally, I'd be happy with a wild boar (or pork) rillettes, a chunk of cheese that is reminiscent of gym socks, a fresh baguette and a bottle of Fowles' Ladies Who Shoot Their Lunch – that's what passes for dinner in our house.

The conversation continued as Fowles reached for the Plunkett Fowles Stone Dwellers Cabernet Sauvingion 2009 ($19.95). Aged in 140 year old English oak barrels, Stone Dwellers is round and full highlighting warm spice, blackberry, vanilla bean and dirt. It's generous, earthy finish makes me to want to pair it with rich meats and cream sauces. Gypsy Scorecard 90/100.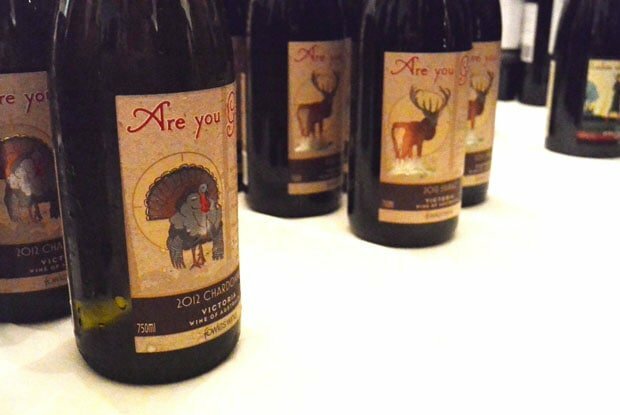 Adorned with stunningly simple label that echos a topographical map of Austria's Victoria region and highlights the location of the vineyard. The marketing behind the Fowles Wines springs close to home lead by Matt's talented wife, graphic designer Lusie Fowles. As a creative, I enjoy a walk through the racks at my local wine store, soaking in the art that is the face of the grape. It is every bit as interesting as a tour of a good art gallery for it's variety and complexity. This is a wine I'd buy just for the label in appreciation of it's clever simplicity. Fortunately, it is a wine that holds true to it's spin, opening to more subtle notes with every sip.
The Rule Fowles Wines Shiraz 2009 ($42.95), a premium vintage late to the table for the last straggling wine hounds, and a treat for the palate. Rich and smokey; a taste where earth and sky meet, The Rule is the thinning light of dusk captured in a bottle. Chewy and big, The Rule is the epitome of the word "jammy". With it's big, powerful mouth of black fruits, the nose of a good cigar and a lick of leather; it's hunting lodge worthy. Pair with grilled red meats, rare lamb chops, moose or caribou. Gypsy Scorecard 92/100.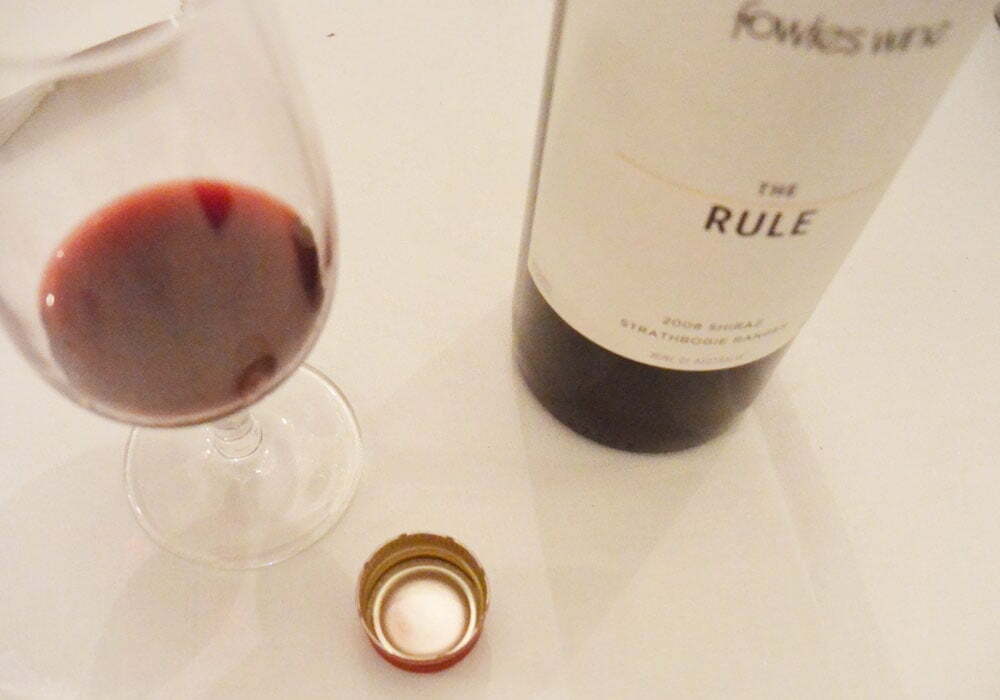 Anything but typical, Fowels wines vary in packaging and bottle shape, with several vintages leaning more toward the straight sided, short necked Bordeaux style bottle, rather than the Rôhn shape with it's long neck and sleek shoulders, typical of new world wines. "What lead you to choose such and unconventional bottle for a shiraz?" we inquired. "Well," laughed Fowels "I'm not very good at following the rules."
Some rules are meant to be bent, while others long to be broken. Wine doesn't give a flying fig either way, all it asks is that you respect the grape and honor your vision. Rule breaking is what makes the mavericks of wine making so very interesting.
I'll drink to that.