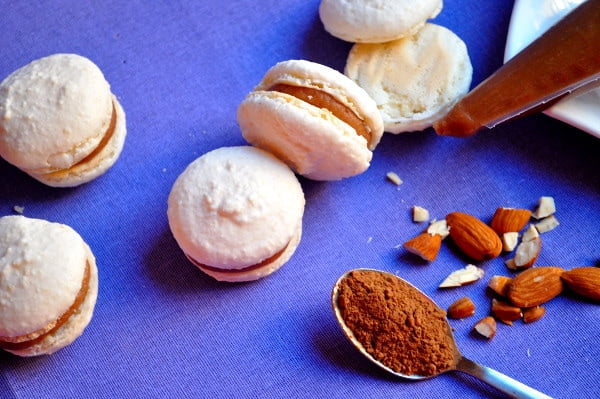 A Lesson In Macaron – Macaron Hollandais
This weekend the chef in my life whipped up a batch of Macaron Hollandais, as easily as I might knock off a dozen chocolate chip cookies. He has a way of making even the most daunting of recipes appear effortless, as I sit wide-eyed soaking up every nuance, asking stupid questions (so you don't have to).
I confess to feeling quite out of my element with a macaron post, because even after watching him mix, pipe and bake (twice), I'm not sure I could pull off a good macaron. But Food Gypsy Technical Adviser Chef B (Benoit Gelinotte) insists that macaron are easy, "it's just a matter of knowing and respecting your ingredients; in this case egg whites."
I am intimidated by egg whites, they're finicky, one wrong move and you're in the weeds. More than one meringue has gone flat, watery or completely to pieces in my kitchen. But the only way to become competent at anything is to just get in there and get your hands dirty. Don't expect to be perfect, just do your best and learn as you go. So what the hell, I'm in.
Macaron 101
There are several different kinds of macaron, the one you are probably most familiar with is Macaron Lisse (also knows as "Gerbet" or the "Paris macaron"), a smooth, squared top, ruffled foot and a flat base. Two meringue cookies are then sandwiched together with a dollop of ganache, buttercream or jam to form the prefect French cookie. They come in a wide variety of flavours and colours and are, in France, the food-craze equivalent of the North American Cupcake.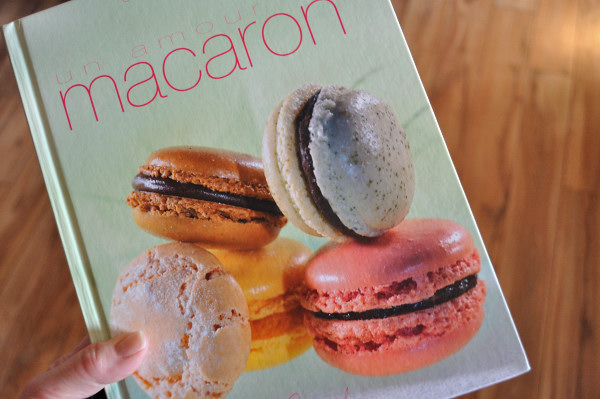 Macaron Hollandais are made of the same basic ingredients; egg whites, ground almonds and confectionery sugar, and usually accented by chocolate. Often, they are served flat, like a little baguette, with a drizzle of chocolate on top, but they are also served filled, with almond paste (marzipan) coloured by cocoa, flavoured with a hint of liqueur.
They have a notably coarser in finish, but are much easier to make because of one simple reason: lack of food colouring.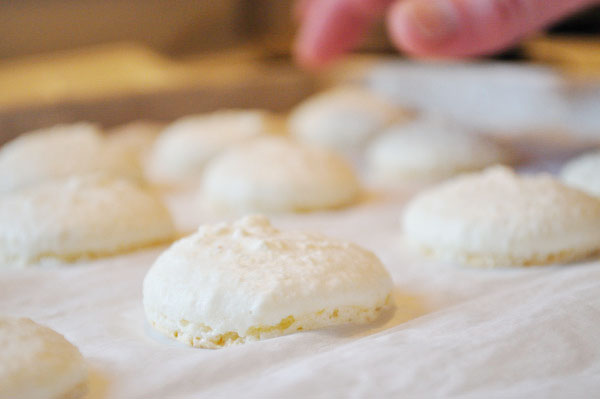 Adding food colouring seems like such a simple thing, a couple of drops and you're done. But if you've ever tried macaron at home and had them fail I'm going to bet it was the food colouring that was the culprit. Why? Because egg whites cannot stand the addition of fat or alcohol. And what does most grocery store food colouring contain? Lecithin (fat, from animal or plant sources) or alcohol.
How do we know? Because this is how our first batch of macaron lisse turned out…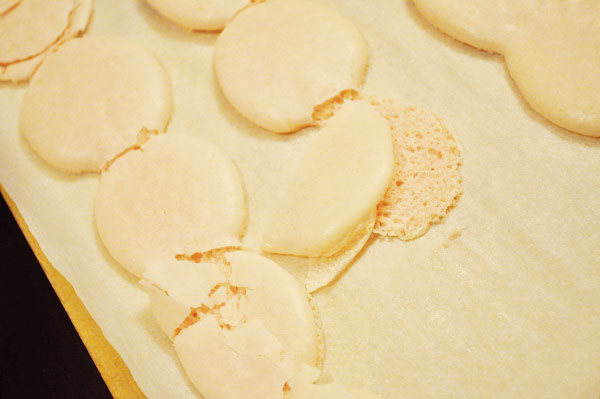 Know your ingredients
Yes, anyone can have a bad day in the kitchen, even Chef B. The macaron were smooth, but flat, they did not hold their shape or keep their volume. Instead they ran all over the sheet and into one another, causing a great deal of under-the-breath cursing. Then, they separated (crisp top from chewy centre) – a crime he could not bare, thus landing themselves in the garbage with a French flourish and a few obscene hand gestures.
That's when he read the ingredients on the food colouring.
Accustomed to professional food colouring with a neutral base, this was the one variable that caused disaster. While we source a food colouring available at consumer level for both our kitchen and yours, let's begin our macaron making with a simple, classic and Chef B's best tips (minus the cursing).
Beware the enticement of colour.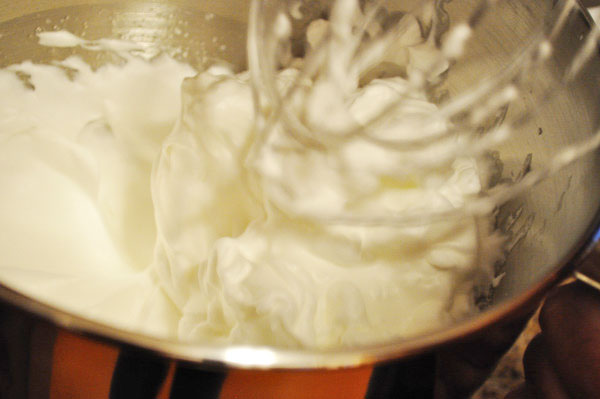 Macaron Hollandais – Recipe
Prep time: 20 minutes + 1 hour (drying time)
Cooking time: 12 minutes
Yield: 40 – 48 macaron disks
2/3 cup ground almonds or almond flour
1 1/2 cups icing sugar
3 large egg whites (at room temperature)
1 teaspoon lemon juice
3 tablespoons granulated sugar
Marzipan Filling
1 – 8 once tube of almond paste (AKA: marzipan) at room temperature
3 tablespoons cocoa powder
1 tablespoon chocolate/coffee or pear liqueur
Preheat oven to 315*F (after drying time)
Method:
1. Separate egg whites, being careful to get absolutely NO EGG YOKE in the mix. Best practice: separate eggs one at a time, into a separate bowl before adding them to your standing mixer bowl. Reserve at room temperature.
2. In a medium bowl or on a piece of parchment paper, sift together ground almonds and icing sugar, removing all lumps. Chef B. Tip: Use the back of a spoon to gently press dry ingredients through a fine strainer. This limits mess and helps to ensure your measured ingredients make it to the bowl.
3. Whip egg whites, on medium-high setting, in your stand mixer using the whisk attachment. As egg whites begin to foam, add squeeze of lemon juice. As they begin to firm, and have a silky sheen, add granulated sugar, slowly and continue to beat until egg whites form very stiff peaks.
4. Add dry ingredients to egg whites and with a very light hand, 'fold' into egg whites, scraping down the sides and folding egg whites over dry ingredients in a smooth motion. Do not 'beat' or 'stir', but mix evenly and gently. (Chef B's note: "We don't 'fold' macaron, the motion is called 'macaroning', it is all about a smooth motion that does not break the volume of the egg whites." You and I can very gently 'fold'.) Once combined, scoop (or pour) meringue into a pipeing bag with a large, round tip. (Or use a disposable bag like you see here, cut to have an opening about as big as the tip of your pinky finger. )
5. Take your largest, flattest baking sheet(s), apply a few drops of water to the surface and using your hand, spread the moisture evenly. Then prepare your pan with parchment paper, over the light film of moisture; this will help lift the macaron after baking. Pipe macaron disks, about 11/2 inches wide, one inch apart, in a smooth circular motion, twisting to finish. Continue until all the macaron batter is finished, this should yield anywhere from 36 – 48 disks depending on how big you pipe them. Allow to dry, at room temperature for one hour before baking.
6. While macaron disks dry, place room temperature marzipan (almond paste) in stand mixer, with the paddle attachment to make filling. Mix at medium to medium low speed to soften. As the paste begins to ease, add cocoa power and liqueur (if desired) and continue to beat until soft and workable, then transfer to piping bag with same sized tip or opening. Reserve until needed at room temperature.
7. Once drying time is up, place macaron in 315*F oven to bake until crisp on the outside and firm (but chewy) on the inside – about 9 – 12 minutes (depending on the size). Remove and cool completely before lifting from sheet to prepare for filling. Before filling; match tops and bottoms of even size, in rows, flip the bottom and pipe a small disk of filling on each bottom disk. Do one or tow to test filling depth and then complete by gently placing the top disk and applying a little pressure to make it stick. This is best done with the disk in your hands, so it doesn't crush the bottom disk against the sheet.
There you have it, macaron hollandais or Dutch Macaron, perfect little cookie sandwiches that resemble tiny hamburgers, but taste sweet, light and divine
Before we go, one last tip: If you don't consume your macaron immediately, place them in a sealed container in the freezer and remove for about ten minutes before serving. Moisture is the deadly enemy of macaron, it makes them soggy, flat and soft and after all that work, we can't have that now can we?!