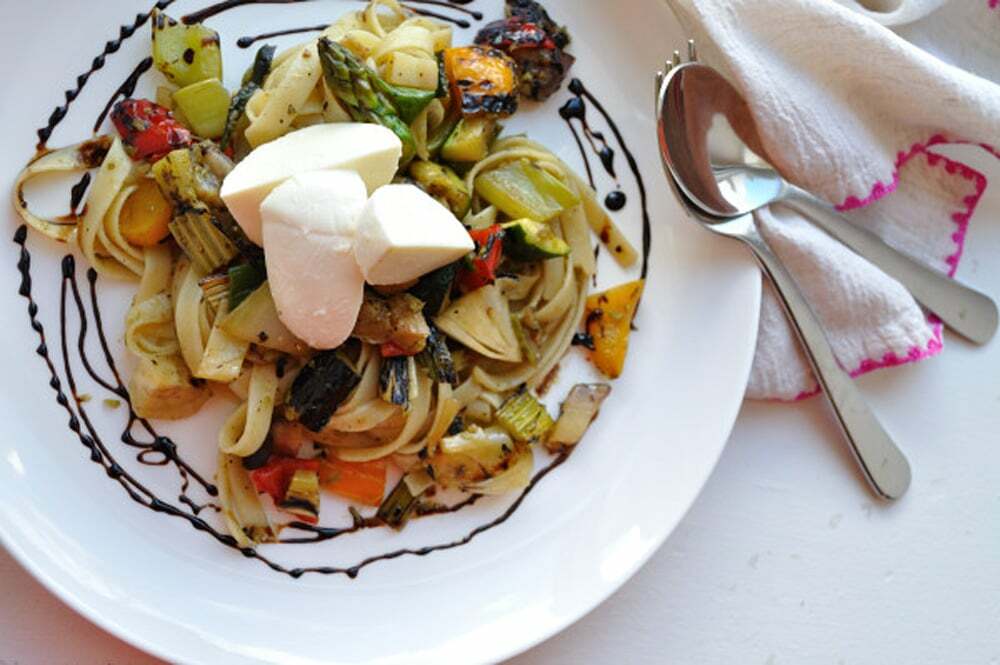 Grilled Vegetable Pasta with Bocconcini & Balsamic Reduction
A simple pasta soft, unripened cheese, lots of healthy grilled vegetables, a hint of garlic scape and a blast of balsamic reduction serve hot or cold, as a starter or a main for lunch or dinner. Easy, fast and healthy it's the prefect meal as temperatures rise and the desire for all things growing takes over.
I'm pushing the seasons a bit, but I just can't help myself. I can't shop without filling the cart in the produce isle right now. If it's alive, and from the garden I want to eat it. In the barbecue season, I grill huge platters of vegetables and stash them for the week. If it can be cut and cooked, it can be grilled.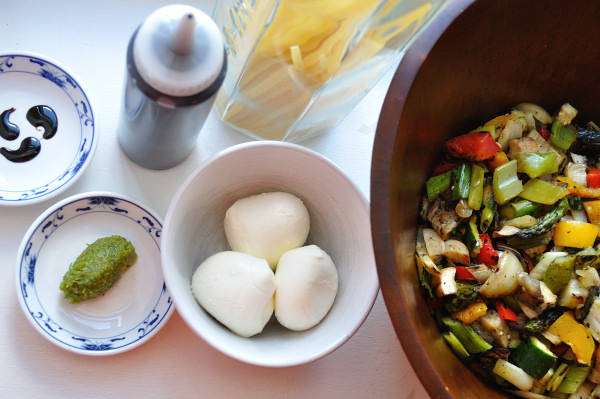 In this bowl: grilled asparagus, peppers, zucchini, porcini mushrooms, yellow onions, green onions, celery and fennel all lightly brushed with olive oil, seasoned with salt & pepper make perfect base for some great meals.
Keeping things simple, the favours of the garden shine through. I used a little garlic scape paste, which you may recall from last summer. I keep it in the fridge for the late winter/early spring when garlic gets punky and soft. It's got a bright, fresh flavour without the garlic heat, but a clove of crushed garlic totally works.
Another warm weather must have: balsamic reduction. As simple as taking balsamic vinegar and allowing it to simmer until it's thick (and the whole house smells of vinegar). I keep it in a squeeze bottle for a drizzle over salads, pastas, fish & antipasto. Then this pasta comes together as easy as one, two, three… four.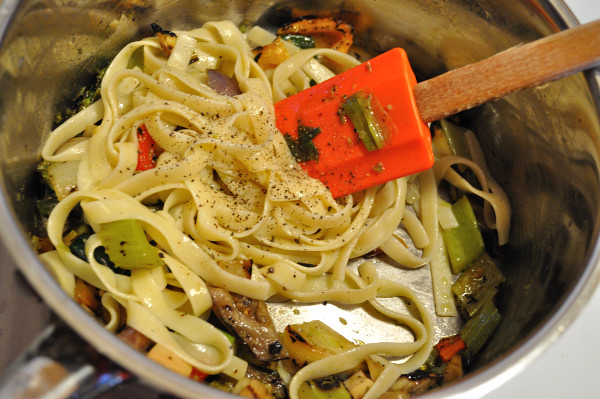 Grilled Vegetable Pasta with Bocconcini & Balsamic Reduction
One: Grill and chop your vegetables. Brush with the oil of your choice, keep your heat moderate, you want to grill them, not incinerate them. Chop when cool.
Two: Cook your pasta. Any pasta, any shape, any style.
Three: Toss cooked pasta with olive oil, garlic paste, salt & pepper over medium-low heat. Warm gently.
Four: Plate. Finish with fresh cut bocconcini and drizzle with balsamic reduction and serve.
Live, Love, Eat WELL!