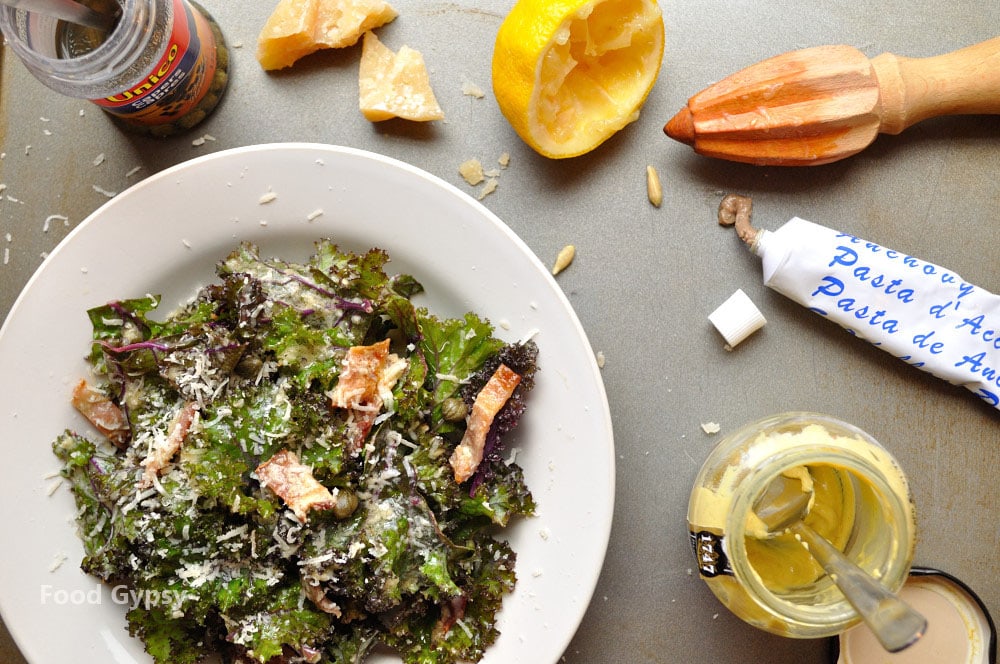 Kale Caesar Salad – Hail Kale!
As days lengthen thoughts turn to all things green. Swap out your romain for a deeper shade of green and you've got the hip new Caesar everyone's talking about, Kale Caesar Salad. All Hail Kale!
A simple twist on an old favorite can make your meal at once fresh, and familiar. I like kale. Handled well it's a very endearing, hardy leafy green that's packed with nutrition.
In every 100 grams of kale you'll find 4.3 grams of protein, 9 grams of carbohydrates, 191 milligrams of potassium and all this: Vitamin A 199%, Vitamin C 200%, Calcium 15%, Iron 8%, Vitamin B-6 15%, Magnesium 11% and only 43 calories.
(*Daily Values are based on a 2,000 calorie diet. Values may be higher or lower depending on caloric needs.)
Personally, I don't count calories. I count chemicals, bad fats and all things artificial but mostly, I count nutrients and TASTE. This is a salad even diehard that-had-better-not-be-kale-on-my-plate omnivores will dive right into, because all that nutrient dense, superfood is tossed with lemon, garlic, dijon, capers, olive oil and anchovies then finished with parmesan and bacon.
I hail it for it's delicious properties.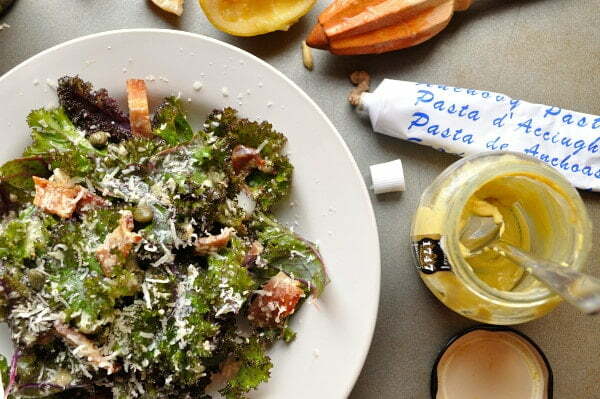 Kale Caesar Salad Recipe
Prep time: 20 minutes
Serves: four
1/3 cup quality extra virgin olive oil
4 cloves fresh garlic – crushed, minced, fine
1 1/2 tablespoons Dijon mustard
2 teaspoons anchovy paste (or 1-2 anchovies, smashed & minced)
juice of 1 small lemon (plus more to taste)
2 tablespoons red wine vinegar
1 tablespoon pickled capers – coarsely chopped
Freshly ground black pepper & pinch of salt – to taste
1 large head kale – rinsed & dried
6 strips of bacon, cooked
4 ounces Parmesan cheese, grated
Method:
1) In a large bowl, whisk together the olive oil and garlic and allow to sit for 15 minutes to a half hour. Add anchovies and mustard to the oil garlic mixture and whisk until creamy and smooth. Add lemon juice and red wine vinegar, capers and a dash of salt and pepper. Taste, add more lemon juice or seasoning to taste. A good Caesar dressing should have the kick of lemon without completely overwhelming it.
2) Devein kale by cutting the woody, thick veins out of the leaves then pull apart with your hands into bitesized pieces. Add dry, crisp kale into the bowl and toss to liberally coat with vinaigrette. Grate parmesan cheese onto the top, add bacon, toss again and you're done. Finish with a fresh gate of cheese on the plate or bowl and serve immediately.
It's time for green.