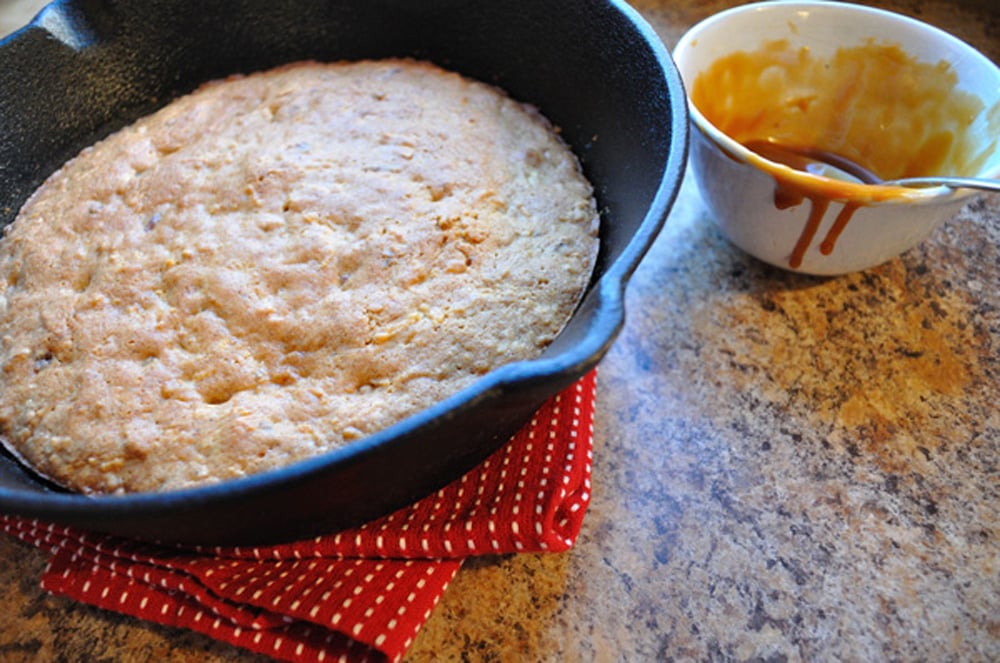 Salted Caramel Apple Upside Down Cake
Made with some of my favorite cold weather ingredients: apples, caramel, salt, pecans and brown butter, this is a cake for the pale light of late winter. Rustic and homey, Salted Caramel Apple Upside Down Cake is perfect fare on a stormy day, snow flying, whilst wearing your winter woollies.
The brown butter makes it light and nutty. A little grated apple in the batter makes it moist and tart. Add nuts, caramel and salt and voila: cake. Also a kitchen first for me; my first time baking in cast iron. Fan of a good cast iron pan that I am, I'm surprised I've never gone sweet in it before.
Cast iron, it's not just for bacon anymore!
Had a couple of minor hiccups with this recipe, one being the fact that this cast iron pan is relatively new and not as seasoned as I might like. This caused the bottom layer of apple/salted caramel to stick a bit, so I fished them out and re-layered them to the top of the cake. (Subject of upcoming post on Food Gypsy: how to season cast iron. So we never have this sticky issue again.)
Another alternative to avoid stickage: cut a piece of parchment for the bottom of the pan, make the salted caramel in a separate pot, place your parchment on the bottom of the cast iron, layer in the caramel, apples and cake and beat that sticky stuff at it's own game.
The other little bump with this recipe was that I didn't feel there was enough apple in that upside down layer, so I've adjusted the recipe so the results in your kitchen are a-mazing. Most certainly a "make it again" recipe.
Go, have fun in the kitchen.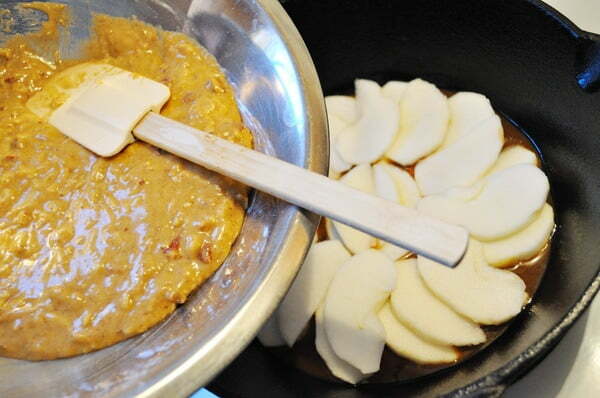 Salted Caramel Apple Upsidedown Cake
Prep time: 15 minutes
Baking time: 45 – 50 minutes
Yield: 8 pieces
Cake Ingredients:
3 apples, peeled, cored, thinly sliced
1 apple, peeled, shredded
2 tablespoons lemon juice
1/4 cup butter
1 brown sugar
2 eggs
1 cup flour
2 teaspoons lemon zest
1/4 cup pecans, chopped
1 teaspoon baking powder
1/2 teaspoon salt
1/2 teaspoon cinnamon
1/4 teaspoon nutmeg
Caramel Ingredients:
1/2 cup sugar
3 tablespoons water
1 teaspoon lemon juice
2 tablespoons heavy cream
1 tablespoon butter
1/2 teaspoon vanilla
2 teaspoons kosher salt (or to taste)
Preheat oven to 350⁰F
Method:
1. Peel and slice/shred apples, coat with lemon juice and reserve – keeping the sliced and the shredded apple seperate.
2. In a small sauce pan over medium heat, cook butter until brown, about 4 or five minutes.
3. While butter cooks, prep your 9 – 10 inch cast iron pan and start your caramel. Over medium-high heat, add sugar, water, lemon juice and salt. Melt, DO NOT STIR, instead swirl to combine and bubble until golden.
4. Remove from heat, slowly add cream and stir with a wooden spoon until well mixed. The addition of a cold liquid will make the amber sugar foam and spatter, be careful not to overflow with this step. Once mixed add butter, vanilla and kosher salt. Stir to mix then allow to stand and cool.
5. Add browned butter to sugar in a medium sized bowl, and beat until well creamed and slightly cool Add eggs and beat until smooth.
6. In second bowl combine flour, zest, nuts, grated apple, baking powder, salt and spices. Once mixed make a well in the dry ingredients and add butter mixture, fold until well mixed.
7. Layer sliced apples in bottom of cast iron pan, over now cool caramel. Gently pour cake batter over top, with a wooden spoon or spatula to gently push better to outer edges without disturbing apple layer. Place cast iron pan in pre-heated oven, on the center rack, and bake at 350⁰F for 45 to 50 minutes, or until tester inserted in center comes out clean.
Once removed from the oven, allow cake to stand, undisturbed, for 15 to 20 minutes. This helps it to set and cool slightly – and if the cooking Gods are with you – ensure that your apple caramel layer separates easily from the pan.
Serve warm. Cuddle up.