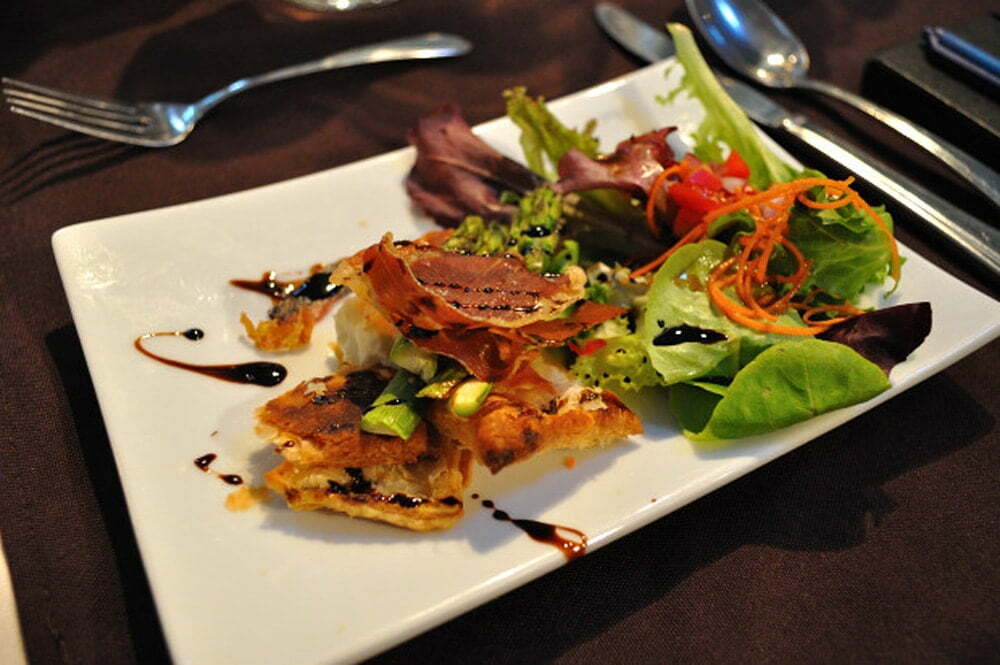 Mateus Bistro – A Pearl In Mahone Bay, NS
Tucked into a quaint heritage home along the waterfront in picturesque Mahone Bay, Mateus Bistro is a precious pearl in the Nova Scotia dining scene.
It seems everywhere we go people want to show off their favorite restaurant and fab food finds. A recent getaway to the Southern shore of Nova Scotia included an evening at Mateus Bistro; so good it begs to be shared.
Housed in a colourful clapboard building along the bay, the venue has an old world charm with an upscale attitude and yet it's casual enough to make you feel at home. Warm, clay coloured walls, bright art and a cool shaded patio, Mateus could be a date night destination, but it's family friendly enough (kid's menu) to take well the behaved small fry.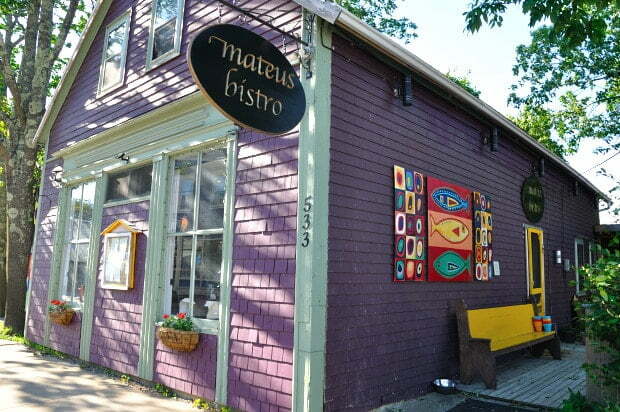 The menu is meticulously constructed by Chef Matthew Krizan. A chef with a solid pedigree, Krizan's passion for local produce, deep flavour and refined technique shows in his food. That passion is echoed by a strong front of house team who are in every way warm and courteous. The service was excellent; attentive enough to feel well looked after, but distant enough to feel we were in a world of our own.
Our Port After The Storm
Hurricane Arthur ripped through the province the night prior, knocking out power as it raged, making my Mother's small wedding even more intimate as candles lit the reception and a crank radio doubled as DJ. Our evening at Mateus Bistro was a meal designed to bring the two sides of our new family together. A party of eleven, we were able to effectively sample most of the menu. If a picture says a thousand words, I believe the food can speak for itself, with a few side notes from this Gypsy.
Let's start with the appetizers, left to right:
Three Cheese Fondue ($11) – fresh baguette from the local boulangerie cubed & tossed in a hot cheese sauce made with parmesan, asiago & blue. It's billed as 'comfort in a bowl', it's a title well earned. Practical and filling, I now plan to make it on cold winter nights. Duck Confit Croquette ($14) – warm duck confit risotto panko crusted and fried, then topped with smoked scallop civiché, finished with a haskap gastrique. The haskap berry is a recent North American import from Russia and northern Eurpope, bright and sharp it makes a colorful accent, but it was the smoked scallop ceviché that truly set this dish apart. Asparagus Tart ($10) – fresh asparagus and goat cheese baked on a puff pastry with balsamic drizzle and prosciutto crisp. Simple, light, fresh.
Scallops ($14) – seared local scallops with in house smoked tomato coulis, fresh herbs and pea shoots. Chef Krizan's subtle use of smoke, this time with the smoked tomato coulis, made this dish both powerfully aromatic and bold in flavor contrasts. Foie gras ($17) – seared Quebec foie gras on a truffled mashed potato drizzled topped with a haskap gastrique. Based in solid French technique with all the right flavours and textures – rich and fatty with accents of sweetness and loamy truffle – it's easy to recommend the foie gras.
Mains, left to right (and below):
Halibut ($32) – fresh local halibut, seared & served on an asparagus risotto in a saffron cream broth. So fragrant with saffron I almost traded my new step-nephew dishes, but he wisely licked it. Beef tenderloin ($39) – Nova Scotian beef tenderloin topped with Quebec foie gras served with pommes anna & in season veggies. You cannot go wrong with this combination. Well executed, rich foie gras against lean beef and a perfectly layered potatoes, cooked in butter. A classic meal to makes for a happy tummy.
Haddock ($24) – Crispy panko crusted local haddock topped with a fresh mango salsa, served with mashed potatoes & seasonal vegetables. Fresh fish done well, the mango salsa added color & falvour dimension. Cod ($24) – the evening's special, fresh pan fried cod served with pork fried rice and a dill mushroom cream sauce. Esthetically speaking, the sauce overpowered the fish, it might have been best to plate it under, or around the fillet, rather than over it. No complaints on taste.
Lamb rack ($38) – rack of Nova Scotian lamb herb crusted & served on roasted vegetables and quinoa with a haskap drizzle. Cooked to the perfect medium rare, the lamb looked and smelled fantastic and was extremely well received. In fact there was hardly a morsel left, on any plate, a hardy compliment to the kitchen and it's big, red stove, lovingly called 'Betsy'.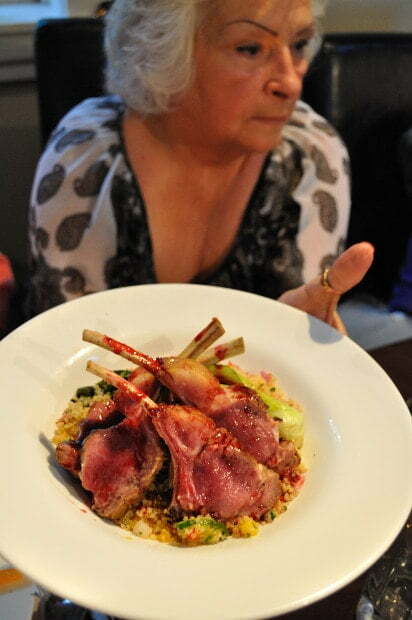 Diner notes: Reservations are recommended in the summer months, especially on weekends. Map and menus are included on their easy to navigate website. Those eating gluten free, vegetarian or vegan will find the Mateus Bistro menu thoughtfully coded to address dietary concerns, without having to ask a million questions. The wine list is a tight selection of quality wines, ask for recommendations on some of their Nova Scotia's offerings. You may be surprised by the quality of the wines from this side of the country. The best vintages never make it out of the province.
In this business I find it's the little things that make the biggest difference. It's an undertone of caring for your customers, not just serving them, that breeds fierce loyalty and repeat clientele. If you live nearby chances are you've experienced Mateus Bistro's natural charm. If you're visiting, this is a lovely little dining treasure — not to be missed.
Best of luck to Chef Krizan, we look forward to tales of your continued success. In the meantime, sure you'll be seeing members of the family.
Mateus Bistro
533 Main Street, Mahone Bay, NS
Phone: (902) 531 3711
Website: www.mateusbistro.com