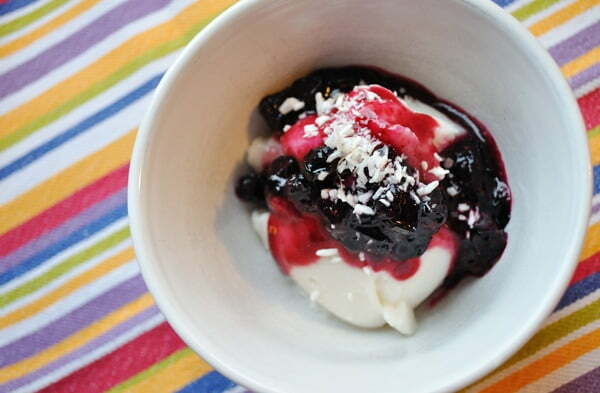 Cultured Coconut Milk – Kitchen Alternatives
The things I eat in the name of research – gluten-free breads, tofu, liver and now – cultured coconut milk. A dairy alternative with a similar texture to yogurt, cultured coconut milk was a pleasant surprise, and is now among my list of alternative vegan ingredients.
Fruit, honey and plain yogurt, with a handful of raw almonds, is my anytime snack and 'good for me' dessert. It gives my tummy all the live cultures it needs and fully satisfies when I'm sugar jagging. But I'm always investigating new ingredients, looking for ways to incorporate them into my cooking, alternatives for the pro kitchen where I work, or looking for ideas for friends with dietary concerns.
A great all round solution for so many specialty diets, it's a must share.
Cultured coconut milk is dairy-free, gluten-free, soy-free and kosher. It contains the same live cultures plus more of my daily recommended calcium (30% vs. 15%) and iron (4% vs. 0%) than the plain yogurt that's my current favorite. What it lacks in B vitamins and protein, but makes up for it in fiber (8g vs. 0g). It has a slightly higher saturated fat content than most yogurts, but coconut is among the healthiest plant based fats on the planet, making it a healthy diet alternative if you're inclined to taste something new.
(Comparison: Balkan Style Natural Yogurt – 6% Milk Fat)
The taste is slightly nutty and light. The coconut flavour is an undertone as opposed to full frontal assault, so it's easy on the taste buds as a solo item. Cultured coconut milk blends well (for smoothies), because of it's mild taste, it mixes well, and with all that nice coconut fat, it bakes extremely well. Ideal as a binding agent in baking to replace eggs, along with it's cousin coconut milk (or cream) to replace liquid dairy. Gypsy approved.
For the record: some gluten-free bread is terrific, but some (in my opinion) still tastes like sawdust. I've discovered I actually like liver (in the form of paté and foie gras), and while still not my favorite ingredient; tofu, smoked then grilled, is not bad at all.
Just one bite…