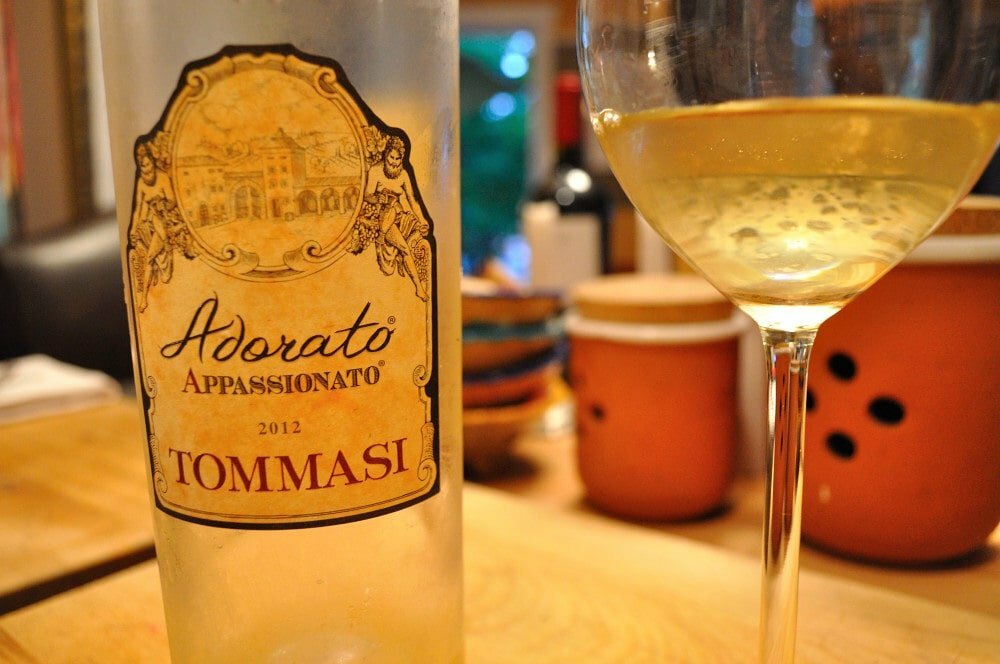 Tommasi Adorato Appassionato Bianco 2012
Are there rules about drinking whites after Labour Day? Not in my world. Tommasi Adorato Appassionato Bianco 2012 is wine to dine with, again and again, and again, no matter what the season.
Our Wino Wednesdays are decidedly light on whites. That says a a thing or two about our preferences, but reveals more about our buying habits. Taking lingering strolls down isle after isle of reds (leaning decidedly old world with an eye for a tall, tanned Californian or two), we often hurry past some of the most subtle and ripe vintages in the store due to their pale completion.
Not this time.
Adorato Appassionato Bianco 2012 from Tommasi Winery is everything I love about a good, solid Italian white wine. A pale straw-like color in the glass, nose of spice and melon. A round, full palate of tropical fruit and honey and a clean, crisp finish. Full bodied and rich, this Garganega blend from Velento, Italy is a romantic opening wine. Light enough to pair with risotto, a cream soup or a simple fish but full enough to compliment a complex yellow curry.
A terrific value. At a price point of $15.95; you can buy two. If you cellar this would be a wise pick, I could see it aging well, even more robust in say seven years. Gypsy Scorecard 90/100. Tommasi Adorato Appassionato Bianco 2012, worth switching isles for.
"The discovery of a wine is a greater moment than the discovery of a constellation. The universe is too full of stars." ― Benjamin Franklin