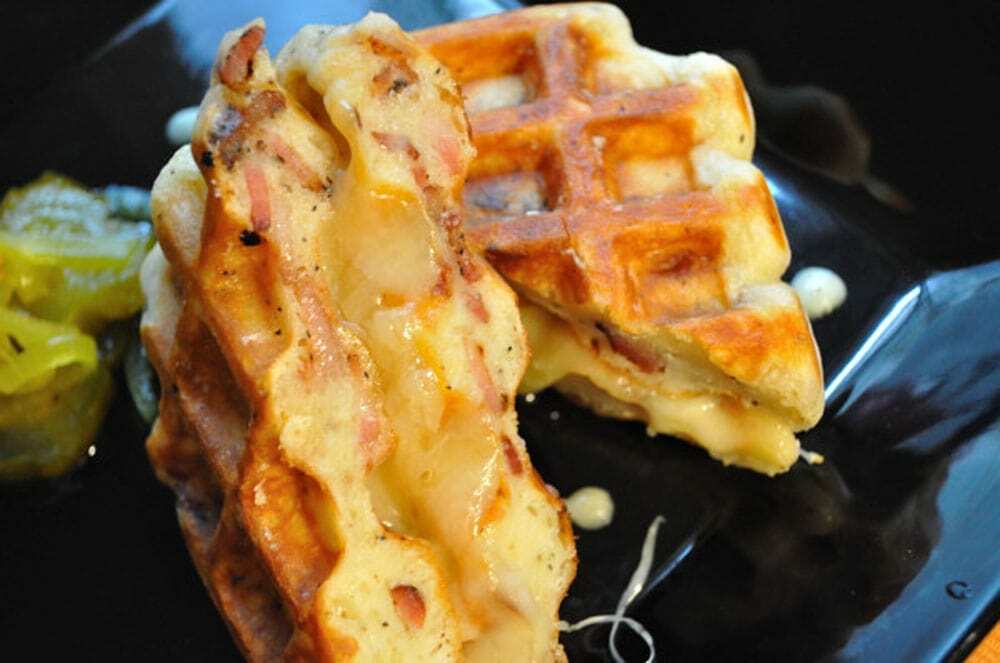 Bacon Waffle Grilled Cheese Sammich
When you take a buttermilk waffle and make it into a Buttermilk Black Pepper Bacon Waffle, coat it with butter, grill it in a pan and melt a half cup of cheese between those two slabs of bacon-y waffle divot-ed goodness… that my friends is a Bacon Waffle Grilled Cheese Sammich.
('Sandwich' really does not apply here. The very word conjures up rules about crusts, watercress and cucumbers.)
What is a waffle anyway? Just a delivery system for sauce, often in the form of syrup. In this application, I've nixed the syrup… not because I don't like it, but because I know that the maple syrup in the pantry is the real deal and if I open the can, I'm done. It will call to me in the middle of the night…
"Gypsy… baaaaa-bee… " it will plead, like a needy lover.
So. No syrup.

Next question: "Did you drain the bacon before you mixed it in the waffle batter?"
Answer: "Good heavens no. Why on earth would I do that? No, I added the bacon fat right into the batter, 'cause that's the way I roll."
Question after that: "Could I use vegetable oil and turkey bacon?"
Answer: "Ummmm… suuuuuuure. You know what you should try with that? Syrup."
Waffle recipes generally call for a 1/2 cup of fat/oil/melted butter. In this recipe; substituted half the oil for bacon fat… and skipped the salt all together, the bacon brings enough salt on it's own.
Well, that's enough chin-waggin' it's a grilled cheese sammich for Pete's sake how much more gum-flappin' is really necessary?
Pairs well with; an ice cold beer and… play-off hockey.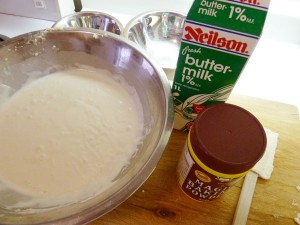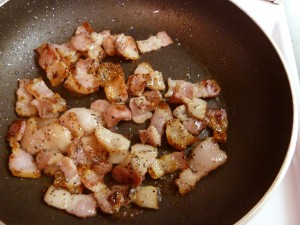 Bacon Waffle Grilled Cheese Recipe
Prep time: 20 minutes
Cooking time: 45 minutes
Ingredients
2 eggs
2 cups all-purpose flour
2 cups butter milk
1/4 cup vegetable oil
1 tablespoon white sugar
1 tablespoon baking powder
8 – 10 slices of peppered bacon (diced, cooked & cooled)
1/4 cup rendered bacon fat, cooled
2 cups aged Canadian Cheddar (the sharper, the better)
2 tablespoons butter, melted
Method:
Preheat waffle iron.
Beat eggs in large bowl with hand mixer until fluffy.
Stir in flour, milk, vegetable oil, sugar, baking powder, salt and mix by hand or with electric mixer until smooth.
Add cooked, crisp bacon and up to a 1/4 cup bacon fat, fold in to batter.
Coat waffle iron with a thin layer of oil or non-stick cooking spray if needed.
Pour batter onto waffle iron and cook until golden brown.
For the grilled cheese part…
OK let's pretend you've never made a grilled cheese in your life.
Allow waffles to cool. Brush one side of waffle(s) with melted butter. Place one waffle, buttered-side down, in non-stick pan over medium-low heat. Add 1/2 cup grated aged cheddar, place second waffle on top, buttered side up. Allow cheese to melt, about 3 minutes. Carefully flip to toast other side of waffle, about 3 minutes.
Remove from heat, cut and serve… with pickles… or syrup or BBQ sauce whatever it is you eat with your bacon-waffle-grilled-cheese-sammich.
I is goin' pickle.