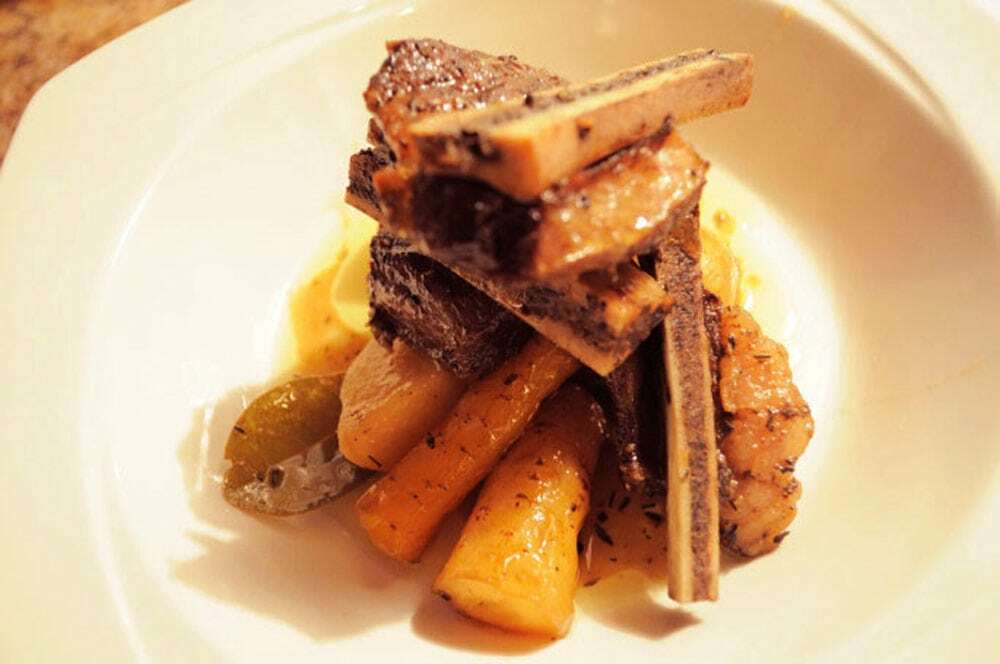 Braised Short Ribs a la Gypsy – Recipe
This isn't a complicated dish.  Quite the opposite. It's simple, hardworking food. Just a little somethin' I learned from Mom.
Beef short ribs are perhaps one of the most underrated cuts of meat. At first glace they're short, fatty, bone-in chunks of beef.  Handle them wrong and you have greasy, tough, chewy chunks of beef.  Treat them with a little respect and a bit of  love, and you have rich, flavorful, tender fall-off-the-bone, beefy goodness.
In the winter months this was a dish that made a frequent appearance in my Mother's kitchen. She would fill her big dutch oven to the brim, slow braising the ribs and vegetables, turning on occasion, the steam rising and setting off the smoke alarm.  The whole house would fill with the rich aroma of something truly wonderful and the dogs would walk through the kitchen, noses high in the air, breathing deeply.
Using only root vegetables, a bit of oil, dash of herbs, salt & pepper and a few humble short ribs, she created a mountain of food.
It was years later that I realized how far my Mother extended the family budget by using the least expensive cuts of meat, buying bulk in-season, cold storing things like cabbage and potatoes, canning jars and jars of peaches & tomatoes, taking advantage of every discount and still turning out amazing meals that never lacked in flavour or quality.
I learned a great deal in my Mother's kitchen.
The value of meat that was well marbled, because that fat is where the flavour is.  How to handle a tough cut with low heat and some extra time.  How to scrub root vegetables well and, unless the skin was in some way unsightly, to leave it largely intact on things like potatoes & carrots because so much of the nutrient value lies in that 1/4 inch just below the skin.
But most of all I learned the value of a dollar.  I tell you, I can strech a penny so far I could knit a sweater made of copper wire.
In fact, many of the recipes that we feature on Food Gypsy have humble beginnings; inexpensive cuts of meat, easy to find ingredients, simple techniques.  Done well and handled with grace they turn the heads of even those with the most discerning palate.
As the cold of winter lifts, and the last of the larder is emptied before green things begin popping out of the ground — this is my take on Mom's classic and a prime example of that farmhouse thrift.

I picked up two packages of (smaller) short ribs (on sale) for under $5, added four medium potatoes, five carrots, two onions, seasoning, a half cup of beef stock and some olive oil – all in, this meal (four servings), cost about $8.20 to produce.

I even used the snazzy 'rainbow carrots' – just for fun.  Mom would be so proud.
I hesitate to list this under recipes as it is essentially a list of ingredients and nothing more under method than "place in 300*F oven, remove from oven, place back in oven, remove from oven"… with the possible exception of the addition the beef stock.
It's just that simple. Just set the timer, a couple of minor adjustments and 90 minutes later call the kids for dinner.  The ultimate multi-tasking meal.
Go do something fun.  Let dinner cook in its own wonderful juices.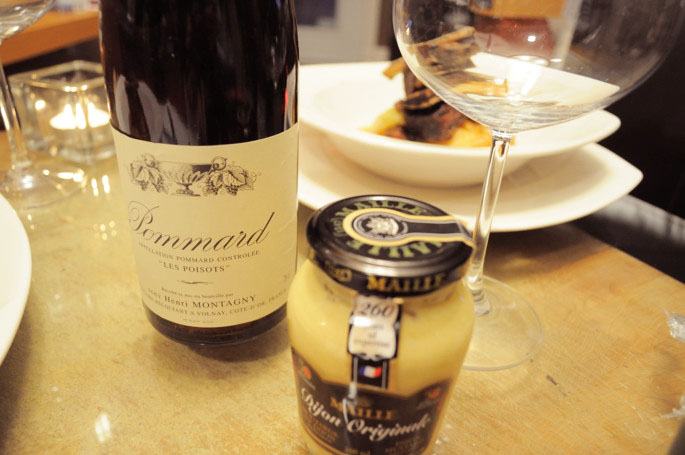 The ribs braise themselves.  The vegetables likewise, and with a little au jus and a bit of time you have a pot full of flavour and aroma.  This was a meal from home that I made for the French Chef in my life and it was perhaps the deepest home run yet.  Right.  Out.  Of.  The. Park.  This is a man that has spent his entire career creating and re-creating menus in some very fine kitchens but it is the simplest of foods that win him over.
When he is silent at the table it could mean one of two things… he is considering how to critique without crushing my delicate soul (assuming one wants to get laid at some point, one never crushes one's woman over the meal she has so kindly prepared for you) or he's having a moment.  I steeled myself for the former but was thrilled to find it was the latter.
"I simply would not change a THING.  This is perfect.  Simple.  Tasty.  Perfectly prepared — the most common mistake most people make with a meal like this is that they overcook the vegetables and then they begin to breakdown." He smiles. "When people ask me what kind of food I like and I say 'simple food' this is what I'm talking about… it's… just…"

"Honest?" It's the only word that truly fits, it's not pretending to be anything other than what it is…  braised short ribs.

He looks up "yes, honest is the perfect word." There is a long pause as he contemplates life and short ribs until the final announcement… "I'm having more!"
I love it when he dances in the kitchen, particularly when I'm the one doing the cooking.
Just for the record, not every attempt is a home run with Chef B. When I miss the mark, I am given notes and off I go back into the kitchen.  My adaptation of my Grandmother's Hot Fudge Cakes is one example (now on the fifth test run) along with my Caribbean Gypsy Ribs (moving into round three.)  I hope to get passing grade soon.  Only the best for my Foodie Gypsies.)
His contribution to the table was a rummage in the closet/wine rack… this required moving two sets of golf clubs, the vacuum cleaner and a couple of boxes (amid some rather colourful French) to produce a bottle that required dusting — Henri Montagny Pommard Les Poisots, France.  A ripe, fruity Pinot Noir, the noble red grape of Burgundy, with a slight acidity but enough of a back end to pair well with a robust meal.
You can take the boy out of Burgundy… but you cannot take the Burgundy out of the boy.  Well chosen.  Such a fine grape for such a humble meal.
Just honest, good food.  Nothin' fancy.  Thanks Mom.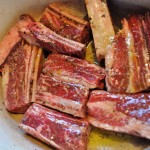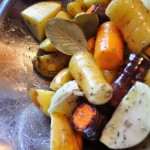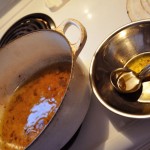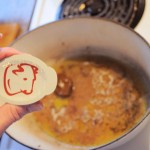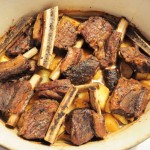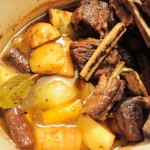 Braised Short Ribs a la Gypsy – Recipe
Ease of Preparation: Easy
Time: 90 minutes
Serves: 4
Ingredients:
3 Pounds Short Ribs, bone in
4 Medium potatoes, quartered
4 Carrots, cut into two bite pieces
2 Onions, quartered
4 Cloves of garlic, whole, crushed
1/2 – 1 Cup of beef stock
1/4 Cup olive oil
1 Teaspoon dried thyme
3 Bay leaves
Salt & pepper to taste
Preheat oven to 300*F

Method:
1.  In large oven proof pot, place short ribs one layer deep, drizzle with 2 tablespoons of oil, sprinkle with 1/2 teaspoon of thyme and season with salt & pepper.  Gently toss to coat.  Place, covered in 300*F oven for approximately 30 minutes, until fat is rendered from the meat and the meat is shrinking off the bone slightly.
2. While short ribs cook, prep vegetables in a large bowl with garlic.  Drizzle with 2 tablespoons of oil, sprinkle with 1/2 teaspoon of thyme, add bay leaves and season with salt & pepper.  Gently toss to coat, and set aside.
3. Remove short ribs from oven, remove short ribs from pot, placing in large bowl and reserve.  Using a spoon or ladle gently remove excess fat from the drippings in the bottom of the pot.  Add beef stock to juices (the amount will vary depending on the amount of natural juices you have, and how salty it might be), place pot over medium heat and reduce if needed.  Taste.  Season as needed.
4. Add seasoned vegetables to stock, cover and place back in oven for 30 – 40 minutes, until vegetables are just cooked and still firm.  Remove from oven.
5. Add short ribs to the top of the vegetables, one layer deep and return to the oven for 20 minutes.   Remove from oven. Let rest, without heat – uncovered – for 10 minutes.
Serve with lightly toasted sourdough bread, a hearty bottle of red and a drizzle of that beautiful short rib, vegetable infused juice in the bottom of the pot.  It's too good to waste.
Honestly.