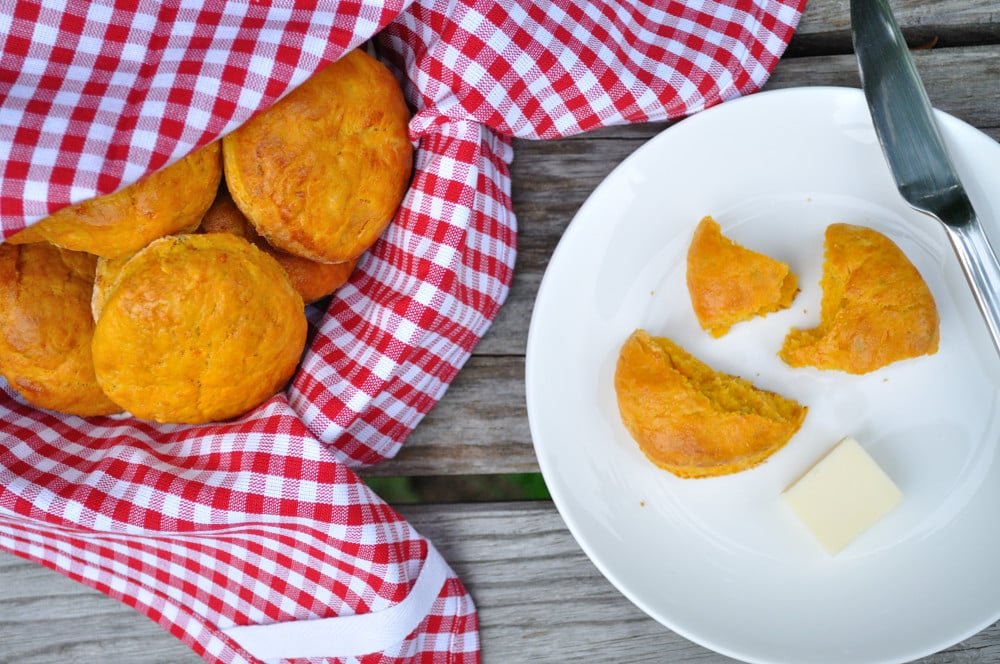 Sweet Potato Biscuits – One Sticky Dough
A hint of heat and a dash of herb give these golden beauties a southern twang. A great foil to your favorite fried chicken, a little country sausage and pan gravy or a simple pat of butter and a drizzle of honey. Ladies and gentlemen, I give you Sweet Potato Biscuits.
Ever notice how most food bloggers always have the perfect pan, the most adorable flour canister, and the prefect fluted vintage biscuit cutter? I have to tell you, we have a very well equipped kitchen, it contains a few well loved vintage items, but for the most part it is extraordinarily functional, all seventy square feet of it.
We live in a 900 square foot, two bedroom apartment, all three us us, plus the fur kid. When you live in a small space you don't have room for seven cake stands, and a chest full of linens and dishes just for your blog. Food Gypsy does not have a fancy studio, or even an office at present. I write in a corner of our bedroom under a window, cook in that well organized small kitchen, and shoot (largely) on the only counter, under a north facing window. There's no room for lights, and snazzy backdrops and I frequently stand on a stool (or on the counter) for overhead shots. The food you see here is food we actually eat; breakfast, lunch or dinner.
I tell you this because all too often in the kitchen (and in life) we let what we don't have get in the way of what we want. I once set out on an epic quest THE PERFECT rolling pin as I endeavored to concur pie. After an exhaustive two week search, I proudly showed my smooth oak pin to friend who shrugged and said "wow really?! I just use a wine bottle…" *PalmToForeheadMoment* Cooking is not about perfection, it's about results, and if you can get the same results with jelly jar as you can with a fluted vintage biscuit cutter… use the jelly jar. Or in my case; metal coffee cup. It has a good edge and makes a little clack sound as it meets the counter.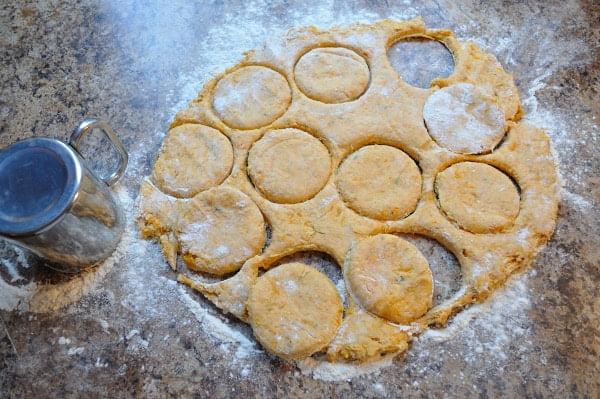 The other reason I mention this "life is messy" approach to food musings and associated photography; is because I am preparing you mentally for what could be an untidy little recipe. The dough is impossibly sticky so there will be flour — lots and lots of flour. Be sure to break out your pastry scraper/paint scraper/back of a butter knife and have fun.
Never let what you don't have be your excuse for quitting something before you even get started, particularly if what you want is Sweet Potato Biscuits! Use what you have. Improvise. Surprise yourself. Vintage biscuit cutter be dammed.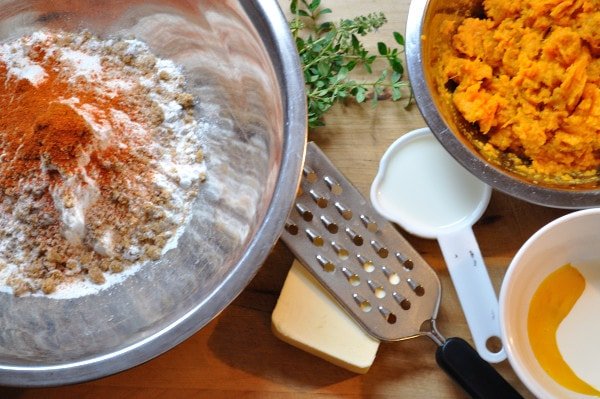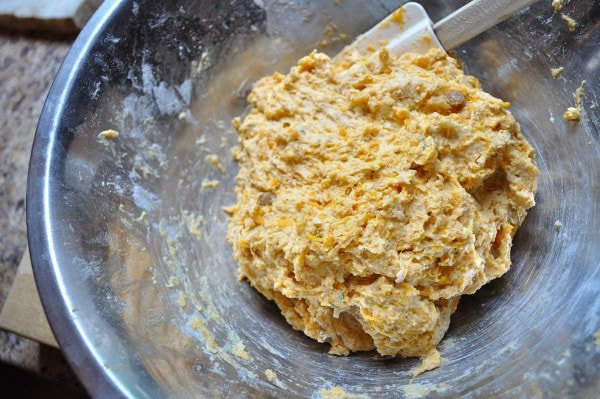 Sweet Potato Biscuits Recipe
Prep time: 1 hour
Total time: 90 minutes
Yield: 24 biscuits
1 pound sweet potatoes (about 1 1/2 cups of cooked product)
1 tablespoon light oil, for cooking
2 1/2 cups flour, plus more for rolling
3 tablespoons brown sugar
1 tablespoon baking powder
1/2 teaspoon baking soda
1 teaspoon salt
2/2 teaspoon cayenne pepper
1 tablespoon fresh thyme, chopped
1/2 cup butter (unsalted preferred), cold
1/3 cup whole milk
1 egg yolk
1 tablespoon heavy cream
Method:
1. Cook your sweet potatoes. Preheat oven to 400°F (205°C). Split sweet potato in half lengthwise, brush all over with with cooking oil. Set potatoes, flat side down on a cookie sheet lined with parchment paper and bake for 30 – 35 minutes, until flesh is tender and the bottom is golden brown. Allow to stand at room temperature for about 15 minutes, then just peel the skin back where they lay and slide them off the baking sheet and into a bowl. Mash with a fork and refrigerate until cold.
2. In a large bowl, add your all purpose flour, brown sugar, baking powder, baking soda, salt, cayenne and thyme and whisk to combine. Keep butter cold until the very last minute, then grate your butter into dry ingredients and mix lightly with a spatula or by hand. In a separate bowl, mix the sweet potatoes with the milk, then add to the dry ingredients and fold/stir until all the flour is combined in the dough. (The very, STICKY dough.) Refrigerate (sticky) dough for 15 to 30 minutes.
3. While dough rests, preheat the oven to 400°F (205°C). When chilled, turn dough onto a well floured, clean surface, and press dough out, with well floured hands, into a flat disk about a 1/2-inch thick. (Did I mention this is a sticky, soft dough?) Using a floured 'biscuit cutter', about 2-inches around, stamp out your biscuits and transfer to a parchment paper-lined baking sheet. Gently re-roll scraps and cut as many as you can, being sure to flour-coat your cutter as needed. Repeat until you've used as much of the dough as possible then combine egg yoke and heavy (whipping) cream in a cup or small bowl with a fork and brush the tops of your waiting biscuits for a soft, gloss finish. Bake your sweet potato biscuits for 20 – 25 minutes, or until golden. Serve warm… or not… but they're best warm.
These biscuits freeze like a dream, pop them in a 300°F (150°C) oven for 5 to 7 minutes and they're oven perfect. They hold well and are great for the busy morning dash-out-the-door breakfast; a touch sweet, a dash of heat and a whole lot of nutrition.