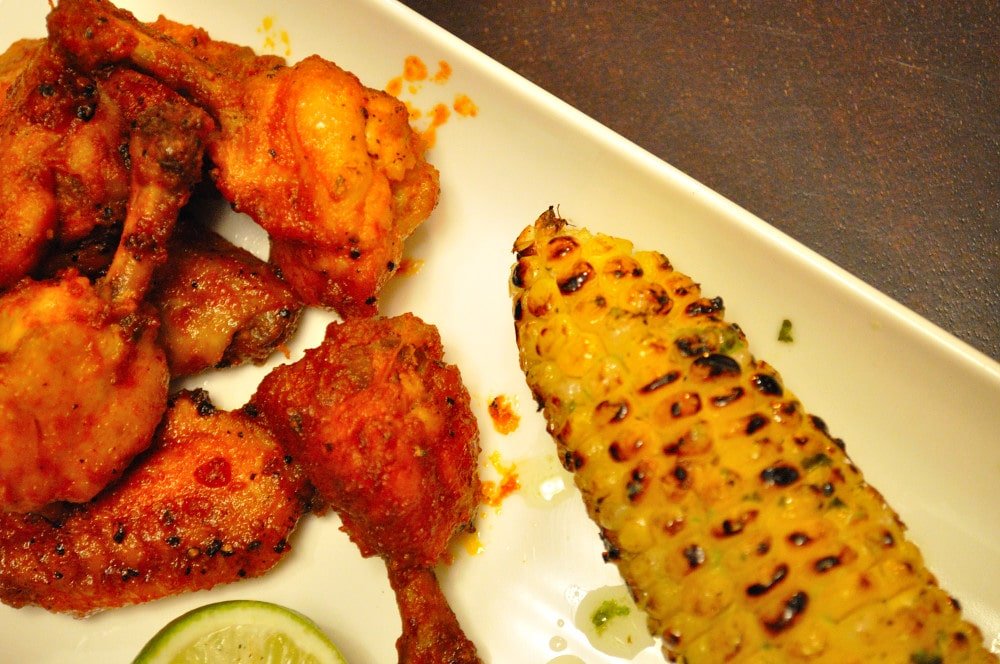 Beer Soaked Asian Buffalo Wings with Lime Cilantro Buttered Grilled Corn
Yes. I said beer and wings in the same sentence, I mean what goes better with beer than wings? And what could be better on a summer's eve with Beer Soaked Asian Buffalo Wings than Lime Cilantro Buttered Grilled Corn?! Nuthin', that's what.
It's Friday night, time to kick back and enjoy a long weekend. At some point over the next few days one of the following recipes might just come in handy. This was a little impromptu menu for a girl's night last weekend while the chef in my life schlepped food at a fancy wedding. So it was girl talk, sticky wings and messy corn, punctuated by frequently topped up cold beverages.
Beer makes the wings moist and gives them great flavour. If you want to get even more punch from your ginger, grate it and be sure to use both the flesh and the juice. I used a dark Quebec brewed beer with good body and smooth falvour notes for the beer soaked asin buffalo chicken wings. I'm not much of a beer drinker, but I sure do love to cook with it. Paired with a simple grilled corn, a hint of lime and cilantro, this was a sassy treat on a hot summer's night… and so easy.
But, that's enough chin waggin', let's get right to the cookin'.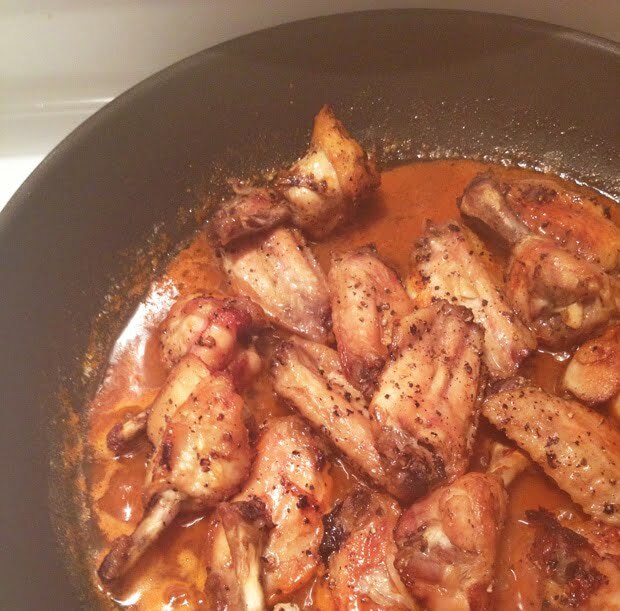 Beer Soaked Asian Buffalo Wings
Prep time: 25 minutes + 4 hours to marinade
Cooking time: 25 – 30 minutes
Yield: about 30 wing peices
1 12-ounce ( 330 ml) dark beer, divided
2 pounds chicken wings
1 large shallot, roughly chopped
2 tablespoons fresh ginger, chopped
2 teaspoons pepper
1 teaspoon salt
1/2 cup Siracha Asian Hot Sauce
1/4 cup butter, melted
Method:
Do ahead: Reserve a 1/3 cup of beer. Clean and cut chicken wings, removing tip (it burns too easily and who eats it anyway), and severing at the joint. Place in a zip and seal bag along with remaining beer, shallot and ginger. Carefully remove as much air as possible and marinate in the refrigerator about 4 hours. Longer is better, overnight is nice, but not necessary.
1. Drain wings removing any large chunck bits of marinade. Preheat oven to 400F (205C) Line a baking sheet with aluminum foil and spay well with non-stick spray. Season wings with salt & pepper; arrange in a single layer on baking sheet. Bake 12 minutes. Turn and cook another 10 – 12 minutes, or until beginning to crisp and brown.
2. In shallow pan over medium-high heat combine butter, Siracha sauce, and reserved 1/3 cup beer and mix. Bring to a low boil, then add chicken wings and toss until evenly coated. Continue tossing, while sauce rescues slightly and becomes sticky. Serve immediately.
Flavour note: If you love the heat Like I do), replace back pepper with cayenne and light it up baby.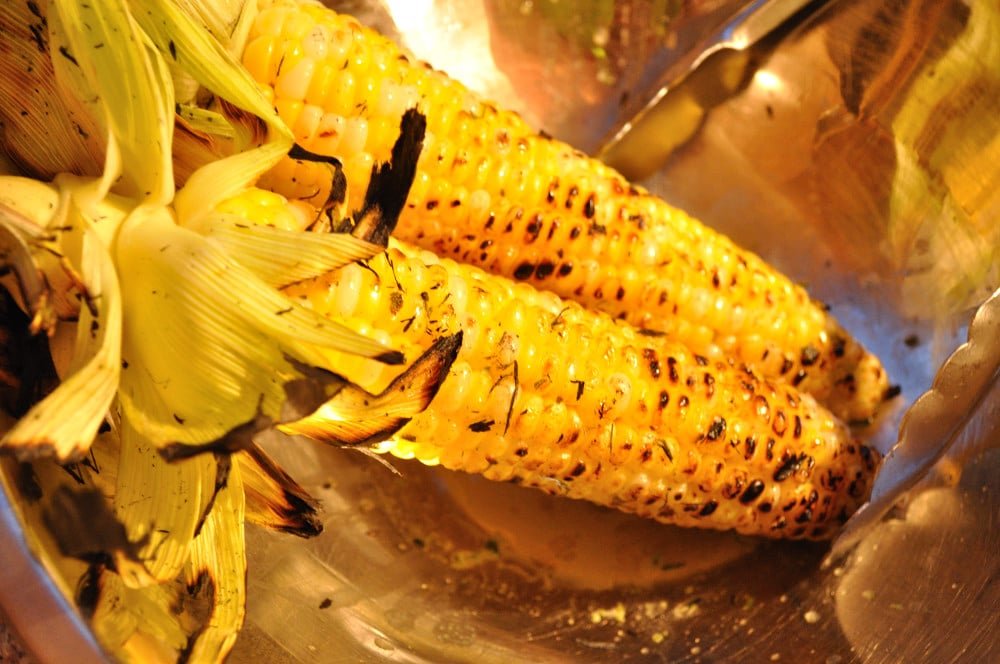 Lime Cilantro Grilled Corn
Prep time: 20 minutes
Cooking time: 15 minutes
Yield: 4 ears
4 ears of corn, fresh
1/2 cup butter
zest of one lime
2 teaspoons cilantro, finely chopped
lime wedges to finish
Method
1. Grab corn ears at both sides of top of husk and pull back, halfway. Remove corn silk only, leaving the rest of the husk as in tack as possible. Soak corn in cold water for 15 – 20 minutes, being sure they're completely covered by water. Remove from water and drain, then brush/rub kernels under the husk with a light film of oil then re-wrap in the outer husk. (At this point you can flavour your corn anyway you wish, a bit of seasoning, spices, onion, garlic, the world of taste is yours.)
2. Melt butter, fine grate/micorplane lime zest into butter, add chopped fresh cilantro and reserve.
3. Pre-heat your grill to about 400°F (205°C), once you open the lid you loose considerable heat, start hotter than you want it. Place prepared corn on the grill and reduce heat to medium, ideally you want to steam cook it at about 350°F (175°C). Close the lid and allow corn to steam for about three minutes before turning, and repeating on the other side. Don't worry if you have a couple of flare ups as the husk burns here and there, that's part of the fun of grilling.
4. After about 6 minutes, remove corn from grill and strip back husk to reveal the kernels. Note: You can leave the husk on or remove it, up to you. It can be a bit messy to leave it on, but if you're eating outdoors, the husk makes a terrific handle. Brush liberally with lime cilantro butter, place back on the grill to char; turning and baisting with flavoured butter as needed, for 3 – 5 minutes or until corn has good colour. Serve immediately with a wedge of lime, squeeze and nosh.
I recommend laughter with this meal, along with the smacking of lips and licking of fingers. Oh, and a bib might be nice. Happy Friday. Let there be beer.