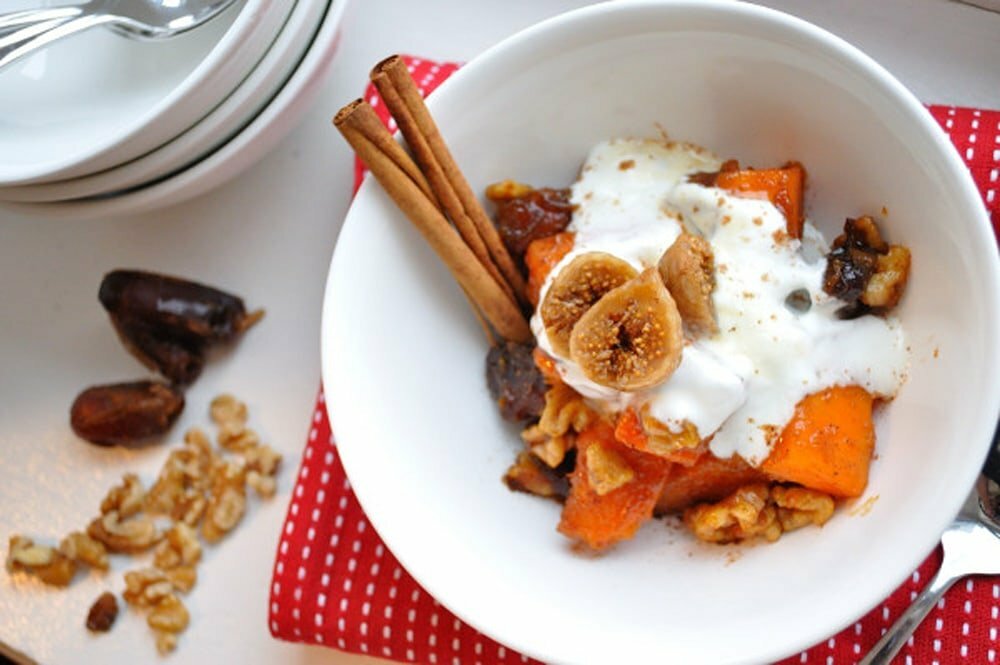 Candied Yams, An Unlikely Dessert
To be more precise: candied yams, dates & walnuts with yogurt & brandied figs. A happy accident that became dessert and is now a winter favourite.
Throughout my 20's and 30's I hosted an Orphan's Dinner on both Thanksgiving and Christmas; a gathering of disenfranchised souls and wayward travelers separated by distance (and some by choice) from family. These were wine driven affairs that would last well into the night, as we leaned on each other instead of being alone.
On year, after having filled multiple bellies with turkey, stuffing and all the sides, my then roommate of many years, Scott, turned to me and (with the breath of a thousand breweries) asked "What's for dessert?!"
Oh crap. Dessert. I was so focused on feeding a table of ten (including three vegetarians) out of a 6 x 8 kitchen and keeping my glass filled so as not to feel any pesky emotions— dessert slipped my mind. Then I then discovered that somehow the candied sweet potatoes had not made it to the table.
Hallelujah.
Wine being the mother of invention where recipes are concerned; I melted a little more butter, added some brown sugar, dates and nuts seasoned it like pumpkin pie and… voila… dessert. That was almost 15 years ago, long before the discovery of brandied figs (thank you Burnt Butter), they are pitch perfect for this sweet end to a cold day.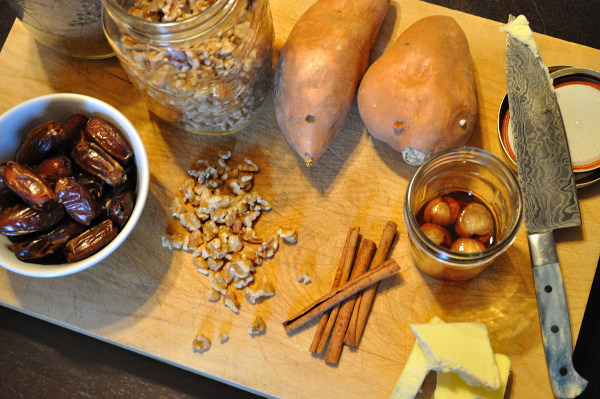 As it turned out my candied yam surprise was one of those sleeper hits you never expect. Sweet spiced starchiness, sticky chewy dates and the light bitterness of walnuts all in a light caramel, which I now salt just to take it to the next level of maturity.
Nutritionally speaking it's packed: potassium in the sweet potatoes, iron in the dates and omega 3s in the walnuts. Big hit with the veg crowd, even bigger hit with the gluten-free guest in our midst who nearly burst into tears. While I'd like to think it was my cooking I'm certain it was the wine and maybe just a touch of missing home.
Gypsy that I am, at home wherever I am, i find family in the embrace of friends and dessert in forgotten side dishes.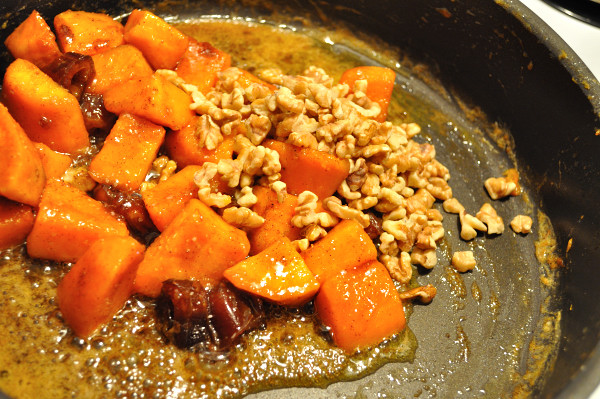 Candied Yams, Dates & Walnuts with Yogurt & Brandied Figs – Recipe
Prep time: 15 minutes
Cooking time: 30 minutes
Serves: 4
• 3 medium sweet potatoes (approximately 4 cups), pealed & cut into 1½ inch pieces
• ½ cup butter
• ½ cup brown sugar
• 1 teaspoon ground cinnamon
• ½ teaspoon ground nutmeg
• ¼ teaspoon ground allspice
• ¼ cup dried dates, coarsely chopped
• ¼ cup walnut pieces, lightly toasted
• ½ teaspoon kosher salt (to taste)
• yogurt, whipped cream or vanilla ice cream
• 6 – 8 brandied figs, cut in half (or quartered)
Method:
Make ahead: place dried figs in a container with a sealable lid, cover completely with brandy. Allow to stand for minimum of 8 hours (24 preferred) until figs are plump and re-hydrated with brandy. Try not to eat them, I dare you.
Lightly steam sweet potatoes either the microwave (3 minutes) or in a stove top steamer (10 minutes) until slightly underdone. They should be bright orange in colour and soft on the outside but still firm in the centre. Remove, drain and cool.
In a large pan over medium heat, melt butter and toss gently with sweet potatoes to coat, then continue cooking for 5 minutes. Add brown sugar and spices, cook about 7 minutes over medium heat, bubbling to form a loose caramel, turn occasionally to coat.
Add dates, walnuts and salt; continue to cook and gently turn sweet potatoes cooking about 3 minutes until the dates are just soft. Add more sugar or butter if needed: add sugar if you see loose oil in the pan, add butter if the potatoes are too sticky and the caramel is starting to coagulate. You're looking for an even, shiny coat of caramel without scorching. Remove from heat and serve.
Serve with: yogurt, whipped cream or vanilla ice cream. Top with brandied figs and a sprinkle of cinnamon oh… and a drizzle of brandy never hurt anyone.