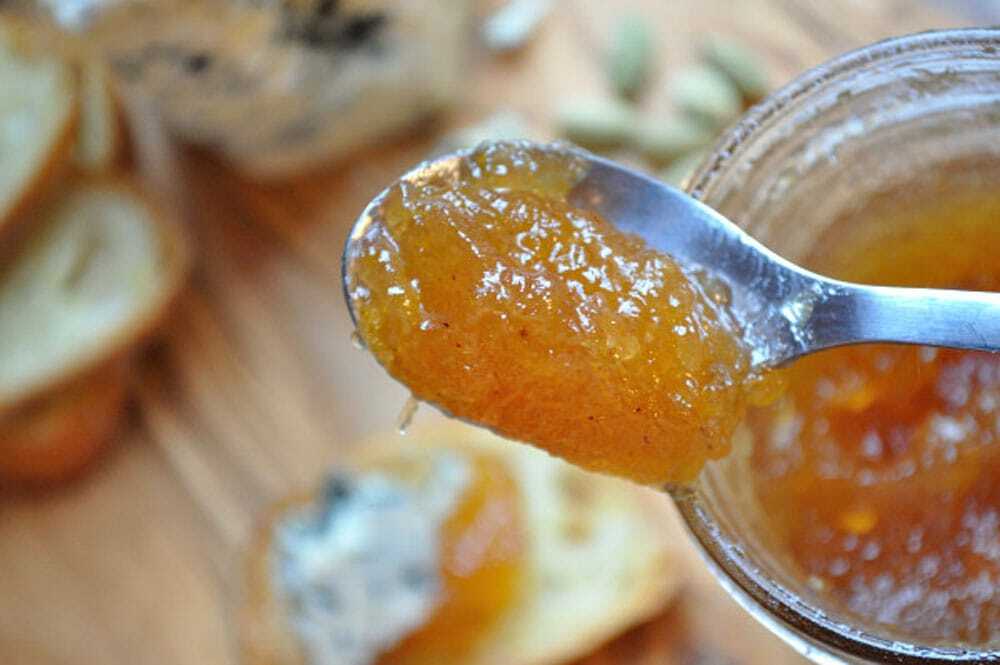 Autumn fruits fill the aisles, how can you possibly resist the shapely pear? So smooth, so ripe, so bottom heavy, and perfectly delicious with a bit of blue cheese as Cardamom Pear Butter.
You're going to need a bit of specialty equipment for this, at the very least a food mill or chinois, to take cooked fruit down to a smooth pulp. A sturdy sieve will do but it's a pain because it's hard to balance against a bowl as you push the soft fleshy bits through the solids. If you plan to make process, say, a couple pounds of pears you'll need about eight 8-ounce jars to seal it in. But here we just whipped up a batch for a 6- 8-ounce jar-full. Enough to satisfy a craving and pack away in our small fridge.
This was my answer to the call of an aged, blue cheese, La Fromagerie du Presbytère Bleu d'Élizabeth, from Sainte-Élisabeth-de-Warwick, Quebec. The star of last week's wine & cheese tasting with Natalie MacLean. Nothing pairs better with a big, bold blue than pears. This was a huge home run.
Since then it's donned a beagle or two, but the cheese still calls and I am still answering, with pleasure.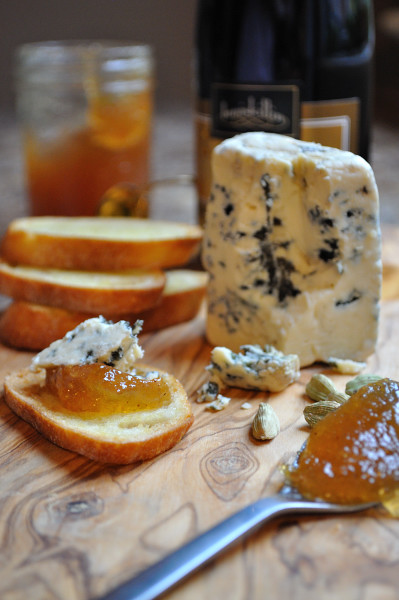 Cardamom Pear Butter Recipe
Prep time: 5 minutes
Cooking time: 2 – 3 hours
Yeild: one 6-8 ounce jar
2 large pears, (Bosch or Bartlett) chopped, do not peel or core
1 star anise
1 1/2 cups water
1 large lemon, juiced
1 cup sugar
5 – 6 cardamom pods
1/2 teaspoon ground nutmeg
1 tablespoon lemon zest
Method:
1. Place chopped pears and star anise into a large pot. Add water, just enough to cover the pear chunks, and the lemon juice. Bring to a boil, then reduce heat and simmer, until the pears are completely soft – about 30 to 40 minutes. Remove from stove top, and allow to cool, for 5 or 10 minutes, until the fruit is easier to handle. (Safety first.)
2. Discard star anise from warm pears. Scoop pear goop (including all liquids and solids), into waiting chinoise or food mill and force the mixture through to a large bowl below. If you're using a chinoise, I find the back of a small ladle or spoon does the trick. Discard remaining pear stuff (seeds, stems, tough parts) once it's mostly dry.
3. Measure the now smooth, purée, and pour into a large, thick-bottomed pan and add sugar. *As a rule of thumb: add a 1/2 cup of sugar for or every cup of pear purée, depending on the amount your pears yield.* Stir to dissolve sugar. With the flat of a blade, crack cardamon pods against a board roughly, then add cardamom, nutmeg, and lemon zest. Taste and adjust as needed.
4. Cook over medium heat, stirring to prevent sticking and burning. Cook until thick, like a loose jam. To test: dip a soon into the mixture, and see how it sticks. It should be juicy but not watery, it will thicken further as it cools. This can take anywhere from 45 minutes to 2 hours, depending on the batch.
5. While the mixture is cooking, sterilize your jar/jars. A couple of short cuts for this a) run them through the short cycle of your dishwasher or b) give your clean jar/jars a rinse and place them in a 300°F oven for 10 minutes.
6. When the pear butter is at a smooth, jammy consistency pour into hot, sterilized jar(s) and seal. Be sure to allow about a 1/4-inch of space between the preserve and the top of the the jar.
Gypsy Note: If you plan to store the pear butter outside of a refrigerator, follow proper canning procedures. Including a 10 minute hot water bath for your jars, and sterilizing your lids and making sure you have a perfect seal. I usually invert my jars to let the forces of gravity help the seal along. Works like a charm.
For this little jar, it was straight in the fridge, nice and handy for cheese emergencies.