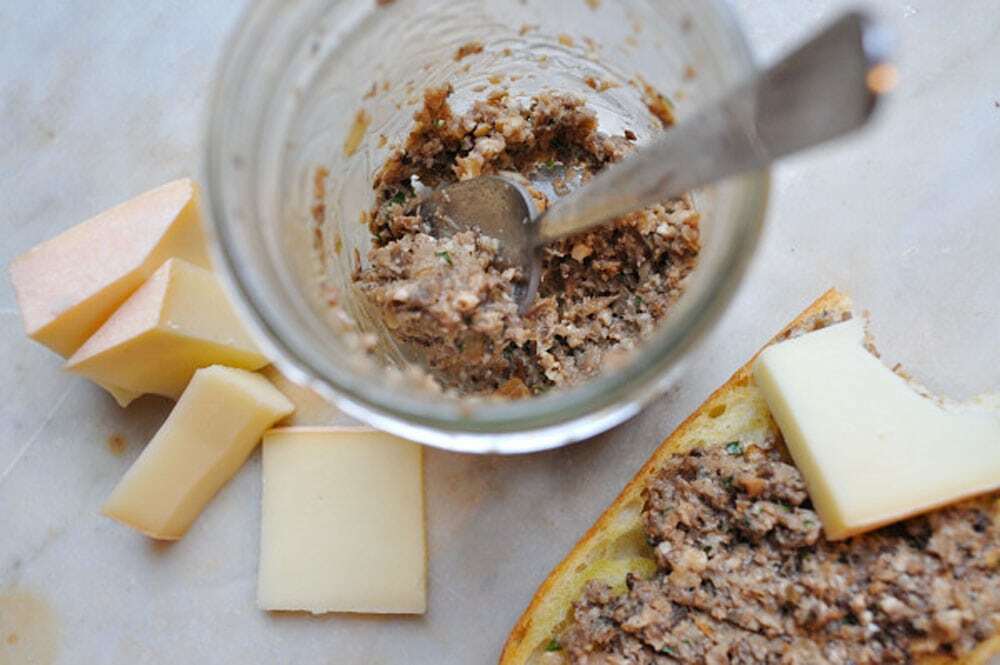 Herbed Mushroom Truffle Paté
An earthy accompaniment to a smooth cheese, we paired our Herbed Mushroom Truffle Paté with a ripe, golden 1608 Laiterie Charlevoix, from Baie-St-Paul, Quebec. (It's even better melted.)
This is a vegan pâté, combining wild & button mushrooms with a buttery base of walnuts and fresh herbs, finished with truffle oil for an aromatic kick. Herbed mushroom truffle paté improves after a couple of days in the refrigerator, so make it ahead if you're hosting an event. It's also great for everyday snacking and cooking; spread it on grilled flatbread or crackers, serve with marinated vegetables, grilled sweet peppers, sharp cheese and pickles for a satisfying antipasto platter.
You can also toss it with a hot pasta and a bit of butter for a quick and tasty side dish, or top a baked potato, a chunk of well charred steak or fish, or use as a base for pizza instead of tomato sauce. If you add it to a pan deglazed with brandy after roasting the Sunday night chicken, it makes a stunningly simple sauce.
Versatile. Enjoy.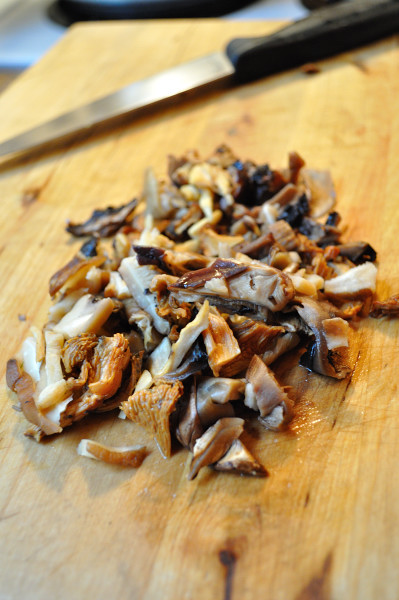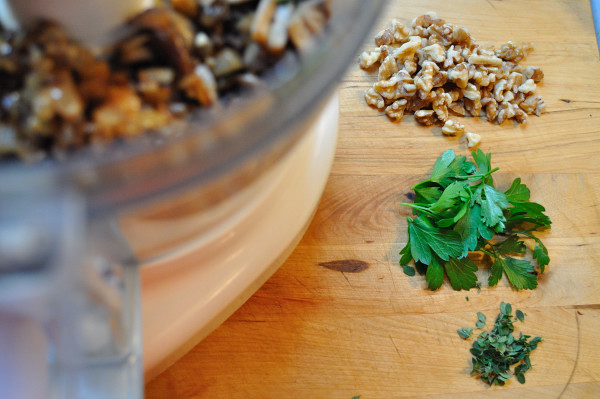 Herbed Mushroom Truffle Paté Recipe
Prep time: 10 minutes
Cooking/mixing time: 20 minutes
Yield: 2 cups
2 tablespoons butter
1 1/2 cups cremini/button mushrooms, sliced
1/2 cup mixed, wild mushrooms (fresh or rehydrated dried), chopped
2 cloves garlic, minced
1 onion, minced
2 tablespoons dry white wine
1⁄2 teaspoons salt
1⁄4 teaspoons freshly ground pepper
1 1/2 teaspoons fresh thyme
1/2 teaspoon fresh rosemary
1/4 cup raw walnut pieces
1 teaspoon black truffle oil
1. Melt butter in a skillet over medium high heat. Add cremini/button mushrooms, garlic and onion and sauté for about 4 minutes, then add mixed wild mushrooms. Continue to cook down, about another 5 minutes, until liquid is evaporated and mushrooms are browned. Add wine and cook, scraping off any brown bits on the bottom of the pan, until wine is evaporated. Remove from heat and add truffle oil, stir lightly to mix. Allow to rest and cool slightly.
2. Scoop cooked mushroom tuflle infused mixture into a food processor, add thyme, rosemary, walnuts, salt & pepper and pulse until lightly chopped, or if you prefer a smoother finish, pureé until you have a consistancy you like. Check seasoning and adjust as needed. Pack pate mixture into a pâté crock, jar or ramekins. Cover and refrigerate until chilled, up to 5 days.
To serve, let stand at room temperature for about 15 minutes and spread liberally.