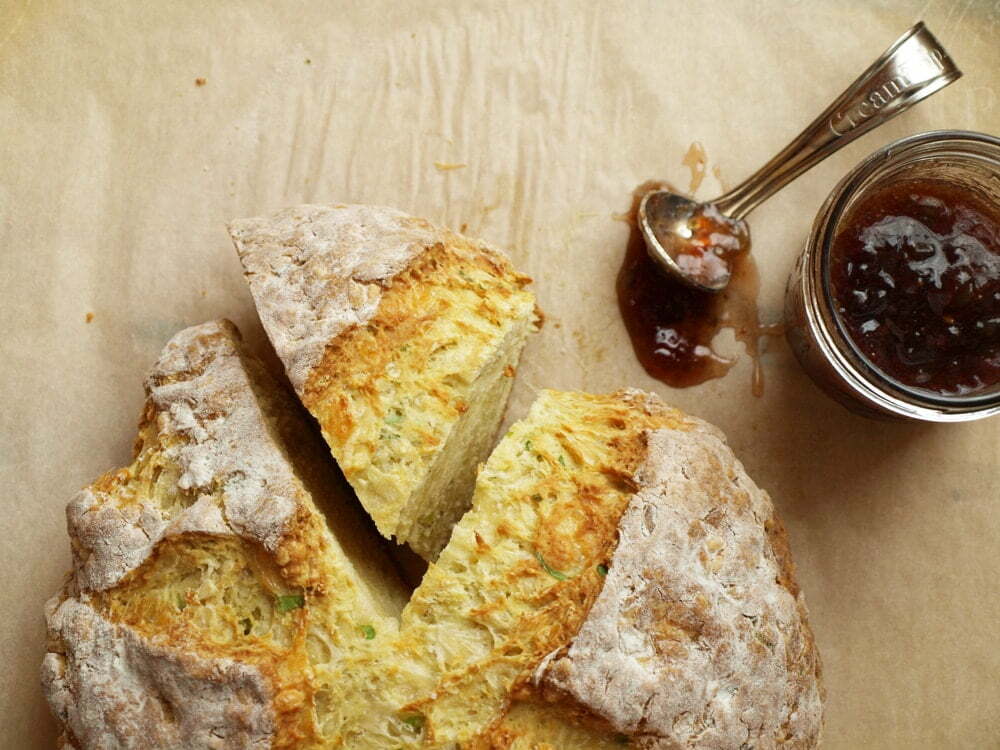 Cheesy Irish Soda Bread & Strawberry Jalapeno Jam
A simple rustic quick bread with a sweet and spicy jam. The perfect savory breakfast addition over the holidays, or anytime, Cheesy Irish Soda Bread and Strawberry Jalapeno Jam.
This is bread in own of it's simplest forms and also one of it's fastest. Quick and easy, Irish Soda Bread is essentially a large biscuit. It pairs well with hearty soups and stews on a cold winter's day and starts off a morning beautifully with some lighty scrambled eggs.
In it's traditional form, an Irish soda bread recipe reads like this: 3 1/2 cups flour, 2 tablespoons caraway seeds, 1 teaspoon baking soda, 3/4 teaspoon coarse salt and 1 1/2 cups buttermilk. The buttermilk reacts with the soda to give it lift and volume. It's a historic recipe that contains endless possibilities, from sweet to savory and is well worth the few minutes it takes to whip it up.
Today we've added an egg to make it richer along with a cup of gouda cheese and some fresh, finely chopped green onions for a savory, bread that's dense and nutty. Because we had some of last years's strawberry jam lounging on the fridge door, turning to sugar beside the last of a jar of pickled jalapenos, thought I'd whip up one of my favorite 'out of the fridge' condiments – strawberry jalapeno jam – as a quickie, quirky combination.
In the summer months we make this combination fresh, using roasted, pureed jalapenos for some wicked heat. After this weekend's ice storm, it's a tad chilly, not exactly grilling weather so there's no shame in hacking it, straight off the shelves of the frigidaire.
Strawberry Jalapeno Jam: 1 tablespoon of pickled, finely chopped jalapenos per 1/4 cup of strawberry jam.
We like the heat, but we suggest you start with 1 teaspoon, and taste test, to find the heat level that works for your palate. The spice should be evident but not smokin'.
I love to give breakfast baskets as a hostess gift when invited to a house party. With all the cleaning up, who has enough energy to make breakfast? Cheesy Irish Soda Bread, with a sweet and spicy jam makes a great handmade gift over the holidays.
Cheesy Irish Soda Bread – Recipe
Prep time: 15 minutes
Cooking time 35 – 40 minutes
Yield: 1 loaf
4 cups all-purpose flour
1 teaspoon baking soda
1 teaspoon kosher salt
1 teaspoon granulated sugar
1 cup grated sharp cheeses (cheddar, gouda, parmesan)
3 green onions, chopped fine
1 egg
1 1/2 cups buttermilk
Method:
Preheat the oven to 400°F (205°C) and line a baking sheet with parchment paper.
1. Add dry ingredients – flour, baking soda, kosher salt, granulated sugar to a large bowl and whisk to combine. Add cheese and green onions and toss together until well blended. In a separate bowl lightly mix buttermilk and egg together. Form a well in the dry ingredients (plus cheese etc) and add milk & egg mixture. Mix with a wooden spoon or spatula, just until dough comes together. This will be a lumpy, course dough unlike yeasted doughs, which are smooth and stretchy.
2. With well floured hands, form dough into a round loaf and roll lightly in extra flour for a rustic look. Place on parchment lined baking sheet.
3. Lightly score a cut a cross over the top of the dough with a sharp knife, about a 1/4 inch deep to allow the steam a vent. Bake at 400°F (205°C) 35 – 40 minutes or until the soda loaf is toasty brown and when tapped on the bottom, has a hollow sound.
Cool on a wire rack and serve. This is a fresh, quick leavened bread without preserving agents. Irish Soda Bread is best fresh, or within three days of baking, and is terrific toasted.