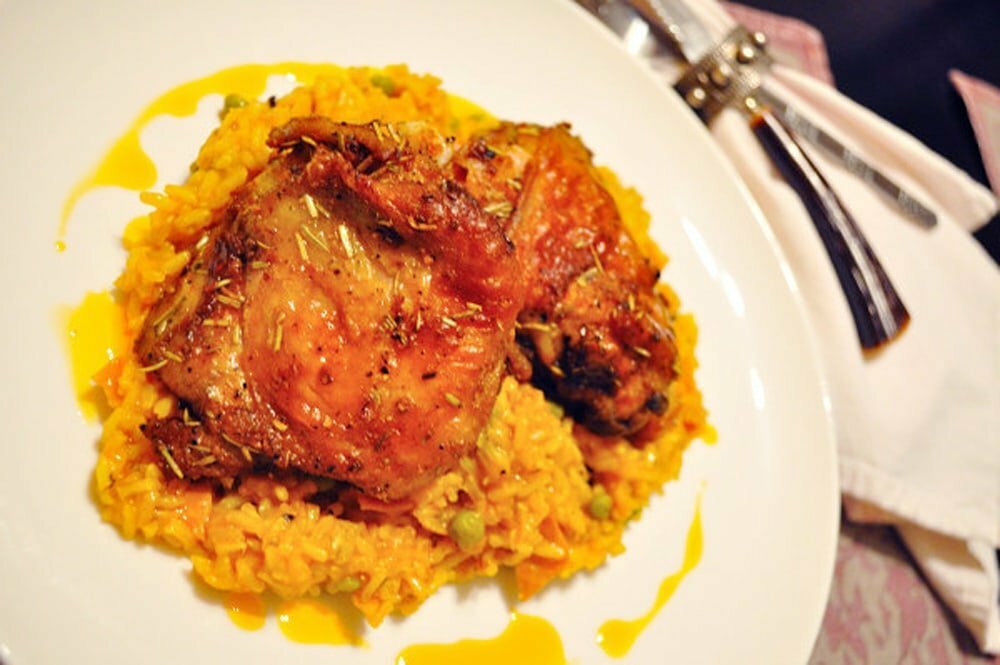 The warm flavours of saffron, rosemary, garlic and paprika harmonize in rib-sticking batch of Chicken Paella. Straight from the fields of the Valencia region of Spain, workers would gather around the fire,wooden spoon in hand, and eat directly from the pan. This is a meal for the masses.
You would have been a pretty well-off farmhand to toss a chicken in the paella pot in days gone by. The most traditional versions contain fresh protein harvested in the same fields as it was made in; rabbit, duck or snails, plus a link of cured sausage or dry chunk of pork. Made in large qualities, it would simmer for hours over the open fire, and be savoured the following day as well, as spices steep and saffron steps to the fore.
(Seems we're all out of snails…)
Our Chef B's (Benoit Gelinotte) version of Chicken Paella is a blend of the traditional with a hint the modern seafood version that so many associate with the name 'paella'. Instead of tossing the chicken in the pot, we also take advantage of the modern oven and roast it along side a big pot of paella rice. This makes the skin of the chicken crisp, and the meat, moist and juicy. The rice is highly fragrant, stained yellow with saffron and slightly smokey from the addition of cured ham.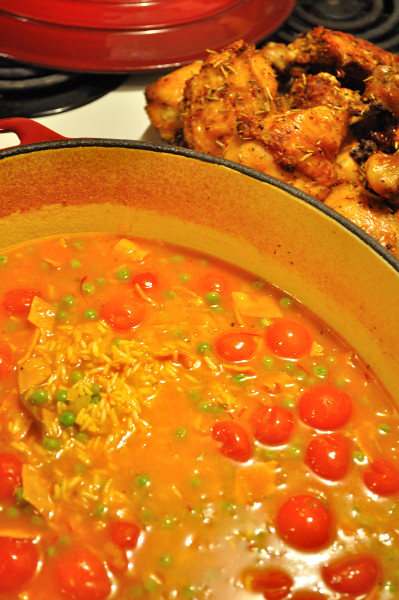 In this recipe we use long grain brown rice, for a deeper taste profile and higher nutritional value. This also means it takes much longer to cook. To shorten your cooking time by half (making this Chicken Paella doable on a school-night) substitute brown rice for arborio rice. A short grained rice rich in starches, arborio rice will give you a creamy, almost porridge-like consistency similar to risotto, which is extraordinarily satisfying.
Gypsy Tip: In commercial kitchens we work with ratios for consistent results.
Ratio for long grain brown rice: 1 to 4. That is 4 x the liquid (by measure) to each potion of rice. 1 cup of rice + 4 cups of liquid = perfect brown rice, every time.
Ratio for arborio rice: 1 to 3, 1 cup rice + 3 cups liquid = perfect arborio rice.
Ratio for long grain white rice: 1 to 2, 1 cup rice + 2 cups liquid = perfect long grained rice.
So if you switch up your rice, be sure to adjust your liquid/stock and your cooking times.
We also see Chef B using one of his favorite flavour tricks in this recipe, when he is cooking proteins and starches separably, yet wanting the taste of the protein in the starch (or side dish). He finishes his protein first, removes it from the heat to allow it to rest, reserving both the drippings ( or 'suc') at the bottom of the pan and, in this case, the oil.
The suc he chops and adds to the rice as it's still absorbing the liquid (steps 6 and 7, bottom photo) while the coloured, flavour intense, oil he reserves and uses it to finish the plate, and later as a fat in other cooking.
Another way to extend flavour, ingredients and the all mighty dollar; from our kitchen to yours.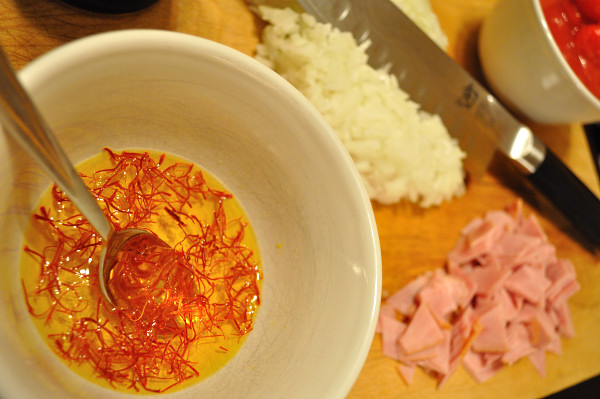 Chicken Paella Recipe
Prep time: 30 minutes
Cooking time: 90 minutes
Serves: four to six
7 garlic cloves, finely chopped (divided)
2 tablespoons olive oil
1 teaspoon dried thyme (divided)
2 teaspoon dried rosemary
3 teaspoons smoked paprika
salt & pepper to taste
6 chicken thighs/legs, trimmed
1 tablespoon saffron threads
2 tablespoons boiling water
1/4 cup butter
1/2 cup serrano ham (or chorizo sausage or Spanish salami), chopped
1 large onion, finely chopped
2 tablespoons anchovy paste (or anchovy fillets, chopped)
2 cups long grain brown rice
1 cup dry white wine
5 1/2 cups chicken stock (divided)
1 -32 oz can cherry (or diced) tomatoes
1 cup frozen peas
1 bay leaf
salt & pepper to taste
Preheat oven to 375*F (180*C)
1. Add oil, half of your garlic and thyme, all of your rosemary, smoked paprika, salt and pepper (to your indiscretion) to a large, shallow bowl and mix to combine to a paste. Add chicken and toss, by hand, rubbing spice paste into and (where possible), under skin. Allow to stand and marinade for 20 minutes, at room temperature.
2. Place saffron in a small heat-proof small bowl, add boiling water, stir to begin to release flavour and colour and and reserve.
3. Melt butter in a paella pan, or dutch oven over medium-high heat. Add onions and ham and sweat, stirring, for about 4 minutes, or until onions are transparent. Add rice, remaining garlic, anchovy paste, salt, pepper and saffron mixture, stirring to coat rice with fat and toast lightly, about 7 minutes.
4. Place chicken in shallow non-stick roasting pan, skin down and pop it into 375*F, preheated oven for 20 minutes.
5. Add tomatoes, white wine and half of your stock, stir to combine and bring to a boil. Add remaining seasonings, thyme, bay leaf, salt and pepper as well as frozen peas. Place in 375*F, preheated oven for 40 – 50 minutes and cook, covered, stirring occasionally to prevent sticking.
6. Remove chicken from oven, turn each piece skin side up, and return to 375*F, for 20 minutes, until crisp and golden brown, then remove from oven and rest, separately, in a warm spot. As pan cools, pour off concentrated, yellow oils into a small jar or bowl and reserve. Gently scrape off the brown bits off the bottom of the chicken roasting pan, lightly chop.
7. Remove rice from the oven, add remaining stock and suc to rice mixture, stirring to combine. The crisp bits will 'melt' as they cook in liquid, adding richer colour and flavour. Return rice to oven to finish cooking time, or until almost all liquid is absorbed.
8. As rice finishes, be sure to taste and check seasoning, adjusting as needed. (Tasting as you go is the mark of a good cook!) Return chicken to the oven briefly to re-heat, you can do so on top of rice (uncovered), and then serve at the table, right out of the pot, 'farmhand style'.
Hearty and homey, chicken paella makes a perfect meal on a cold, dark night, warming you from the inside out.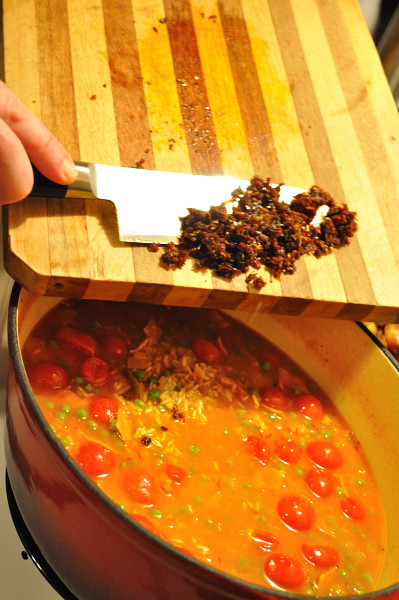 .