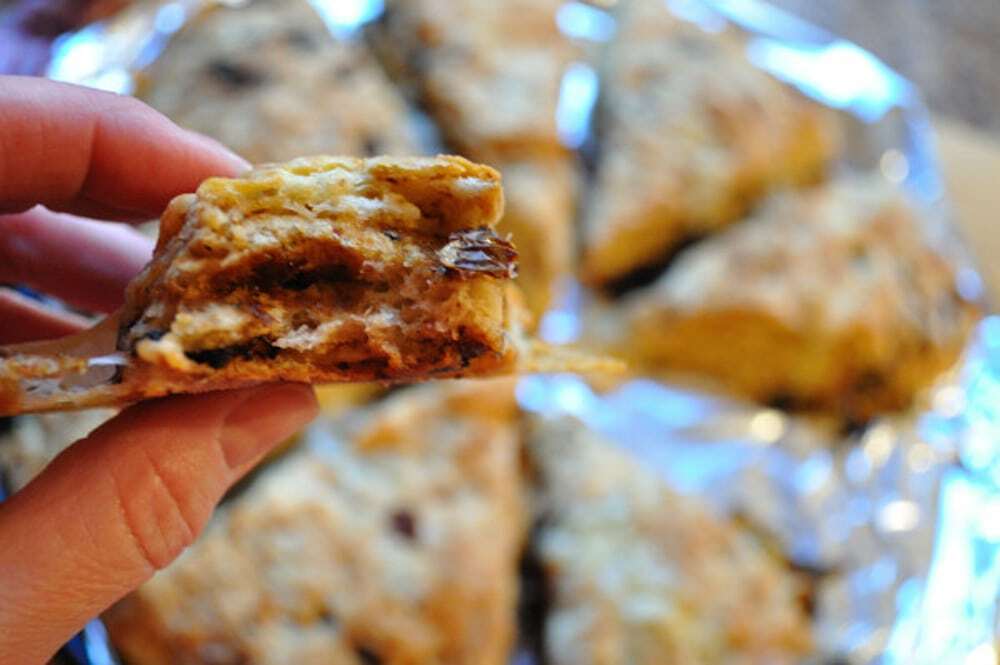 Savory Sun-Dried Tomato Scones
There is something deeply satisfying about the rich, red flavour of sun-dried tomatoes, whether they're the star of a sweet pesto, a quick sauce or these Savory Sun-Dried Tomato Scones; it's a taste says autumn.
As I write the house is quiet, the dog lies burrowed under the covers, the kiddo is blissfully sleeping past 8AM and I have a rare moment of peace after a hectic Halloween. This is a baking treat just for me, and part of a system of self-care that I perform in tiny rituals throughout my week. It is a practice of pleasure, as I enjoy in the smallest of moments; a little something delicious, a long walk in the brisk fall air, a moment with a bottle of nail polish. It's my job to take care of me.
A savory scone might seem an unlikely choice as far as acts of self-care go, but for me this is breakfast on the run. An adult flavour far departed from the sugar high and subsequent headache that are the unfortunate result of candy over-indulgence. Tart, tangy, and filled with sharp, spicy cheese – savory sun-dried tomato scones are a moment of 'me time'.
In this moment, I chose the Madagascar Bothwell Cheese, from last month's wine & cheese festivities. Loaded with green peppercorns, against a sharp, creamy cheese, it's been great fun to cook with. This recipe works equally well with an aged cheddar, asiago, parmesan or romano cheese. Think cheese that is high in both fat and salt, it pairs best with the chewy-sweetness of sun-dried tomato.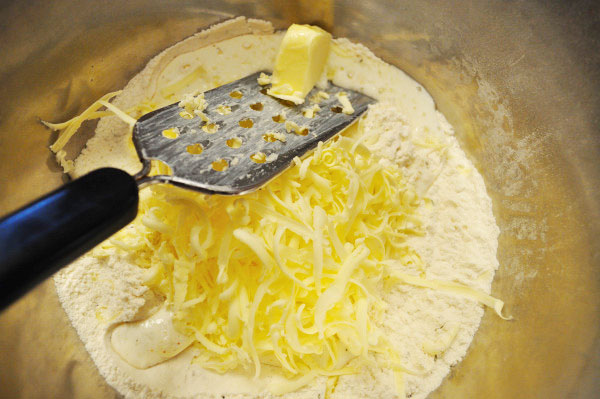 Favourite Gypsy baking tip for biscuits, pastry or scones: grate the butter into the batter.

Quicker than pastry blenders, knives or cubing; grating your chilled butter makes it smaller and easier to blend, for an effortless layered fat into your favorite pastry or quick bread.
Then I work it with my fingers, rubbing the fat into the flour with my thumb. I have notoriously warm hands, which lightly melts the fat, allowing for a fast incorporation with the dry ingredients. I work quickly, otherwise I just wind up with butter-fingers, and well lubricated cuticles.
Take good care of yourself.
Savory Sun-Dried Tomato Scones
Prep time: 45 minutes
Cooking time: 12 – 15 minutes
Yield: 8 – 12 scones
1/2 cup sun-dried tomato halves (dry-packed)
11/2 cups boiling water
2 cups all-purpose flour
1/4 cup sharp cheese, cubed or grated
1 teaspoons chopped fresh thyme
2 teaspoons chopped fresh rosemary
1 teaspoon dried oregano
2 teaspoons baking powder
1/2 teaspoon baking soda
1/2 teaspoon salt
Dash of caynne pepper
1/4 cup chilled butter
1 cup buttermilk
Method:
1. In a small bowl, cover sun-dried tomatoes with boiling water; let stand for 30 minutes or until soft. Drain well and chop roughly. (This step can be done ahead, re-hydrated sun-dried tomatoes can store in your refrigerator for a week, or until needed.)
2. Preheat oven to 425°. Prep baking sheet with aluminum foil, covered with non-stick spray or parchment paper.
3. Combine flour, cheese, thyme, rosemary, oregano, baking powder, baking soda, salt and caynne pepper in a bowl, and stir to combine. Grate cold (or frozen) butter into to dry ingredients, combine with fingers or a spoon, until your mixture resembles coarse a meal. Stir in chopped tomatoes and add buttermilk, stirring just until moist.
4. Turn (sticky) dough out onto a lightly floured surface; knead lightly three or four times with floured hands to form a cohesive dough. Pat dough into a circle (about a 1/2 inch thick) and cut circle into eight to twelve wedges. Place wedges onto your prepared baking sheet, spaced about an inch apart.
5. Bake at 425° for 12 – 15 minutes or until golden brown and cheese is melted and gooey.
Perfect for breakfast with a scrambled egg, for lunch with a hearty soup, or as a to-go snack on your way out the door.