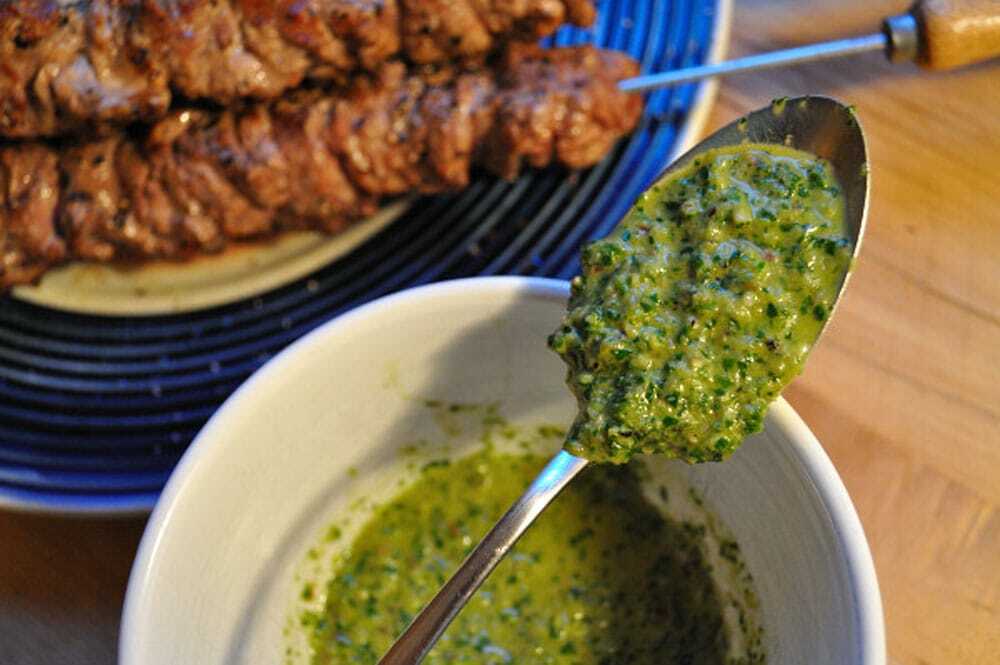 Chimichurri – An Essential Taste of Summer
Adding to our essential sauces of the barbecue season with a tangy Chimichurri Sauce from South America. In it's native Argentina it is the quintessential condiment for grilled meats, an Argentine pesto if you will, combining parsley, garlic, onion, olive oil, and vinegar for a powerful punch.
This grilling season we thought we'd give you three unique falvours to make your backyard feasts something special. First was Chef B's French inspired Pri Pri, to add a zippy flavorful char to your favorite grilled stuff. Then a touch of smoke and bourbon with this Gypsy's Smokey Jack Daniels Ketchup, which has been a huge hit around our coals this summer on everything from grilled sausage to juicy burgers. Now how about a bright tasting, green sauce that will keep the vampires at bay?!
Chimichurri makes a marvelously garlicky marinade for red meats and chicken. A spoonful of chimichurri on the plate as a condiment makes your steak taste like it was dragged through the garden, and I'm nuts about it on a cold sandwich with leftover barbecue and a hint of mayo. You can use it on seafood, lamb and even pasta, it's pretty versatile stuff and once you get a taste for it, all you want is more.
Like many traditional recipes, the variations and added flavours, region to region, can be diverse. In Mexico, you find Chimicurri with a hit of cilantro. In Uraguay, Nicarga & Columbia you might find it spiced with paprika, cumin, thyme, lemon or bay leaf. Then there are those of us who take our favorite falvours from the herb garden, and add a bit of spicy heat to our chimichurry. Yea, we're crazy like that.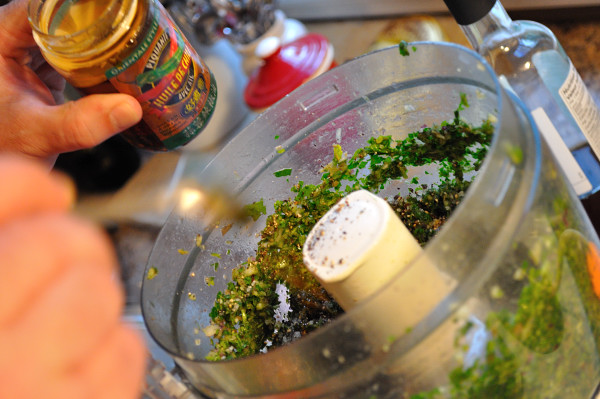 Chimichurri Sauce – Recipe
Prep/cooking time: 20 minutes
1 cup flat leaf parsley, stems removed
1 cup cilnatro, stems removed
8 cloves garlic, chopped
3/4 cup extra virgin olive oil
1/4 cup red wine vinegar
1 lemon, juiced
1/4 cup red onion, chopped
1/2 teaspoon dried chili flakes or chili oil
1 teaspoon black pepper
1/2 teaspoon salt
Method:
Thoroughly wash all herbs and remove stems. Roughly chop garlic & onions. Add all ingredients except chilies, salt & pepper in processor and pulse until smooth. Season with salt, pepper & chilies to desired levels, add extra olive oil if needed. Transfer to bowl or jar and let stand at room temperature to infuse.
Any reminder can be kept, sealed in the refrigerator for two to three weeks. Ha, like it lasts that long, what was I thinking.