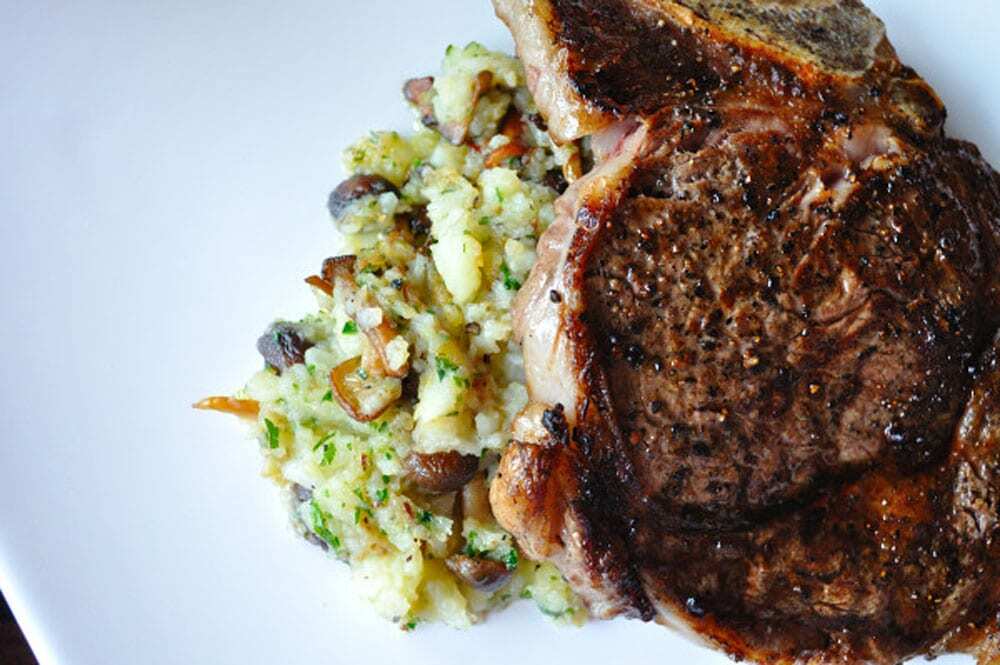 Wild Mushroom Potato Hash
Fast and easy, recipe #67 on our list of things to do with leftover potatoes; Wild Mushroom Potato Hash. Perfect with anything fresh off the grill, steaks, chops or fish, and finishes in twenty minutes flat.
The extreme heat of the Ottawa Valley has seen us laying low and keeping cool, only in as the temperature eases in the evening do we emerge to sit in the breeze and listen to the hum of the cicada in the trees. This week a big storm rolled through, downing power lines and toppling trees, followed by a little rain. Not enough to curb the level two drought of the region, but enough to cool the heat for a while.
It's been too hot too cook, we've sustained on grilled meats, cold sandwiches, salads and take out. So when we turn on the stove, we try to maximize our efforts. If we're making a potato salad we boil extra potatoes because you can do a hundred different things with leftover potato.
This hash has six ingredients; leftover potatoes, wild mushrooms, garlic, parsley, butter & oil. We used two 3.5 oz packages fresh of Chef's Mix mushrooms from Pronderosa Mushrooms in Port Coquitlam BC (which happens to be my hometown). Chef B was so happy with the selection and quality, they've become his new favorite commercial mushroom mix. A blend of six to eight cultivated and wild mushrooms – the mix can vary depending on seasonal availability. Fresh and tasty.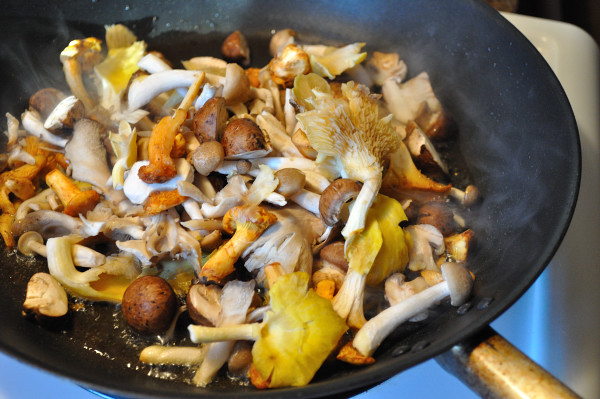 Potato hash can work for any meal, with bacon or ham for breakfast or brunch, just top it with an egg. For lunch tossed with leftover chicken or sausage, or as a side to whatever protein you're cookin' tonight. It's cooked hot and fast, and with a splash of truffle oil, it's down right gourmet!
Wild Mushroom Potato Hash – Recipe
Prep time: 5 minutes
Cooking time: 15 minutes
Serves: four
4 medium, boiled potatoes (cold)
7 ounces, fresh wild mushrooms (chopped if necessary)
3 cloves garlic, chopped fine
1/2 bunch flat leafed parsley, chopped fine
2 tablespoons butter
2 tablespoons olive oil, for cooking
salt & pepper to taste
In a medium bowl, mash precooked potatoes lightly with a fork, season lightly, add butter and mix. Reserve until ready to cook.
Place a skillet on medium- high heat, add olive oil and allow to heat until loose in the pan. Add mushrooms, season, and sauté until golden, about 5 minutes. (This can be done ahead, and the mushrooms can stand at room temperature if needed for up to an hour.)
Reduce heat to medium, add garlic and fresh chopped parsley (the amount of garlic should be about equal to the amount of parsley you use) to mushrooms and fold to coat, cook for about 1 minute. Add prepped cold mashed potatoes on top of mushroom garlic mixture, allow steam to bubble up. Add more oil or butter if needed to keep pan moist. Cook, tossing as necessary, for about 9 minutes, until hot with flecks of golden brown potato show through.
Plate and serve. Leftovers? Well, that's breakfast.