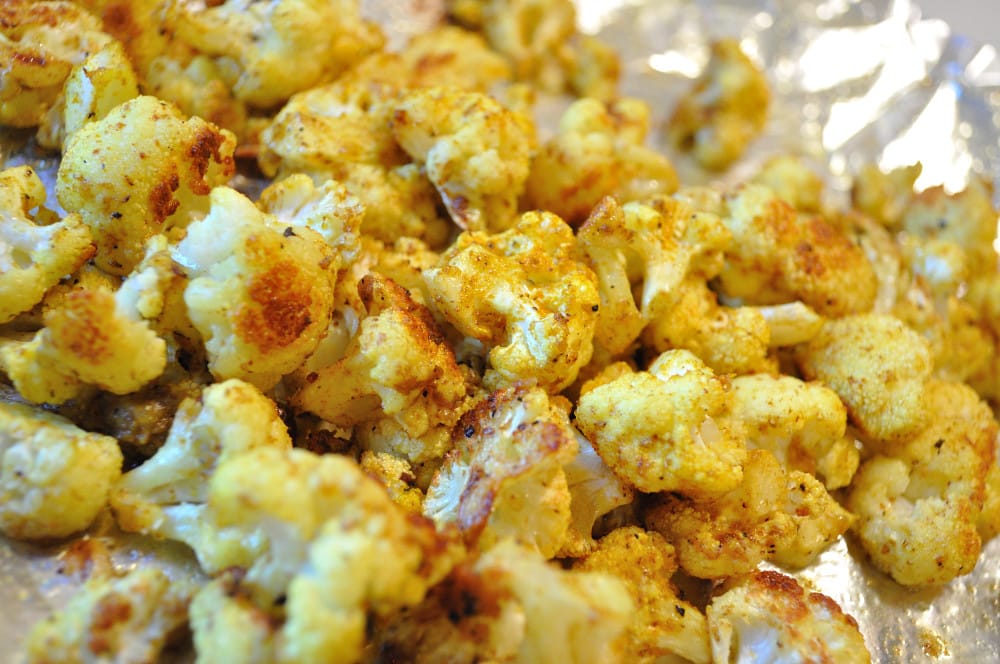 Curry Roasted Cauliflower
Simple sides make weekday meals so much easier. This is one of our favourites just toss with olive oil, garlic and curry powder, and bang it in the oven and 20 minutes later; Curry Roasted Cauliflower.
Cauliflower is one of those vegetables that works so many ways. You can stream, puree, roast, grill, saute, soup or stew cauliflower and flavour it in almost any direction. Here we're pushing it with a little curry for an aromatic, delicious side, and key ingredient in Coco's Curried Naan-za.
Go veg.
Curry Roasted Cauliflower – Recipe
Prep time: 15 minutes
Cooking time: 20 – 30 minutes
Servings: four
3 cups cauliflower florettes
3 tablespoons olive oil
1 tablespoon garlic, finely minced
2 teaspoons curry powder
salt & pepper to taste
Method:
Pre-heat oven to 400º F (205° C) Wash, core and cut cauliflower into small florettes. In a large bowl add cauliflower, drizzle with olive oil, add garlic then sprinkle with curry powder, salt & pepper. Toss to coat, cauliflower should be 'wet' with oil and spice. Place single layer on a nonstick baking sheet (or on a piece of aluminum foil sprayed liberally with non-stick spray. Place in pre-heated 400°F oven for 20 – 30 minutes (depending on the size of your cauliflower pieces until golden brown.
Speedy kitchen hints: Short-cut your chopping time with pre-crushed garlic. Tighten up your cooking time by keeping florettes small. If you're microwave friendly, give your cauliflower a quick steam with a little water in a microwave safe dish, for about three minutes on high until they start to soften, then toss and roast. This will cut your cooking time by half.