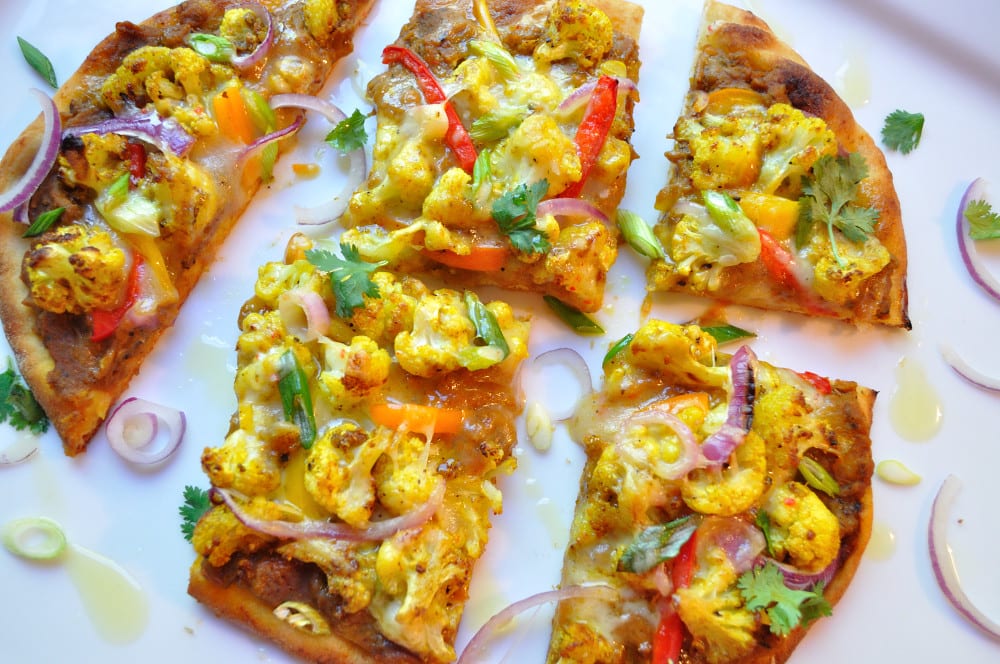 This week we had the same vegetarian meal, twice in a row – by request rather than coercion. We call that a hit and thus Coco's Curried Naan-za became a new menu item in our house.
At home, I am 'Coco', loving partner to the chef in my life, step-mom to an inquisitive, adorable four-year old. Veggie meals are viewed with some suspicion around our house. I suppose it's due, in part, to the fact that I have two rather particular individuals with a short list of favorites. So when we have a win, we work it. I'm always looking for ways to get more nutrients in my loved ones. This worked on the Chef… still in recipe development for the four year old.
Coco's Curried Naan-za is a quickie pizza using prepared naan bread as a base, leveraging two recipes that we posted earlier this week; Lentil Curry and Roasted Curried Cauliflower, topped with jalapeno Havarti cheese, peppers, onions and a fresh sprig of cilantro. Tasty, hearty and packed with plant protein, Curried Naan-za is a meal in and unto itself, or serve it as a fun appetizer or small plate.
For your ease and convenience, I've to posted both recipes below (the lentil curry is a half-batch for this purpose) so you don't have to toggle back and forth, as well as a method that will help save you time if you're making both together. We could all use a few time saving measures in the kitchen!
We often have the Lentil Curry dip in the fridge (can be made days ahead) and a pack of naan in the freezer, it only takes a few minute to thaw. We can whip off a short batch of curried roasted cauliflower in a half an hour or so, or it can be made in advance and held cold. Spice things up with a hint of chili or make it sweet and savory with tomatoes and pineapple. The point is, have fun. Let everyone in the household pick their favorite and make individual pizzas together.
Play with your food, you're allowed.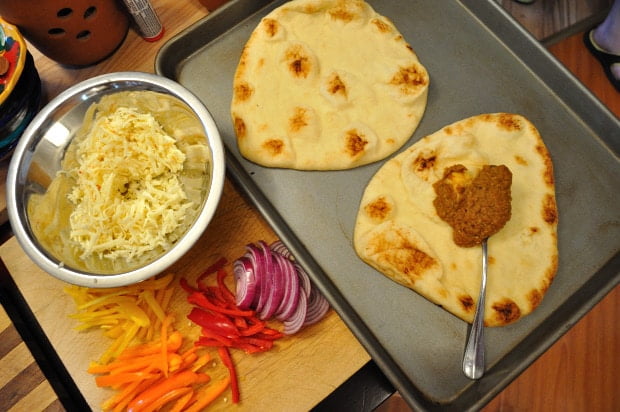 Coco's Curried Naan-za Recipe
Prep time: 90 minutes
Cooking time: 30 minutes
Yield: Four to Six
Lentil Curry Recipe
1/2 cups dried lentils, soaked, rinsed
2 teaspoons olive oil, for cooking
1 carrots, diced
1/2 medium onion, diced
2 – 3 cloves of garlic, minced
1/4 cup tomato paste
2 – 3 cups vegetable stock
1 teaspoons of kosher salt (or to taste)
1 1/4 teaspoons garam marsala spice
1/2 teaspoon freshly ground black pepper
1/4 teaspoon curry powder
1/4 teaspoon cumin powder
1/4 teaspoon dried thyme
1/4 teaspoon dried crushed chilies
1 teaspoon fresh chopped coriander
Curry Roasted Cauliflower – Recipe
3 cups cauliflower florettes
3 tablespoons olive oil
1 tablespoon garlic, finely minced
2 teaspoons curry powder
salt & pepper to taste
To Finish Coco's Curried Naan-za
4 whole, fresh prepared naan bread
2 – 3 tablespoons olive oil
1 1/2 cups grated jalapeno Havarti cheese (or swap for vegan cheese)
1 red pepper, thinly sliced
1 yellow pepper, thinly sliced
1 purple onion, thinly sliced
3 – 4 green onions, sliced
5 – 6 sprigs fresh cilantro
Method:
1. Soak lentils in warm water at room temperature for an hour or more, then rinse and discard any debris. Lentils will approximately double in volume after soaking and cooking.
2. Wash, core and cut cauliflower into small florettes. Cut carrot, and onion for curry and vegetables for pizza and reserve. In a large bowl add cauliflower, drizzle with olive oil, add garlic then sprinkle with curry powder, salt & pepper. Toss to coat, cauliflower should be 'wet' with oil and spice.
3. Cook your curry base. In a large pot over medium heat, add olive oil and bring to just under smoking point. Add carrot and cook, stirring occasionally for about three minutes then add onion, and a couple tablespoons of water and continue to sweat and steam vegetables for two minutes. Add garlic, stir and cook stirring to ensure nothing burns.
4. Add tomato paste to vegetables and stir to coat, add soaked lentils and half of the vegetable stock, stir to combine. Add salt, pepper, garam marsala, curry, cumin, thyme & chilies and stir and cook for about fifteen minutes, adding stock as needed until lentils are tender and stew is to a nice, juicy consistency.
5. While curry cooks, pre-heat oven to 400º F (205° C) for the cauliflower and the pizza to follow. Place single layer on a nonstick baking sheet (or on a piece of aluminum foil sprayed liberally with non-stick spray. Place in pre-heated 400°F oven for 20 – 30 minutes (depending on the size of your cauliflower pieces until golden brown.
6. When lentil curry is cooked add the coriander off the heat, this will keep it fresh and green while still adding brightness. Using your immersion blender, or food processor and give the whole works a quick the lentil curry a quick buzz until mostly smooth.
7. Grate cheese for pizza as cauliflower finishes. Brush naan bread with olive oil, add a layer of lentil curry dip/paste and then a light layer of cheese. Top with curried cauliflower, your choice of veggies and another light layer of cheese. Pop the whole works in a 400°F oven for about 15 minutes and finish for two minutes under the broiler for a bubbly, top gooey cheesy top.
Finish with fresh onion; purple or green and fresh cilantro for a fragrant herbal aroma. I also like to dizzel just a hint of good quality fruity olive oil just before serving to sexy it up.
Speedy kitchen hints: Short-cut your chopping time with pre-crushed garlic. Tighten up your cooking time by keeping florettes small. If you're microwave friendly, give your cauliflower a quick steam with a little water in a microwave safe dish, for about three minutes on high until they start to soften, then toss and roast. This will cut your cooking time by half. Pre-grated cheese will save you a little labour and if you have children (or adults) underfoot… delegate.
Live. Love. EAT well