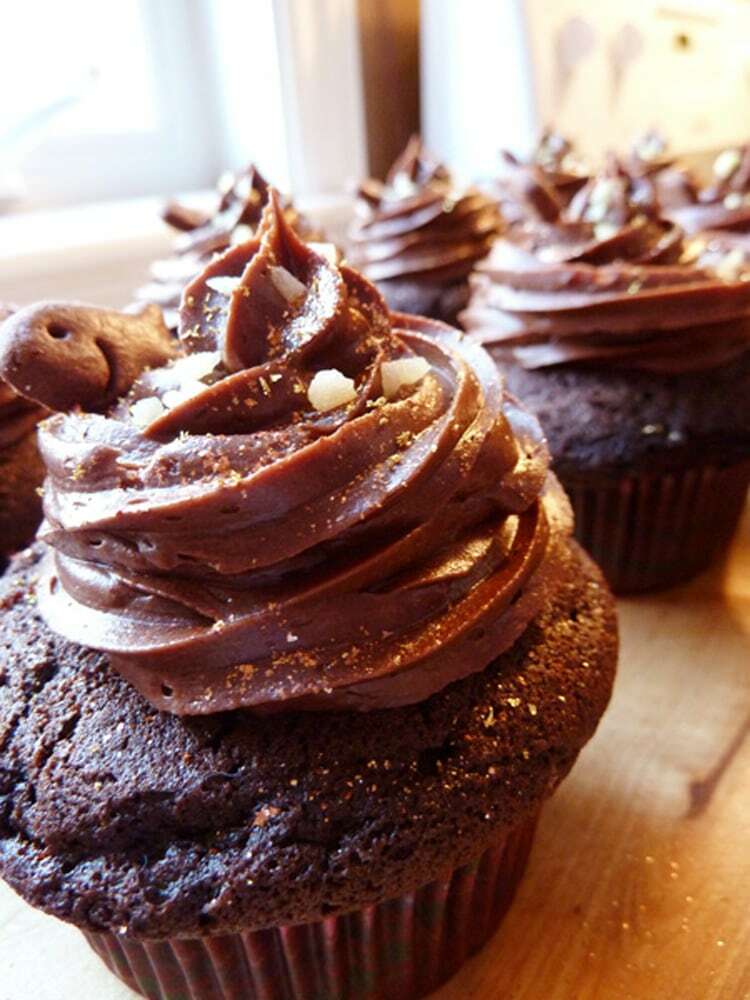 Devil's Food Salted Caramel Cupcakes
Believe it or not, we don't photograph every single item that comes out of the kitchen. Case in point, the Devil's Food Salted Caramel Cupcakes we whipped up a week ago for a certain three year old's birthday. Something I regret, because they were so good we had offers of indentured servitude in exchange for more. But I can still give you the recipe!
A joint project with the man in my life, Chef B, I baked the cupcakes (a moist Devil's Food compliments of David Lebovitz) and he filled the center with a gooey salted caramel, a swirl of chocolate icing, some edible copper and gold, pop-rock sugar and the smiling face of Chocolate Fishes. Moist, chocolaty rich, a gooey, salted center and rich creamy icing with the pop and fizzle of sugar and, so simple.
I'll be honest, we used a jar of salted caramel we had on hand from a local bakery, but it's not a complicated thing to make. I've included a recipe from the blog Lick My Spoon because her photos are detailed and if you've never made caramel before she makes it easy to follow. I love salted caramel sauce, drizzle it over ice cream, dip apples in it, toss it with some hot popcorn or… just eat it by the spoonful.
To add filling to the center of a cupcake: take a sharp pairing knife and cut a 'plug' from the center, top of the cake, about one inch wide and one inch deep. Gently remove the cutaway cake with the knife and add spoon in the filling of your choice, adding about 1 teaspoon to the center of the cake. Cut the bottom half of the cake plug off (eat the leftovers) and then replace it on top of your cupcake and cover the seam with a swirl of icing.
A huge hit with adults & kids alike.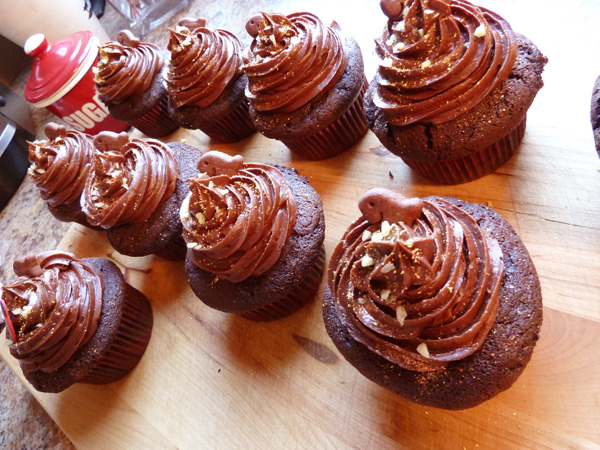 Devil's Food Cake Recipe
Adaped from David Lebovitz
12 cupcakes (or one 9 inch cake)
9 tablespoons unsweetened cocoa powder
1½ cups cake flour (not self-rising)
½ teaspoon salt
1 teaspoon baking soda
¼ teaspoon baking powder
4 ounces (1 stick) unsalted butter, at room temperature
1½ cups granulated sugar
2 large eggs, at room temperature
½ cup strong coffee (or water)
½ cup milk
Method:
1. Preheat the oven to 350* F, be sure rack is in the center of the oven. Line muffin pan(s) with paper liners (x12 cupcakes).
3. Add dry ingredients; cocoa powder, cake flour, salt, baking soda, and baking powder together in a medium bowl and whisk lightly to combine.
4. In a separate bowl beat together the butter and sugar until creamy, using an electric mixer. Add the eggs one at a time and beat until smooth.
5. In a small bowl, combine coffee and milk. Add about half of dry ingredients into the butter mixture, add the coffee and milk, add the other half of the dry ingredients and mix, at medium speed until JUST blended. (about 2 minutes) If still lumpy, fold by hand, over-mixing your batter will make cakes tough, so a light hand is always preferred.
6. Divide batter into prepared cupcake papers/muffing tin and bake for 12 – 15 minutes. Lick bowl. Allow to cool completely before filling and frosting.
Note: I was low on butter for this recipe, which proved not the be the end of the world, I used the 1/4 cup I had and substituted a good quality avocado oil for the other 1/4 cup of fat. This gave the batter a high gloss and the cupcakes a light sheen on the surface. No one noticed a taste difference, I was pretty happy with the results.
Salted Caramel Sauce Recipe
Adaped from: Lick My Spoon
Yield: 1 1/2 cups
1 cup sugar
6 tablespoons unsalted butter, cut into chunks
1/2 cup heavy whipping cream
1/4 cup water
1 1/2 teaspoons sea salt (Maldon sea salt flakes or fleur de sel)
Method:
1. In large, heavy bottomed saucepan combine sugar and water over medium-high heat, stirring constantly until sugar dissolves, but stopping as soon as it comes to a boil. At this point you can swirl the boiling syrup in the pan, but don't stir, continue over heat.
2. As you hold the pan over the heat at a boil, the liquid sugar will quickly begin to colour, turning golden and then to a dark amber, then add your butter, all at once. The cold butter will cause the hot sugar to foam (if it bubbles too high, remove it briefly from the heat and return). Whisk in your butter until it is completely melted, thickened slightly and emulsified with the syrup, then remove your pan from the heat.
3. Off the heat, add cream to the hot sugar/butter mixture, (once again, adding cold cream to the hot sugar, you will see it foam up, be cautious not to spill any on your skin) and continue to whisk until smooth.
4. Whisk in salt until melted and caramel is a loose, creamy sauce, it will thicken further as it cools.
Store Salted Caramel in a sterilized glass jar in the fridge for up to two weeks (ya, right like it lasts that long!) warm to room temperature for most applications, or gently heat to pour over ice cream etc. To fill the cupcakes, we used our caramel straight out of the refrigerator, because we find it easier to handle in drops and blobs when it's cold.
Chocolate Frosting Recipe
2 3/4 cups confectioners' sugar
6 tablespoons unsweetened cocoa powder
6 tablespoons butter
5 tablespoons evaporated milk
1 teaspoon vanilla extract
Method:
1. In a medium bowl, sift together the confectioners' sugar and cocoa, and set aside.
2. In a large bowl, cream butter until smooth, then gradually beat in sugar mixture alternately with evaporated milk. Blend in vanilla. Beat until light and fluffy. If necessary, adjust consistency with more milk or sugar.
Bake, cool. Sauce, cool. Fill. Frost. Then finish with something fun… like edible gold, copper, pop-rock sugar and (of course) Chocolate Fishes. Beware the ensuing sugar high.