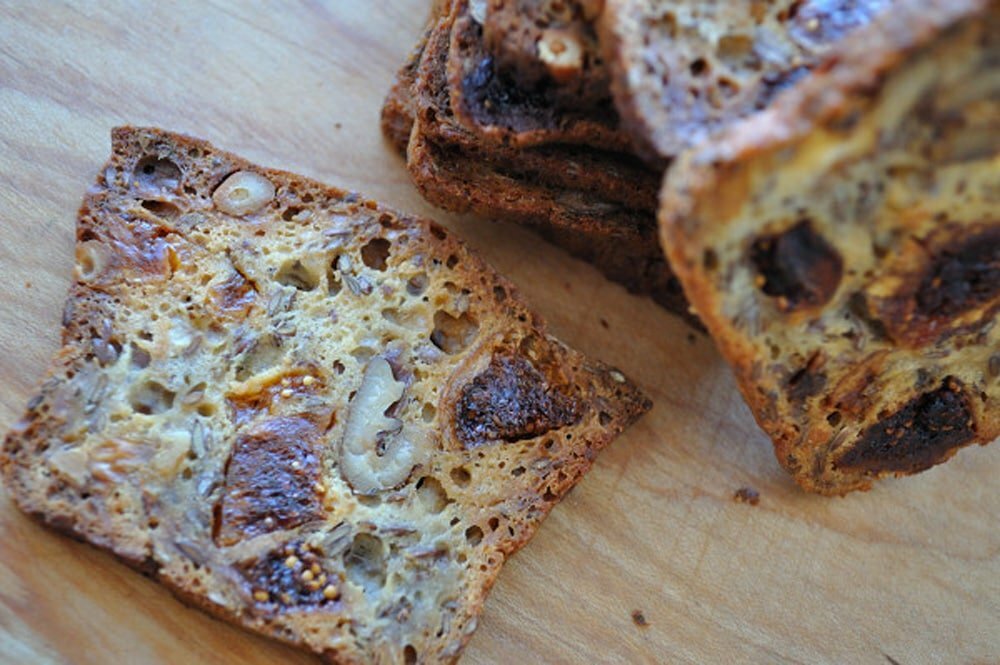 Inspired by the delicious crisps of Raincoast fame, a few tasty items from the pantry and I created my very own variety, I give you… Fig Walnut Thyme Crisps.
I bloody love Lesely Stowe's Raincoast Crisps, must go through a sleeve of them every week. For breakfast with almond butter, for lunch with butternut squash soup, a little appetizer with a chunk of cheese before dinner, and with spoonfuls of Nutella during late night feeding frenzies.
Last week as i was about to put my weekly supply in the cart I figured "how hard can these be?!" Come on, it's just a loaf, sliced and then re-baked like a biscotti. Easy right? As it turns out, yea, they're a cinch.
The basic recipe for Rosemary Raisin Pecan Crisps I borrowed from fellow Canadian Food Blogger Julie Van Rosendaal, who publishes Dinner with Julie. It's a recipe that's widely available, but instead of rosemary, raisins and pecans I used figs, walnuts and thyme.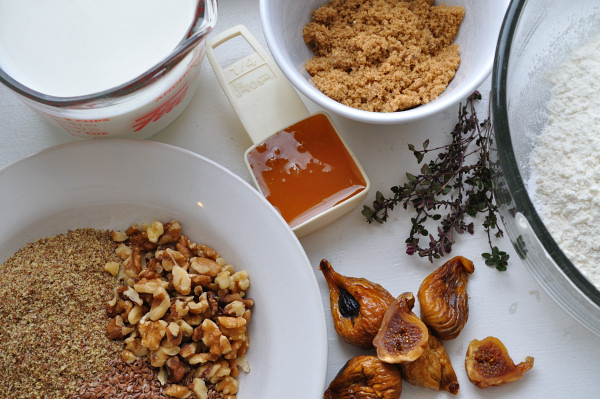 Try your own version, think savory and sweet, avoid anything with added fat (I.e: cheese), or moisture (like fresh fruit). You want a nice dense, dry loaf to start, then let it cool or chill it in the freezer, slice it super thin and there you go, you're makin' crisps.
On my first try I didn't cut mine thin enough. The reason you slice them so thin, I've discovered, is so you don't damage your dental work. Good news — I am now forced to consume these and try again. The canine & I shall remove all the tartar from our teeth with this batch. Have the second loaf in the freezer, we'll whip those up this weekend, sliced THIN and update you.I really like the loaf itself I must say, pre-slice and re-bake, it's super tasty, a hint of sweetness against the seeds & nuts.
Think YUMmmmm.
Fig Walnut Thyme Crisps Recipe
2 cups flour
2 teaspoons baking soda
1/2 teaspoons salt
2 cups buttermilk
1/4 cup brown sugar
1/4 cup honey
1 cup dried figs, chopped
1/2 cup chopped walnuts
1/2 cup flax seeds
1/4 cup pine nuts
1/4 cup flax seed, ground
1 tabelspoon chopped fresh thyme
Preheat oven to 350° F.
Method:
In a large bowl, stir together the flour, baking soda and salt. Add buttermilk, brown sugar and honey and stir to mix, don;t beat, just stir. Add the figs, walnuts, flax seed, ground flax, pine nuts and rosemary and fold until blended.
Spray two 8"x4" loaf pans with nonstick spray and pour batter, to about 1/2 an inch from the lip of the pan. Bake for about 35 minutes, until golden and springy to the touch. Remove from pans and cool on a wire rack.
The cooler the bread, the easier it is to slice really thin. You can leave it until the next day or pop it in the freezer. Slice the loaves as thin as you can and place the slices in a single layer on an ungreased cookie sheet.
Reduce the oven heat to 300° F and bake them for about 15 minutes, then flip them over and bake for another 10 minutes, until crisp and deep golden. Try not to eat them all at once.
Makes about 8 dozen crackers when you slice them nice and thin.