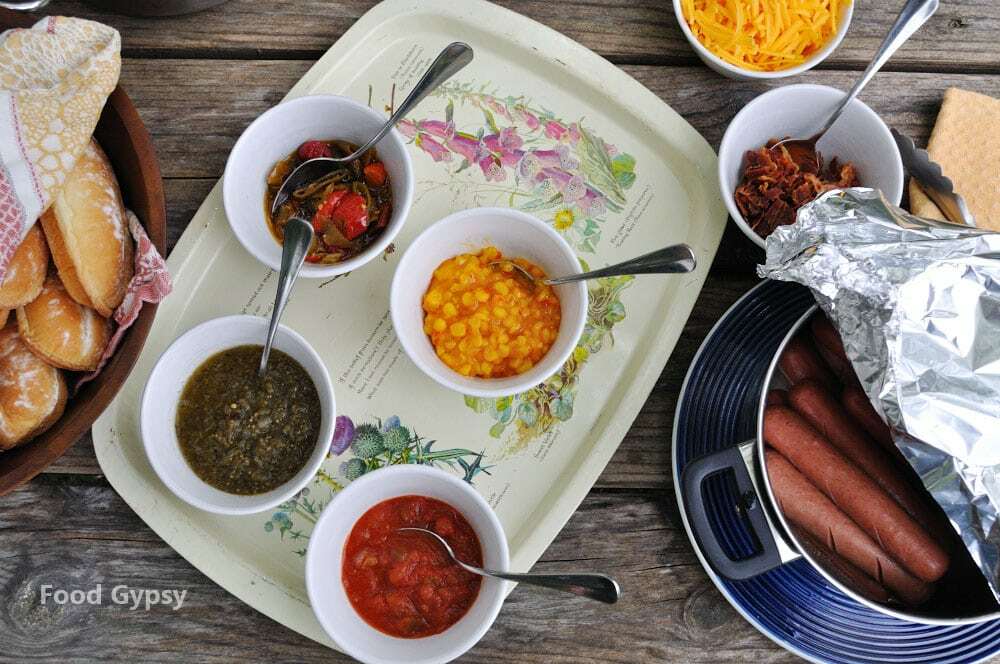 Gourmet Hot Dog Bar – Entertaining Made Easy
On this Fun Food Friday, it's casual backyard entertaining at it's best. Nothing says summer quite like a night around the fire, a few good friends and a Gourmet Hot Dog Bar!
Weekends were made for friends and laughter, but sometimes (let's be honest) I'm too tired cook. So instead we make it fun and easy for everyone with a backyard Gourmet Hot Dog Bar. Then all I have do is shop and make things look good. (This I can handle.) Guests arrive and cook their own food. Primitive instincts take over. New combinations of condiments are born and a good time is had by all.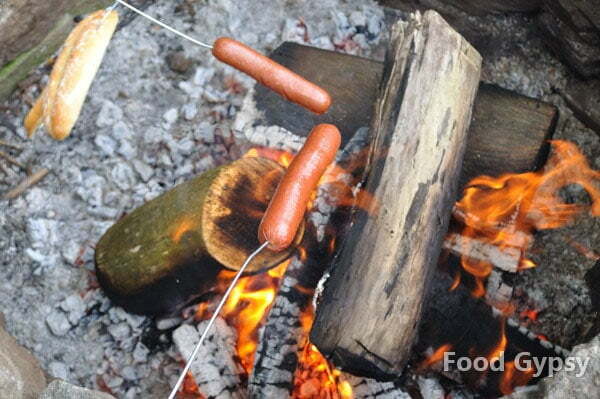 Want to gourmet those gourmet hot dogs even further? Upgrade your choice of sausage. A good ballpark dog, a great all beef Kosher dog, a premium smokie or hot Italian sausage. Try a fresh chorizo, or Toulouse sausage and base your condiment selection around those flavours.
Gourmet Hot Dog Bar Tip: Steam first.
If you're firepit cooking it's a good idea to steam your dogs first. This makes for moist and juicy hot dogs. Particularly if you're using a raw sausage, play food safe and make it easy.
We set out a big pot of freshly steamed (or flash cooked) hot dogs/sausages so all our guests have to do is toast to their liking, dress and enjoy.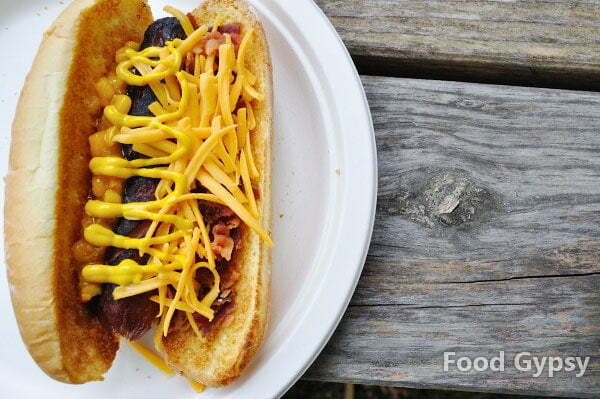 Campfire Fun
I shot these photos late last fall on the final firepit night of the season. A fun gathering of kitchen pros, it was a game of "what's your dog?" with no two alike. We even rigged a bun toaster out of a wire coat hanger, because that's how we roll. It was our last night under the stars, two weeks later it snowed. Can't very well publish a hot dog post at -30°C, so we saved it for warmer days. Here's a few Gourmet Hotdog Bar ideas from the classics and beyond to make casual outdoor entertaining a breeze.
Classic Hot Dog Condiments
ketchup
mustard
relish (sweet green, red or corn)
Gourmet Hot Dog Condiments
Dijon Mustard
Sriracha
salsa (regular, verde, mango, corn)
mayo (Sriracha Mayo – personal favorite)
sour cream
tzatziki
hummus
chimichurri
chili con queso
Veg-Head Hot Dog Toppings
tomatoes
peppers (green, yellow, or red)
olives
onions (yellow, red or green – cooked or raw)
vegetarian chili
jalapenos (or other hot peppers)
pickles (and pickled stuff like beans or asparagus)
chips (corn, potato)
mushrooms (sauteed)
lettuce
spinach (steamed or fresh)
slaw
sauerkraut
Omnivore Hot Dog Toppings
bacon (bits or strips)
bacon marmalade
beefy chili
cheese (from the cheddar to feta and everything in between)
gravy
What, you've never tied gravy on your hot dog? Think Poutine Dog and live a little!
I love this type of entertaining. Fewer dishes to do and less haste and hastle. A reminder of simpler times. Break out the bug spray and live the good life.