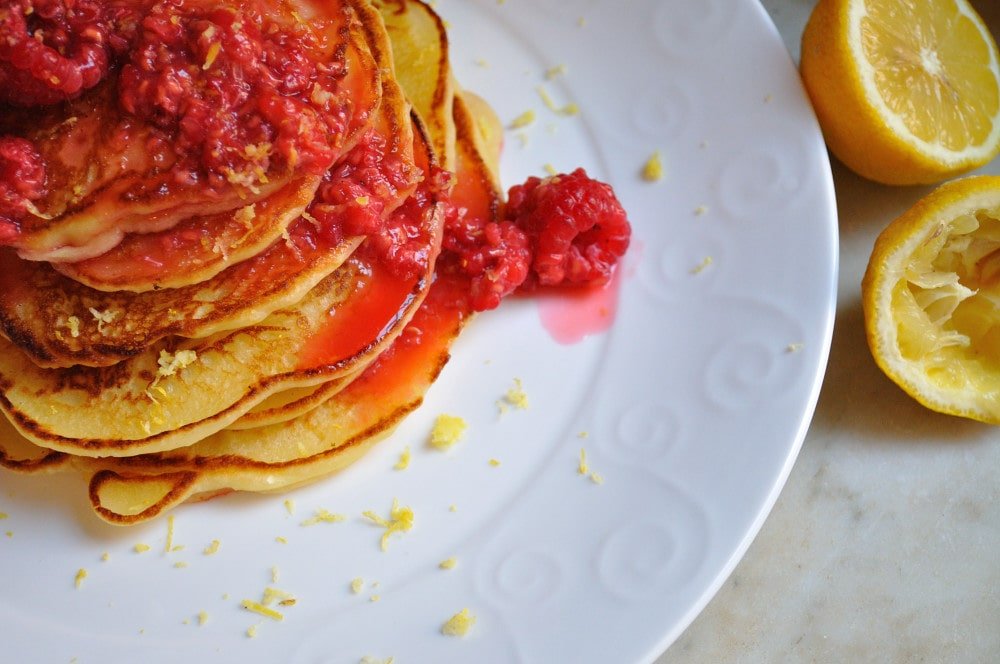 Lemon Ricotta Pancakes with Raspberry Honey Drizzle
Pancakes are a thing a of beauty, so quick, so easy and so fun to make. Add a few twists like lemon, ricotta and a handful of raspberries and you have show-stopping, mouth-watering Lemon Ricotta Pancakes with Raspberry Honey Drizzle.
"Drama is very important in life: You have to come on with a bang. You never want to go out with a whimper. Everything can have drama if it's done right. Even a pancake." ~ Julia Child
It occurred to me today that it's been ages since I'd done anything breakfast or brunch on Food Gypsy and yet, it's one of my favourite meals, at any time of the day. Behold the dramatic pancake, so fragrant and light and, the ricotta gives it body and depth and (being Italian) a hint of drama.
I love a little drama in the morning, so long as it's in the form of a pancake.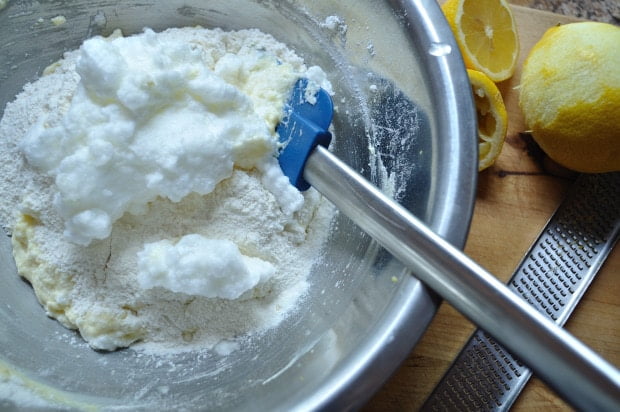 Raspberry Honey Drizzle
1/2 cup fresh raspberries
1/4 cup liquid honey
1 tablespoon orange juice
Lemon Ricotta Pancakes
Prep time: 20 minutes
Cooking time: 30 minutes
Yield: 12 pancakes
2 cups flour
1/2 cup sugar
1/2 teaspoon salt (plus a pinch for egg whites)
1 heaping teaspoon baking powder
4 eggs, separated
1 heaping cup ricotta cheese
3/4 cup milk
2 lemons, both juice & zest
oil (or butter) for cooking
Method:
Make your drizzle first: In a microwavable dish mash raspberries with a fork, stir in liquid honey and orange juice. Allow to stand for about 20 minutes (while you make pancakes), as you are about to serve, microwave fruit drizzle on high for about 45 seconds until honey begins to bubble. Serve immediately.
And now for the pancakes: Combine flour, sugar, salt & baking power in large bowl and whisk to combine. In a second bowl combine egg yokes, ricotta, milk, lemon zest and juice and stir until smooth. Combine dry ingredients with the wet until JUST mixed, to make a smooth, but dense dough.
Prepare and heat pan or griddle and have oil or butter at stand by.
Add egg whites and pinch of salt to electric stand mixing bowl and whisk to form stiff peaks. Fold egg whites into dough with spatula gently, but quickly so as not to loose volume of the whites. Using small ladle or large spoon, pour about a 1/4 cup of batter into prepared, heated, well greased pan to form your pancake. (It might not be perfectly round, can you deal with that or is your OCD kicking in? Breathing helps…) Flip pancakes when bubbles that have risen to the top begin to burst. Add more oil or butter as needed. Cook to golden brown and serve.
An alternate plating presentation, dust with icing sugar, or serve with lemon curd and sugar macerated berries for a light, fresh brunch.