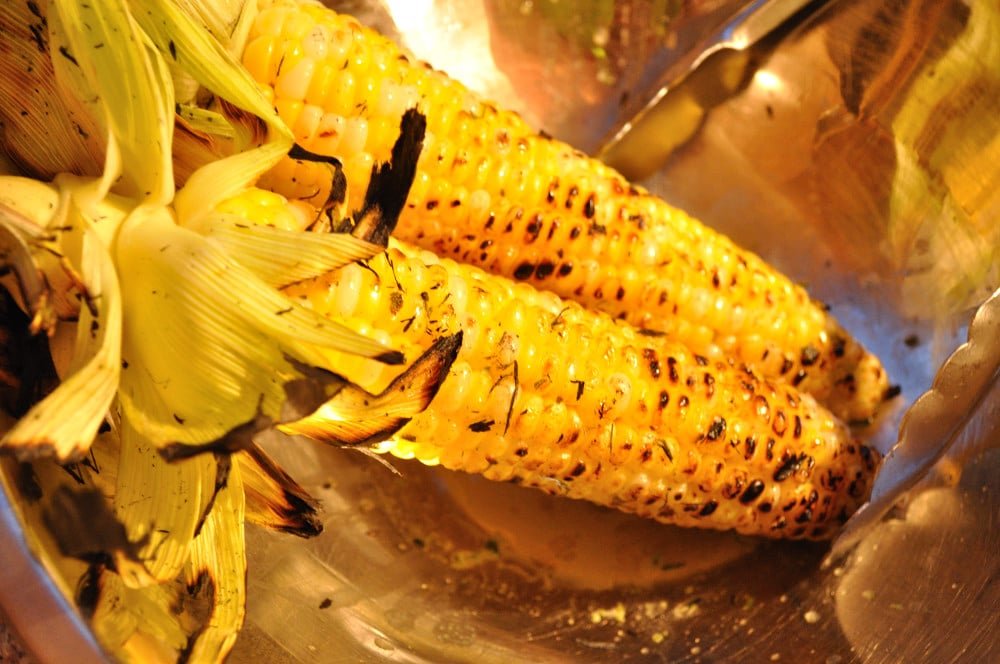 Grilling 101 – How to Grill Corn
Fresh corn is only here for a short time, so get it while it's hot then toss it on the grill for a late summer treat. If you've never dabbled in cobs over the coals before here's a few quick tips on how to grill corn.
Grilling corn not really that complicated, but some people get a bit freaked out when dealing with flammable husks and fire. Number one rule of corn grilling? Soak. Wet husks don't burn, instead they steam the tender ears inside. Number two rule of corn grilling: medium-high heat for a short period of time. If you keep those two things in mind and follow our brief step-by-step how to; you'll be a corn grilling fiend in no time.
1. Grab corn ear at both sides of top of husk and pull back, halfway. Remove corn silk only, leaving the rest of the husk as in tack as possible. Soak corn in cold water for 15 – 20 minutes, being sure they're completely covered by water. Remove from water and drain, then brush/rub kernels under the husk with a light film of oil then re-wrap in the outer husk. (At this point you can flavour your corn anyway you wish, a bit of seasoning, spices, onion, garlic, the world of taste is yours.)
2. Prepare final flavoured butter or oil (to make it vegan) in advance. A few of our favorites: Chili Butter (butter, adobo or chipotle chili powder), Sweet Cinnamon (butter, cinnamon & a touch of sugar), Lime Cilantro (butter, lime zest, cilantro) or Garlic & Herb (butter, garlic, chopped fresh herbs).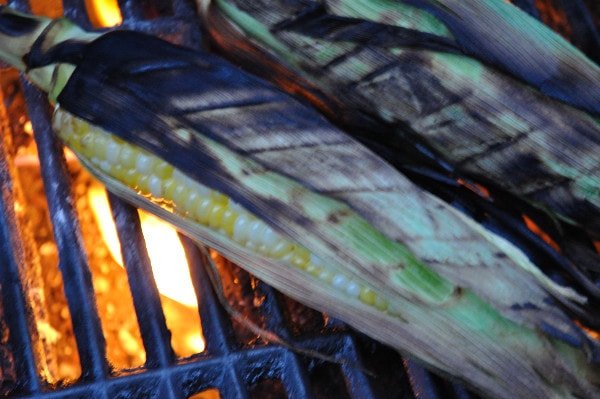 3. Pre-heat your grill to about 400°F (205°C), once you open the lid you loose considerable heat, start hotter than you want it. Place prepared corn on the grill and reduce heat to medium, ideally you want to steam cook it at about 350°F (175°C). Close the lid and allow corn to steam for about three minutes before turning, and repeating on the other side. Don't worry if you have a couple of flare ups as the husk burns here and there, that's part of the fun of grilling.
4. After about 6 minutes, remove corn from grill and strip back husk to reveal the kernels underneath. Note: You can leave the husk on or remove it, up to you. It can be a bit messy to leave it on, but if you're eating outdoors, it serves and an organic handle. Brush liberally your choice of flavoured butter or oil, place corn on the cob back on the grill to char; turning and baisting with flavoured butter as needed, for 3 – 5 minutes or until corn has good colour.
Serve immediately with a sexy premium salt and do your best to eat like a lady (even if you're a man).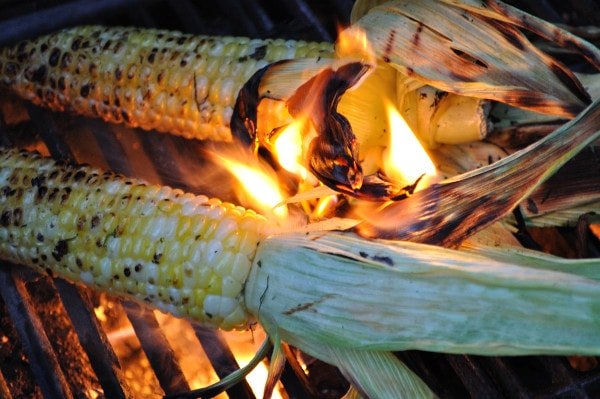 8.
Grilling 101 – How to Grill Corn