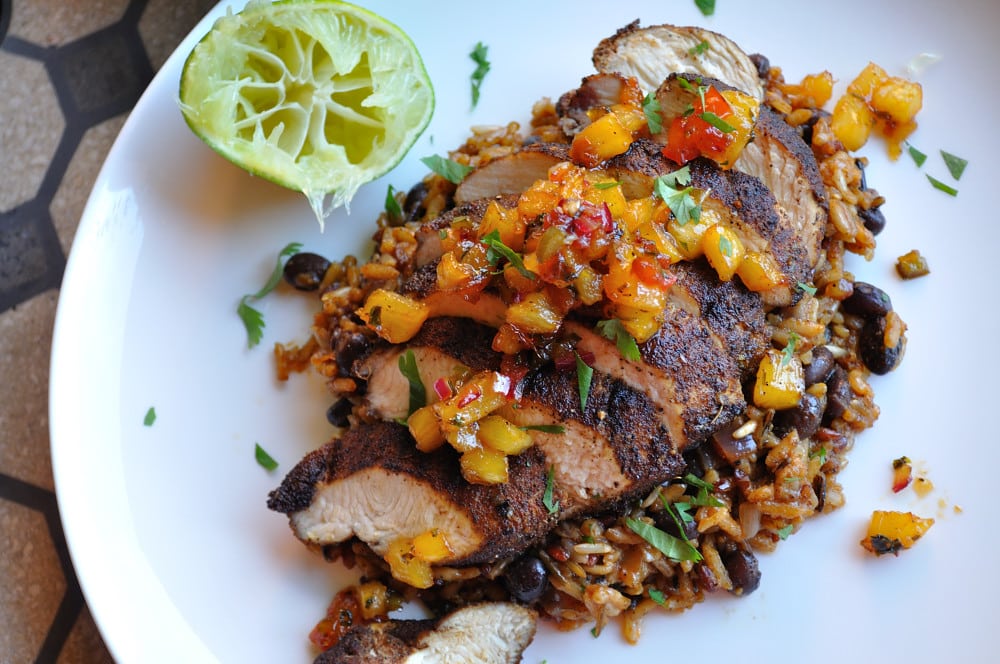 Mexican Blackened Chicken with Jalapeno Black Beans & Rice
Maximum Mexican — Mexican Blackened Chicken with Jalapeno Black Beans & Rice and Caramelized Pineapple Salsa finished with Cilantro & Lime. When I pine for long white sand beaches of Mexico, I recall a flavour and make it my own. Jalapeno heat with cumin-chili rubbed chicken and the sweet tang of pineapple, cilantro and lime. Just add tequila.
On the Gulf of Mexico, in the sleepy little village of Puerto Morelos, lies a piece of my heart. Just south of Cancun on a strip of land between mangrove swamps and white sand beaches, its roads are bad repair and it's night life exists sandwiched between x-pat watering holes and patio bars peppered with local bad boys. Should you be fool enough to attempt a tequila race with the natives, I warn you, you won't win. You will later stumble through the potholed streets to your rental apartment where you will find that somewhere between dancing on the bar to Wild Thing and stopping in to say 'hello' to the local policia — you lost your keys. So you will pass out in the purple and blue rope hammock strung on the front porch, swatting mosquitos until dawn, when you will sheepishly ask your landlords for a new set of keys with the criss-cross imprint of rope still visible on your face.
You'll then sleep most of the day in air conditioned comfort before emerging once again into the night in search of something to absorb what remains of the lime drenched cactus juice in your guts. Thankfully you won't have far to go, because even in this fishing village reminiscent of Old Mexico, there is good food on almost every corner. Fresh, fiery and anything but fast. Its food served in it's own good time, just sit down and enjoy the wait.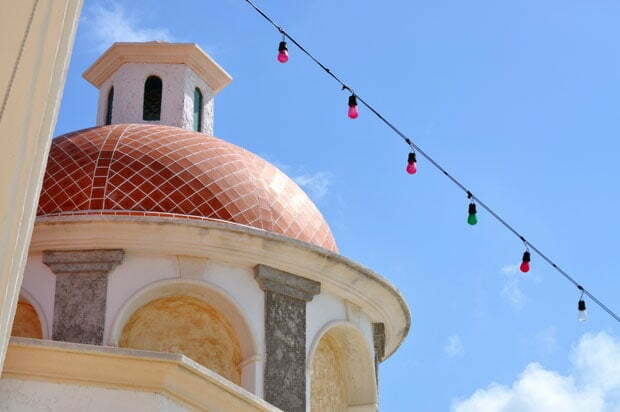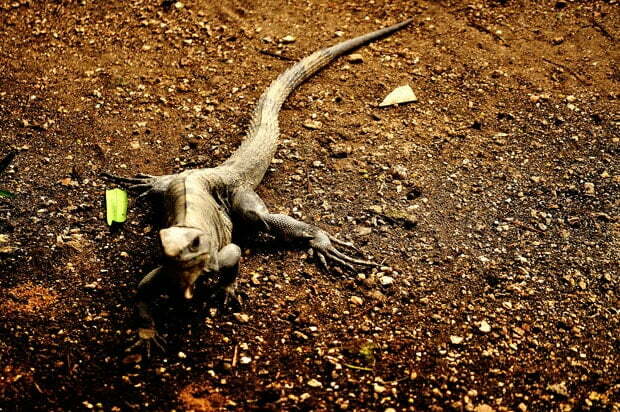 It's funny how you miss a place. The scent of it, even the smell of the fish market on a hot day, mangy dogs sniffing for scraps, aggressive iguanas eager to drag what they can down cracks in the concrete, gulls squawking overhead. The sound of the church bells tolling as the sun sets and the crackling loud speakers of the rolling market trucks calling "Mang-ooo". When the ache of being home bound becomes too much, I cook.
Scents of cumin and chili mingled with jalapeno, rice and black beans make me feel somehow closer to the soft, sticky air of the sea. As if it has become a part of me now and I can be there, in my heart, with few ingredients well put together.
Make it ahead: Pineapple Salsa, store it in the fridge or use last night's leftovers, it only takes about a cup to finish this dish (click here for our recipe).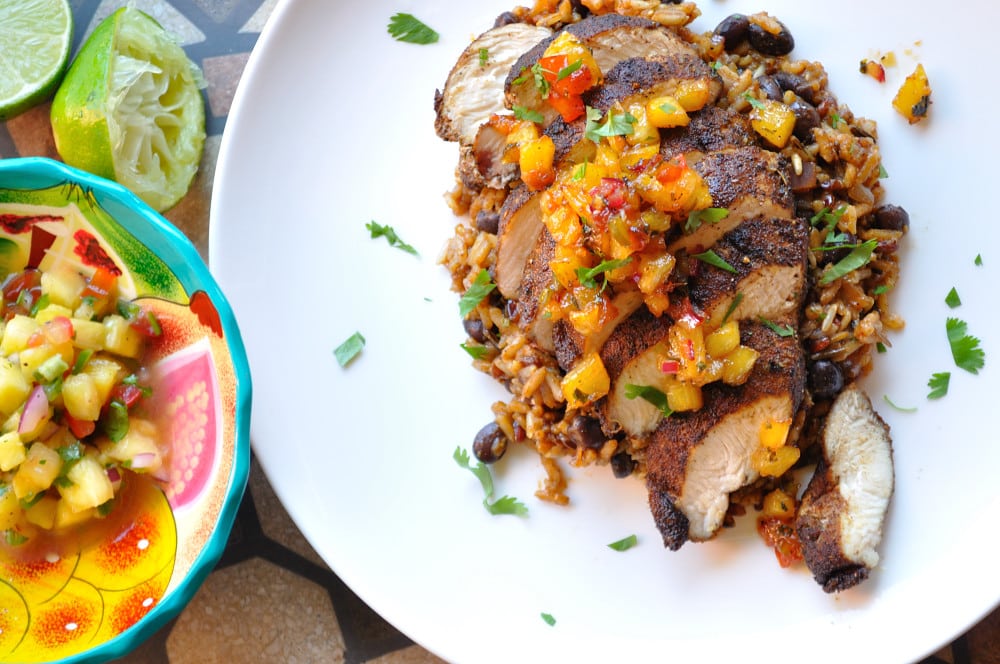 Mexican Blackened Chicken with Jalapeno Black Beans & Rice
Prep Time: 30 minutes
Cooking time: 45 minutes
Yield: 4 servings
Mexican Blackened Chicken
4 breasts of chicken, skin on
1 1/2 tablespoons cumin
1 tablespoon chili powder
2 teaspoons garlic powder
1 teaspoon onion powder
1 teaspoon ground black pepper
1 teaspoon sea salt (or to taste)
oil for cooking
Blend spice together in a small bowl. Dry chicken well with paper towel, then roll in rub mixture and lightly rub spices into the flesh with finger tips. Cover and chill to allow spices to penetrate the meat, up to two hours before cooking, if you have time. If not, prep your chicken first and allow it to stand (chilled) while you prepare the side & condiment.
Jalapeno Black Beans & Rice
2 tablespoons oil for cooking
1 medium onion, diced
2 cloves of garlic, chopped fine
2 fresh jalapeno peppers, chopped fine (with seeds)
1 1/2 tablespoons cumin
1 teaspoon paprika
1/2 teaspoon sea salt (to taste)
2 1/2 cups chicken stock
1 cup long grain rice (or rice blend)
1 cup of black beans, cooked until soft
1 tablespoon fresh cilantro, plus garnish
juice of half a lime
Method:
Preheat oven to 350°F (or 175°C)
1. In a medium sauce pan over medium high heat, add cooking oil (I prefer corn oil) and bring to just under smoke point. Then add onions and cook until transparent before adding garlic and jalapeno peppers and cooking until golden, adding more oil if needed. Once you have good colour add spices & salt and cook for about 2 minutes string constantly so as not to scorch.
2. Add rice and stir to coat, about two minutes then pour in chicken stock and stir to combine. Bring to a boil then reduce heat to low and simmer, covered for 20 – 30 minutes depending on the rice you use.
3. While you rice cooks, sear chicken breast, starting skin side down in a hot, well oiled pan. (Tip: always start with your presentation side first, this way if there are any black bits after you turn the meat it won't show on your dish.) Sear well on both sides, about 7 minutes per side then place chicken in a preheated 350°F (175°C) oven (skin side up) for about 20 minutes or until internal temperature reaches 165° F and it is cooked through.
4. While chicken finishes in the oven, you rice should be timed out. Check consistency and spice levels, add more liquid if needed to moisten the rice. This should be a relatively loose rice, as you have not added the beans to the mixture. Once satisfied with the rice, add cooked (or canned cooked) black beans and fresh cilantro, fold to mix and let stand over low heat to gently heat the beans so they don't break up.
5. Remove chicken from the oven and check doneness, reserve warm. Using a small clean pan, lightly cook pineapple salsa until caramelized and golden brown. adding extra lime juice if needed. As the salsa cooks plate your rice and chicken, then spoon the hot pineapple salsa on top and finish with a light squeeze of lime and fresh cilantro.
Serve immediately, wearing a sombrero and a smile; or at least that's how we do it at our house. Maybe it's a tequila thing.