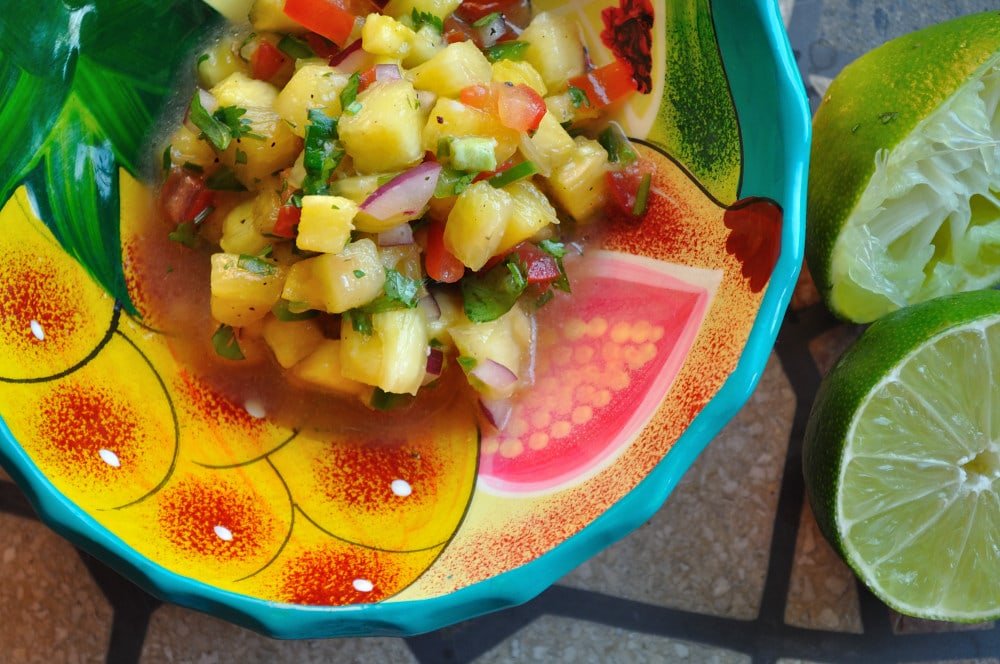 Fresh & Fast, Pineapple Salsa
Our local grocer's shelves are positively loaded with pineapple, that combined with a craving for flavours of the Yucatan and next thing I know, I'm chopping pineapple for a tangy, tasty Pineapple Salsa.
Fresh fruit salsas make such a nice twist on a theme, spicy and sweet with a dash of heat. I have been known to eat this stuff with a spoon, straight out of the bowl (there may or may not have been tequila involved). Pineapple salsa makes a fresh, fast alternative salsa for game day or a magnificent condiment to a delicate white fish, a juicy grilled pork chop or seared breast of chicken.
For best visual presentation for any salsa, do your best to keep your dice or fine chop about the same size, no matter what you're cutting. In the case of leafy, fat stemmed herbs like cilantro or basil, always rock your knife across the leaves once rather than chopping it flat repeatedly from different angles, like you would with thyme or rosemary. This will help keep it bright and green rather than tearing the leaves and causing it to oxidize and blacken.
Gypsy Tip: When handling hot peppers glove up, or at the very least wash your hands, including under your nails, immediately following. Whatever you do, don't touch your eyes, nose or other (*ahem*) sensitive areas of one's body with pepper oils on your finger tips. For those with low heat sensitivity, be sure to remove the seeds of the jalapeno, that's where the fire lives.
Pineapple salsa doesn't stand well, so this is best made and consumed within 24 hours for big fruit flavour.
Pineapple Salsa Recipe
Prep time: 20 minutes
Yield: about 3 cups
2 cups fresh pineapple, diced
2 medium tomatoes, seeded & diced
1/4 cup purple onion, diced
3 tablespoons fresh cilantro, chopped fine
1 jalapeno pepper (seeds and all), diced
2 tablespoons lime juice
1 tablespoon olive oil
2 cloves garlic, minced
1 tablespoon brown sugar
salt & pepper to taste
Method:
Cut all fruit, herbs and vegetables to approximately the same size. Mix all ingredients together in a small bowl and allow to stand for about an hour for flavors to blend & marinade. Serve fresh.