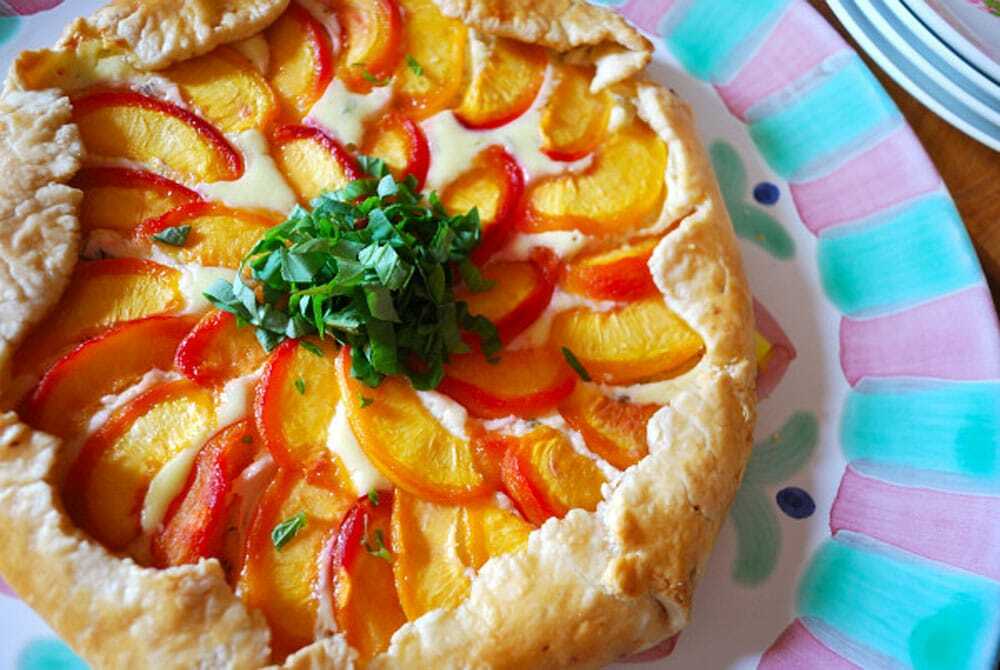 Peach Basil Goat Cheese Galette
One last kick at summer, a simple, elegant execution for the last of the season's peaches with a Peach Basil Goat Cheese Galette.
When courting inspiration, other raving foodies are great source of interesting ideas. This sweet/savoury tart compliments of Summer of Eggplant, featured on Food 52's Peach Pie vs. Tart Smackdown earlier this month.
Shout out to Morgan, the Atlanta based Foodista behind Summer of Eggplant, for an interesting combination of flavours; the peach, lemon, goat-cheese and basil worked well together and made for a beautiful brunch. Whipped it up in the Gypsy Kitchen and trotted it around the neighbourhood, am now very popular.
The beauty of a galette is it's rustic, rough appeal. Even those 'pasty-challenged' can manage a galette and do it well. Love the lemon zest with the pasty, an effortless, but appealing idea for any Pate Brisee. The good news is; you'll have enough pastry for another application. (You know what they say about practice.)
Including the Peach Basil Goat Cheese Galette recipe with a couple of little tweaks from the Gypsy Kitchen:
This tart was even better the second day, after the basil had time to infuse in the ricotta/goat cheese filling. Suggesting that you mix the goat cheese filling a day ahead (along with the pastry), if you have time. This will allow it to mellow overnight to amplify the flavours, bringing the basil to the forefront.
Rather than add the fresh basil to the peaches and bake it in the oven, topped the warm tart with it instead, for an earthy, aromatic finish. This means you have to eat the whole thing immediately. Such… hardship!
Enjoy.
Peach-Basil-Goat Cheese Galette Recipe
Prep time: 1 hour
Cooking time: 30 – 35 minutes
Ingredients:
Pate Brisee (adapted from the Bouchon cookbook)
2 1/4 cups flour
1 teaspoon kosher salt
½ cup cold, unsalted butter, cubed
1/4 cup ice water
1/2 teaspoon of lemon zest
flour, as needed
Goat Cheese Filling
¼ cup goat cheese
¼ cup + 2 tablespoons whole milk ricotta cheese
1 large egg, beaten
1 teaspoon sugar
2 tablespoons fresh basil, chopped
Peach Topping
3 – 4 large, firm peaches, skins removed (approximately 2 cups)
1 teaspoon sugar
juice of half a lemon
1 egg white beaten (egg wash)
1 tablespoon fresh basil, chopped
Method:
Make the dough and goat cheese filling a day ahead.
Dough: Place 1 cup flour in salt in standing mixer with dough hook attachment, turn on low and add the butter in a handful at a time, in about 4 batches, increase to medium speed.
When butter is incorporated, stop machine, scrape down sides or dislodge dough from mixing arm. Turn on to low again and slowly add in remaining flour, followed by the water, mix until just incorporated.
Remove and divide into two, wrap one disk in plastic wrap and freeze for later use.
Return the other half to the mixer and add in the lemon zest, turn on low until just incorporated.
Shape in to a disk, wrap in plastic wrap and refrigerate overnight.
Goat cheese filling: Using a mixer combine the goat cheese, ricotta, egg & sugar. Fold in basil.
Reserve in fridge overnight if you have time, if not, make day of.
Day of: pre-heat oven to 375°F
Peaches: Boil a small pot of water. Score an 'X' in the bottom of each peach place them in boiling water, turn off the heat, put the lid on and let them stand in the hot water for 2 minutes. Place in an ice water bath to cool. Gently remove skins from peaches.
Slice the peaches in quarters, slice in to 1/8" slices and place in a bowl, toss with sugar, lemon juice.
Pastry: Roll out the dough on a lightly floured surface to 10'-12" in diameter, place on parchment on a baking sheet.
Spread cheese mixture in the center of the dough staying clear of the outer 1.5". Arrange peaches on top of cheese.
Roughly fold over the edges and brush with the egg wash.
Bake at 375* for 30 -35 minutes.
Remove from oven let cool on the baking sheet on wire rack. (Take care when transferring it to a plate or cutting board, the pastry is very flaky.)
Finish warm tart with fresh basil and… consume immediately . Invite the neighbours.