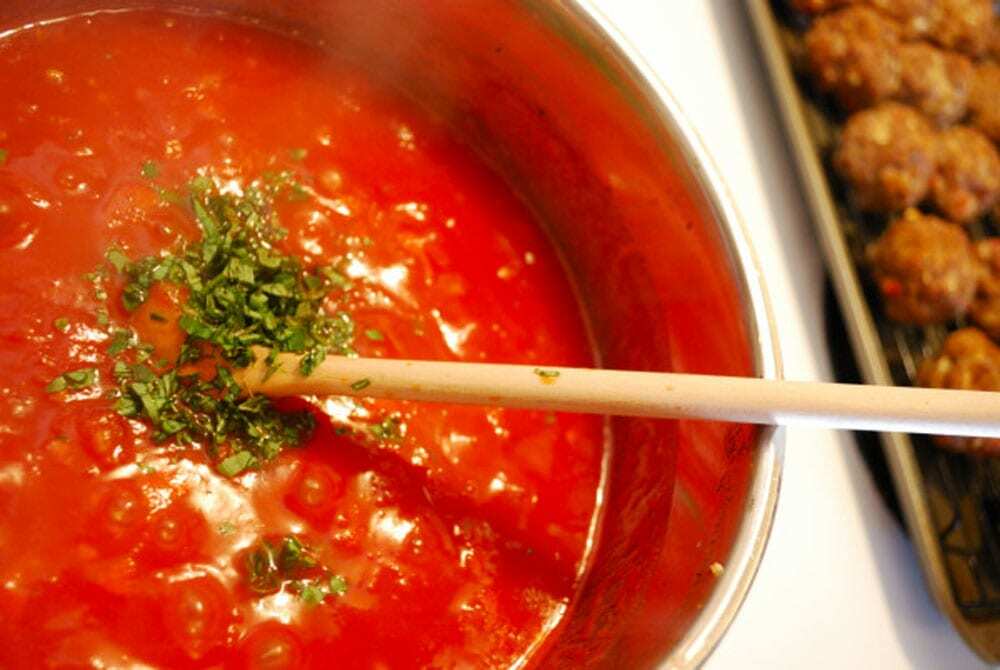 It's comfort food season, a chilly day found me in the kitchen whipping-up a batch of spaghetti & meatballs, singing "On Top of Spaghetti" and pondering the nature of the sobriety of those writing children's songs.
Think about it; you loose your meatball after someone sneezes on it, it rolls across the floor, all the way outside, under a shrub, where it becomes "mush" (one must assume this would take days), you then taste it (ewwwwwh!) , and then it grows into a tree?
OooooooKaaaaaaay, I'll have a case of wherever they're drinkin'! Now… let's a-make-a some nice a-spicy meat-a-balls and a-nice-a tomato sauce.
Using a combination of medium ground beef and lean ground pork, you get light tasting but moist meatballs. I bake meatballs on a cooling rack over a cookie sheet so any excess fat drains off. This leaves them crisp on the outside but tender on the inside and there's no messy splatter to clean up on the stove top.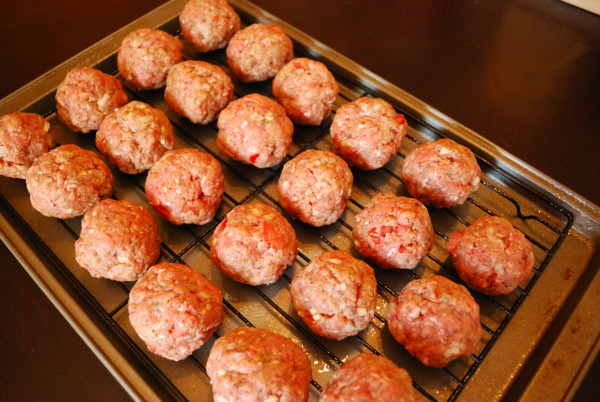 Tomato sauce is quick and easy, costs pennies to make and keeps for days in the fridge, why buy it in a jar?
The secret to a truly great tomato sauce, is simplicity. I know at least six versions: thick & chunky, sweet, spicy, tart, smooth and smokey. This is a personal favourite, taught to me in one of my favourite Nona Kitchens, bright and fresh, slightly chunky and a hit with kids (while singing "On Top of Spaghetti").
Sauce tip: always start with onion, let that sweat a minute or two then add garlic, that will give the pan enough moisture so your garlic doesn't burn. Bring together the main ingredients (onion, garlic & tomato) and bring that to a low boil. Remove from heat, stir in fresh herbs, let stand until ready to serve. Heat until just about to bubble and serve. This keeps the herbs fresh and green and the sauce bright and perky.
Speaking of perky; if you'd like to write children's songs, here's some wine pairing ideas for your spaghetti:
Such an easy pairing, really any full bodied dry to semi-dry red would do; chianti, merlot, cabernet or shiraz all work. Personally, I like a decent pinot noir with anything Italian. Pinot being my favorite grape, frankly I like it with anything… including toast.
Let's try something different shall we? How about a Lambrusco. In its dry or sweeter versions, Labrusco's berry note is often favored by wine newbie's. Its bright acidity pairs well with fatty foods; anything containing mayo (ie: potato salad) or grilled meats. The touch of fat in these little meatballs (plus cheese) could make a Lambusco a fun option as a table wine.
Remember kids, when you eat spaghetti (all covered with cheese), cover your meatball whenever you sneeze.
Spicy Meatballs – Recipe
Prep time: 10 minutes
Cooking time 20 – 30 minutes
Makes: (approximately)24 11/2″ meatballs
Ingredients:
1 pound medium ground beef
1 pound ground pork
½ medium onion – diced
1 medium tomato – deseeded, diced
1 clove of garlic – diced
1 egg
1 tablespoon Dijon mustard
½ teaspoon dried oregano
½ teaspoon dried basil
1 teaspoon thyme
½ a teaspoon hot chilli flakes (*if you want them un-spicy, omit *)
¾ cup of breadcrumbs
salt & pepper to taste
Preheat oven to 375*
Method:
In a large bowl combine and season meat with salt, pepper, chilli flakes and herbs. Add tomato, onion and garlic and mix well.
In a small bowl combine egg and Dijon. Wisk lightly. Add to meat mixture. Turn lightly to moisten.
Add breadcrumbs, mix well. Meat should be reasonably dry and easy to mould.
Spray cookie sheet and rack with non-stick spray, place rack on cookie sheet. Roll meatballs (of desired size) between the palms of your hands and place on rack.
Place in 375* oven for 20 – 30 minutes until golden brown.
Allow to cool slightly, serve on top of spaghetti, all covered with cheese.
Tomato Sauce – Recipe
Prep time: 5 minutes
Cooking time: 15 minutes
Ingredients:
½ medium onion – diced
1 clove of garlic – diced
1 large (28oz) can whole tomatoes
1 (6oz) can of tomato paste
1 tablespoon fresh basil, chopped fine
1 tablespoon fresh thyme, chopped fine
½ tablespoon fresh oregano, chopped fine
½ teaspoon sugar
2 tablespoons olive oil
salt & pepper to taste
Method:
In a medium sauce pan over medium heat, add olive oil, then onions. Allow onions to sweat for about two minutes until beginning to become transparent around the edges. Add garlic, stirring constantly, about two minutes.
Add whole tomatoes, tomato paste and sugar, stir stir to blend. Bring to a boil. Remove immediately from heat. Add fresh herbs, mix.
At this point this sauce can be served or it stand at room temperature for up to three hours or refrigerated for later. To serve, bring to just below a boil to heat through. Serve steaming. I love a big bowl of spaghetti & meatballs!
Buon appetito.