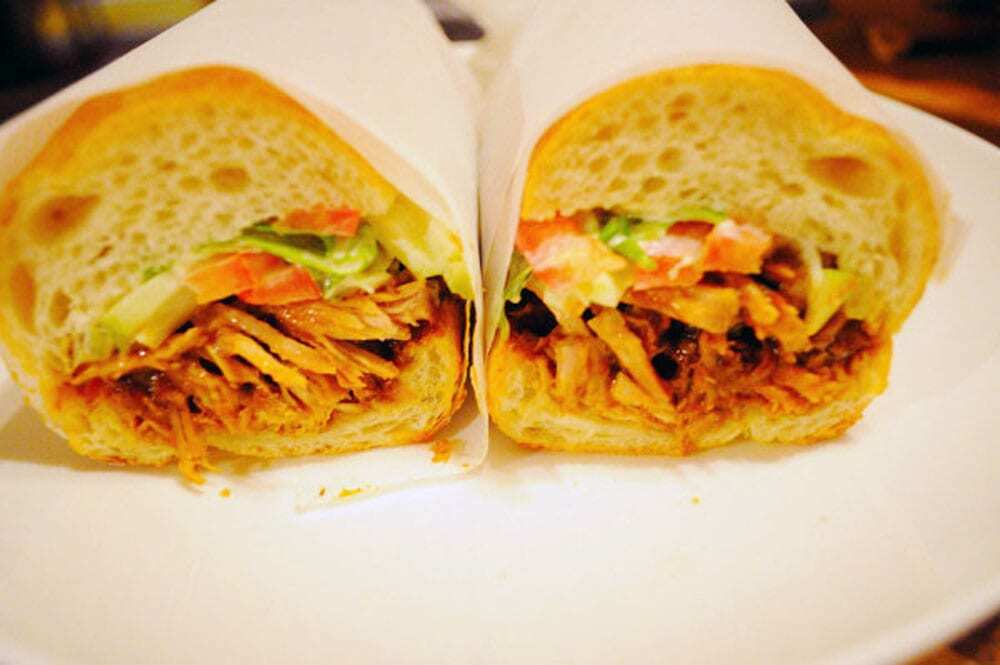 The Pulled Pork Po Boy is like spicy, saucy slow cooked bacon-y goodness on a nice chunk of French bread. Sounds good already, doesn't it?!
In Louisiana, Po Boy sandwiches come in a couple different flavours; there's fried, featuring battered shrimp, crawfish or oysters and then there's pulled, featuring pork, cooked low, slow and saucy. Po Boy literally means "poor boy" – taking what we have and putting it on bread to fill you up – peasant food with Cajun roots.
Likewise, the stuff you find in a Po Boy, is working man's food. In the South, shrimp and oysters were once considered poverty food, food for fishermen. The pork shoulder is a fibrous cut, it needs long, slow heat to be tender and "shred" when pulled apart making it go further, an inexpensive meal.
There are a number of cooking methods that render good Pulled Pork results, rubbing this shoulder made me long for a smoker. But alas, I shall just have to fake it to get the results I'm looking for. To do that I used my favourite cocotte (Dutch Oven) and a hit of liquid smoke.
I'm a big fan of a proper cocotte, moving easily from stove top to the oven then back to the stove top with all those spicy juices to finish a sauce, it was (almost) a one pot meal. Also effective in the slow cooker, set it in the morning and come home after work to fork tender, juicy pork.
If you can get your hands on a good Adobo seasoning (garlic powder, onion powder, black pepper, cayenne pepper, cumin, oregano) you can save having to make it yourself. I find many packaged spice mixes contain favour enhancing chemicals I don't want in my kitchen (MSG), so I rigged a dry spice mix to imitate a good Adobo. This way you can adjust the spicing to echo personal tastes as well.
To get that spicy intensity that is a trademark of Pulled Pork Po Boy, I rubbed the meat down with apple cider vinegar (Virginia style) then dry rubbed with Adobo spice (Louisiana style) tied it tight and wrapped it in plastic wrap and let it stand over night in the fridge (Gypsy style). You can reserve it, spiced, for as little as an hour but the longer the better.
After cooking; the juices in the bottom of the pan this became the base for my sauce instead of gabbing a bottle of BBQ sauce of the shelf. To get that smoke-like "bark" and crispness I was looking for, I bushed the shoulder with the sauce and popped it under the broiler, for about 15 minutes then let it rest until ready to shred and serve.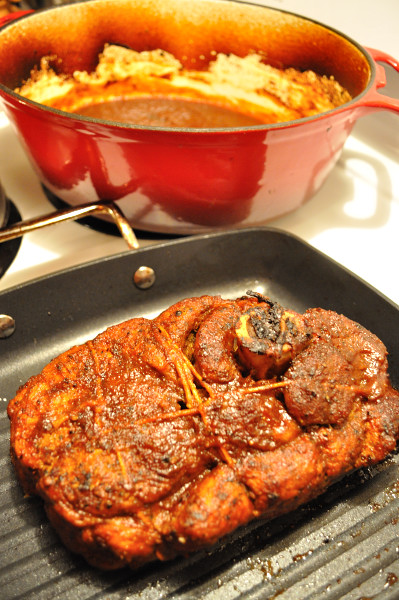 When you order your Po Boy in Louisiana the question you'll be asked is: "Dressed?" Of course you're dressed, you didn't leave the house naked again did you? (I hope not.) What they're asking is: "do you want your Pulled Pork Po Boy with lettuce, tomato and mayo?" The answer is "yes please."

The key to a good Po Boy sandwich is – messy. It should be filled with enough goo to get necessitate eating with caution. (I once wore one in New Orleans for most of a day.)
Some folks finish with slaw, which has a solid 'goo factor' but rather than go cabbage on my Pulled Pork Po Boy, I borrowed from time-honoured tradition and made what I call the All Dressed Slaw; tomatoes, lettuce, green onion and a touch of green apple tossed in a tangy slaw-style dressing.
The result was fresh and bright, with just a touch of crunch and lots of goo, though you'd never know it from photo, remind me go give it smoosh next time, this looks surprisingly restrained. Go ahead, get gooey with it.
Pulled Pork Po Boy Recipe
Prep time: 45 minutes
Cooking time: 6 – 7 Hours
Ingredients Pulled Pork:
3 lb pork shoulder
1 teaspoon garlic power
1 teaspoon onion powder
3 teaspoons black pepper
1 teaspoon cayenne pepper
2 teaspoons cumin
2 teaspoons dried oregano
11/2 teaspoons liquid smoke
3 tablespoons cooking oil
Salt – to taste
4 cups chicken stock, divided
1 ¼ cup apple cider vinegar, divided
2 onions, coarsely chopped
3 cloves garlic, coarsely chopped
¼ cup ketchup
2 tablespoons molasses
Ingredients , All Dressed Slaw:
2 firm, roma tomatoes, seeded & cut into rough julienne
½ head romaine lettuce, cut into rough julienne
½ granny smith apple, cut into rough julienne
2 green onions, cut into rough julienne
3 tablespoons mayo
1 ½ teaspoons apple cider vinegar
1 teaspoon cumin
2 French Baguettes (or as many crusty, soft buns as are necessary to feed your crowd)
Method:
In a mortar & pestle (or bowl) mix Adobo seasoning: garlic powder, onion powder, black pepper, cayenne pepper, cumin and oregano until thoroughly combined.
Prepare shoulder by removing excess fat. Sprinkle (or rub) 1 cup apple cider vinegar all over meat. Allow to stand for 2 – 3 minutes. Season meat with Abobo seasoning mix, rubbing deeply into the meat, then sprinkle with kosher salt. Tie tightly into compact bundle, wrap in plastic wrap and refrigerate for minimum of 1 hour (overnight preferred).
Pre-heat oven to 300*F. Remove meat from plastic warp, heat oil in a pan or dutch oven and sear all sides to seal in juices. Remove meat and reserve, deglaze pan with 2 cups of chicken stock, then add ¼ cup apple cider vinegar, liquid smoke, rough cupped onions and garlic and place meat on onions. Place in oven at 300* for 6 – 7 hours (checking the liquid occasionally to be sure the pot has enough moisture to avoid burning).
*If using slow cooker: Sear meat and deglaze pan as directed using only 1 cup of chicken stock (with same amount of vinegar and liquid smoke); then add liquid, onions and garlic and meat too cooker. Cover and cook on high for 9 – 10 hours until fork tender.
After cooking, remove meat to broiling pan and reserve. Remove sweet, cooked onions & garlic puree in food processor or blender, add back to the juices in the bottom of the pan. Add up to 2 cups of additional chicken stock for your sauce, add any remaining Adobo mix, molasses, ketchup, simmer to proper consistency. Adjust seasoning as needed.
Bush shoulder with sauce and glaze under the broiler, for about 15 minutes, reapplying the sauce in three to four layers for colour, consistency and spice. Remove from oven, tent under tinfoil until ready to shred & serve.
In small bowl combine mayo, cumin and apple cider vinegar then lightly whisk. In separate bowl combine slaw veggies; tomato, lettuce, onion & apple. Dress and toss lightly.
Gently remove string from meat, with two forks pull apart meat so that it shreds into pieces. Toss with enough sauce to coat. Slice baguette in half, to open like a hot dog bun. Add layer of pulled, sauced pork on bottom then top with All Dressed Slaw, close, cut and serve.
To keep the goo in, I wrap my Po Boy in parchment paper, twist the ends up tight and then slice. This has saved many a shirt. Lesson learned.