Reverse Iced Coffee – Some Things You Just Shouldn't Mess With
If you like your coffee administered with the speed of a napping sloth, then Reverse Iced Coffee is for you. If, on the other hand, you really need your coffee, like now, you might consider another method and be glad I tried this so you don't have to.
I'm always looking for fun and interesting ways to spice things up in the kitchen; new shortcuts and flavour profiles, and this often leads to experimentation, not all of it fruitful. In fact some of my best "worst" moments in the kitchen have been pretty spectacular, some of them I share with you here but most quickly find their way into the compost and I call it a day with a glass of wine. (You know it's bad when the dog who eats crazy glue won't touch it.)
A couple weeks ago I spotted a photo making the social media rounds that featured coffee frozen into cubes, served with Bailey's Irish Cream. It looked like a good idea, 'perfect on a hot summer day' I thought, 'I have coffee' I thought, 'and I make iced coffee every single morning, I should try this.' This is how all good (and bad) ideas start, it's tough to know which is which until you try them.
Coffee ice cubes in hand, I then made my regular iced coffee in reverse. Instead of adding hot espresso over ice, then adding milk, cream or something sassy; I started with frozen coffee, then added my milk and for a bit of fun, a chocolate covered Pogo cookie. It looked good. It shoot beautifully, the problem was, despite the 33*C (91.4*F) heat – there was no coffee in my iced coffee.
So I waited… and waited… and waited. I put it in the sun (good for the frozen bits, not so good for the dairy) and waited some more only to find the water content melting and the coffee remaining locked in ice form. Dagnabbit, Give Me COFFEE!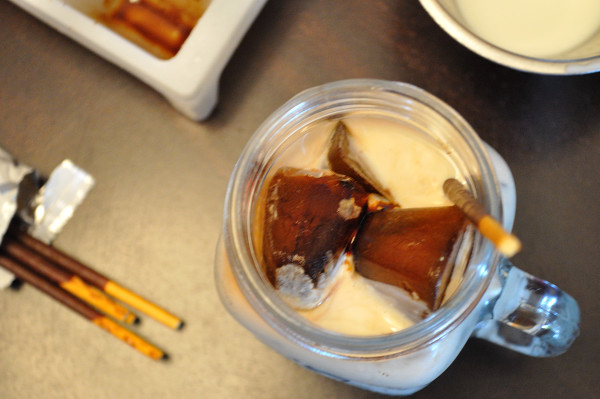 This process is akin to slow torture. Drip by precious drip it emerged, watery in the bottom of the glass (I had sucked what little flavour there was out of the milk half an hour ago and licked an ice cube or two hoping to savour what little coffee remained) until I could stand it no more, tossed the remains in the sink and broke out a new glass for my usual morning ritual.
The best thing about experiments such as this one is what we learn in the process, so what conclusions can was take away from this experience?
1) Coffee frozen in cubes would be best blended with your dairy/dairy substitute for a coffee smoothie.

2) Do not, I repeat, DO NOT try something new with your morning coffee without first HAVING your coffee.

3) Beverage experiments are always better when there's booze involved.
Good Morning, from the Gypsy Kitchen. May your coffee be mercifully fleet.