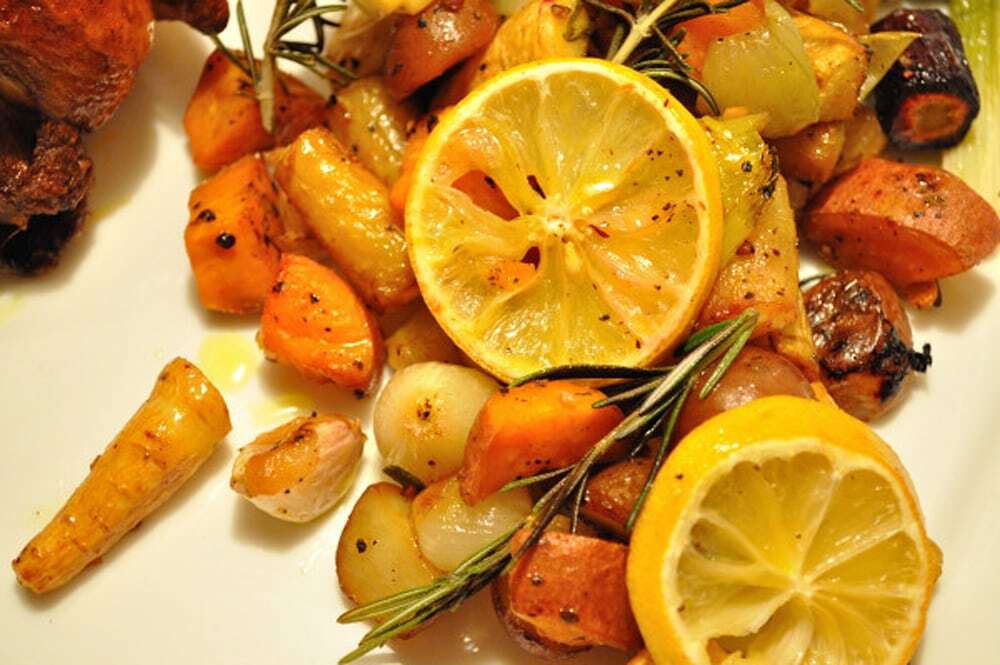 Roasted Vegetables with Garlic, Rosemary & Lemon
Roasted Vegetables with Garlic, Rosemary & Lemon, know at Chez Gypsy as the Ode to Tubers, is a household favorite. The oils from the olive, the lemon and rosemary are old friends; they bond in a familiar kinship to make this simple side dish look amazing, taste terrific and smell fantastic.
A colourful side for a holiday meal, or on a platter along side your favorite roasted meat for a casual serve-yourself family-style meal.
One of the reasons I love this dish is because it basically cooks itself, bang the veggies in (hardest vegetables first) as you prep them and, if needed, it can stand on the counter for hours without risk before being quickly reheated to serve. It's a always big hit with veggie folk because it's packed with taste, nutrition and it's 100% vegan.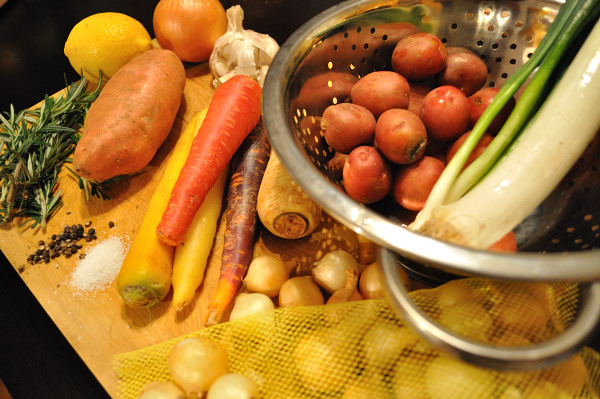 Carrots, potatoes, sweet potatoes, a couple of different kinds of onions, and parsnips all tossed with olive oil, salt, pepper a touch of crushed garlic. It just so happened I had a leek in the fridge, so I threw that in to add a little extra ooph to the sweetness of onion.
I don't bother peeling the garlic anymore, because it's more fun to squeeze it out of the thin skin when it's all sweet and gooey.
In fact, I don't peel any of the vegetables I use in this for two reasons. One: the peel acts as a barrier as it roasts and helps maintain moisture on the inside, while crisping on the outside. Two: not only is the outer flesh a good source of fiber, while it's keeping all that moisture in, it's keeping a great deal of nutrition (little things like vitamins and minerals), in too. Instead of peeling, just soak them for a few minutes and give them a good scrub, except for the onions, which are peeled and prepped.
Oh root vegetables, how I love thee, let me count the ways.
Roasted Vegetables with Garlic, Rosemary & Lemon (Ode to Tubers) Recipe
4 carrots, coursely chopped
18 new potatoes, halved
1 large sweet potatoe, cut into 2 inch chunks
1 large onion, cut into 1/2 inch slices
10 peral yellow oinions, whole, peeled
12 cloves of garlic, whole
1 clove of garlic, crushed
2 large parsnips, coursely chopped
6 sprigs of rosemeary
1 lemon, cut into 6 1/2 inch slices
1/4 cup olive oil
salt & pepper to taste
Preheat oven to 350*
Coat oven-proof baking tray with non-stick spray.
Method:
Wash & cut carrots, in large bowl toss carrots with generous drizzle of olive oil, salt & pepper. Pour on to baking tray, place on the center rack of a 350* oven. Set timer for 15 minutes.
Wash & cut creamer (new) potatoes, pearl onions, onion slices and sweet potatoes. In same bowl toss vegetables with generous drizzle of olive oil, salt & pepper and one sprig of rosemary, broken into single needles and one clove of garlic, crushed. Once timer rings, remove carrots from oven, add potatoes (etc) to tray. Toss lightly to mix, spread evenly so vegetables are in ONE layer. Place tray back in 350* oven for 15 minutes.
Wash & cut parsnips, green onions leeks, lemon slices and four (whole) sprigs of rosemary. In large bowl toss with generous drizzle of olive oil, salt & pepper. Be sure to salt the lemons, this will help draw out the juice as the lemon cooks. Once timer rings, remove tray from oven add parsnips, leeks and green onions and mix to coat. Arrange rosemary among vegetables in single layer. Take ends of lemon (not sliced) and squeeze juice on to the vegetables on the tray. Top with lemon slices and place tray back in 350* oven for 25 minutes, turning once with a spoon.
Gypsy Notes: if you would like to serve the rosemary as a garnish (as shown) I reccomend that you add an extra three or four, lightly oiled sprigs about 5 minutes before removing from the oven, just to lightly toast them. Then discard the ones used to flavour the dish, because they'll be whilted and black.
Plate, finish with a good quality olive oil and go… eat your veggies.