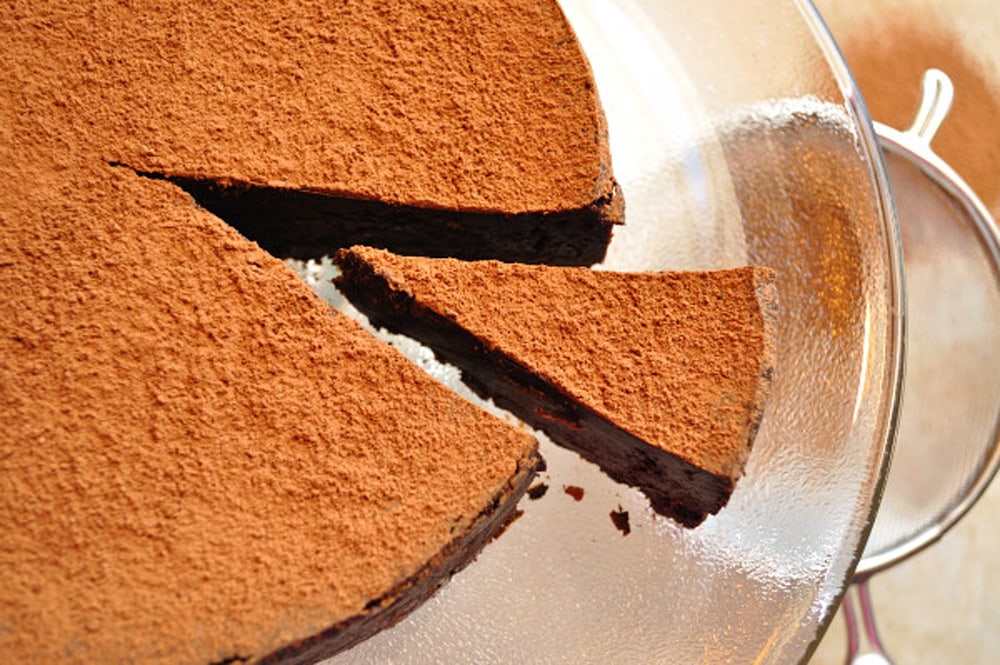 Chocolate Espresso Truffle Cake
Smooth, dark and super rich, this Chocolate Espresso Truffle Cake is a slab of pure chocolate heaven. It's also flourless so there's no pesky carbohydrates and it's gluten free.
Just a few simple ingredients you probably already have: butter, sugar, chocolate, espresso and eggs. When baked it has the consistency of chocolate paté but some mistake it for a cheesecake. (Yea, there's no cheese in that.)
Chocolate Espresso Truffle Cake is super simple, all you need is a bain marie or double boiler. If you don't have one no worries, just do what I do, take a bowl on place it over a pot of simmering water. The steam will heat the bowl and help to melt the ingredients together. Just be sure the bowl does not touch the water.
Hot tip from our Technical Director, Chef B: to make it easier to unmold, flip the bottom of your springfrom pan upside down, that way you don't have to deal with the lip on the bottom when you serve. Before unmolding; run a hot knife around the sides to help loosen the torte from the sides then undo the buckle on the spring form pan and ease it out.
I also used a round of parchment on the bottom because I wanted to plate it on the cake stand. Removing the parchment was tricky and I accidentally broke the cake. Fortunately, I was able to mend it for the presentation, but between you and I — if you use parchment, just leave it in place.
This recipe easily doubles, which means there's twice as much of it. It may call you at 3AM for a bathrobe attired chocolate feast by the light of the refrigerator, it's temptation in it's purest form.
You've been warned.
Chocolate Espresso Truffle Cake Recipe
1/4 cup sugar
1 cup butter
10.5 oz (*300 G) dark semi sweet chocolate, chopped
1/2 teaspoon vanilla
2/3 cup strong coffee/ double shot of espresso
4 eggs, beaten
2 teaspoons cocoa, to finish
Preheat oven to 325*. Coat 6 inch springform pan with non-stick spray.
Method:
In double boiler (or bain marie) over medium heat combine sugar, butter, chocolate, vanilla & coffee, stirring until all ingredients are melted. Remove from heat.
In separate bowl whisk eggs until foamy, slowly add to warm chocolate mixture, stirring constantly to prevent eggs from cooking. This will make the chocolate mixture thick, like a chocolate pudding.
Coat 6″ springform pan with non-stick spray. If desired, cut a round of parchment to cover bottom of pan, place in pan before poring in prepared custard. Pour warm chocolate mixture into the pan and place on a baking sheet (in case of any leakage). Place in a 325* oven, on the center rack and bake for 25 to 30 minutes.
Cooking time will vary depending on your oven (and how many times you peek), this torte will bake like a cheese cake, the sides rising while the center will remain soft and jiggly. This is the consistency you're looking for. I suggest checking the cake at 25 minutes and re-setting your timer on intervals of 5 minutes until you see the sides are firm and risen, and only the center jiggles when you gently wiggle the pan to test.
Remove and allow to cool. Refrigerate, covered for two hours, then take hot knife and run it around the sides to free it safely from the sprinform pan. Unbuckle springform and remove sides, if desired, you can also (gently and carefully) remove bottom and plate just on parchment. Sprinkle with cocoa and plate.
Serve at room temperature, smear evenly on both thighs.