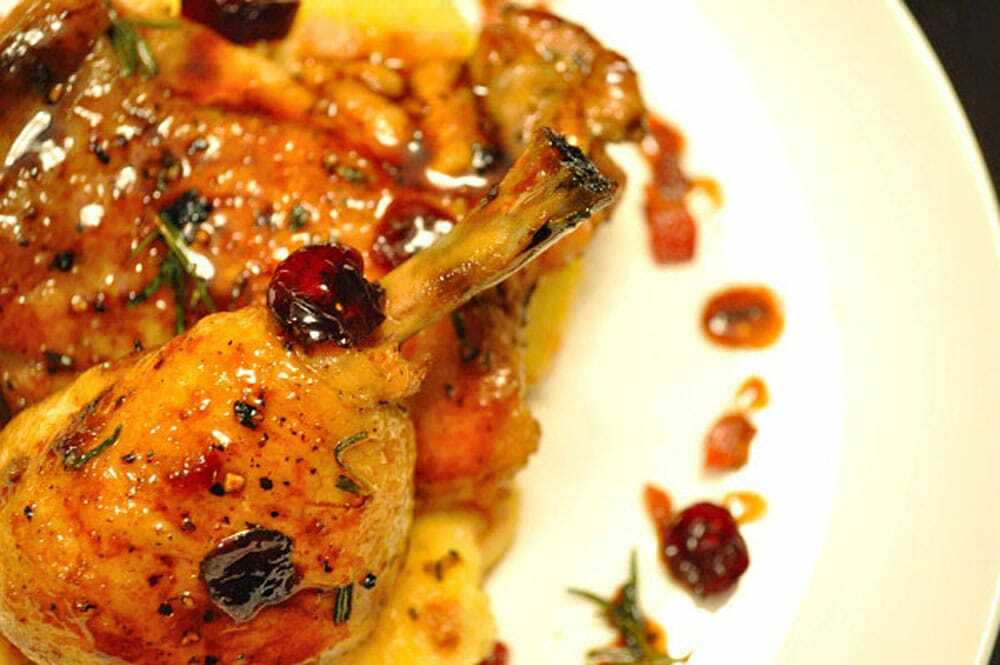 Rosemary Apple Glazed Chicken with Dried Cranberries and Bacon Polenta
Rosemary Apple Glazed Chicken with Dried Cranberries and Bacon Polenta. Perfect on a dark & stormy early autumn evening, as temperatures drop and comfort food comes to mind.
It was dinner for one (with a side of mac & cheese for the kiddo) while the future hubs served perfect plates at a wedding. In my life eating solo means enjoying things he doesn't care for, in this case: polenta. A simple, gluten-free starch, polenta is ready in minutes, making it a great option for weeknights. Just boil water and add fine ground corn meal, a dash of salt and a dollop of butter. Make it firm and allow to set so you can cut it to serve, or make it soft and scoop it onto the plate. Polenta is also easy to pimp, add sun-dried tomatoes & caramelized onions or fresh green onions, or stir in some well cooked, crumbled bacon.
Cooking the bacon was my first step, the polenta was my last, in between there was the matter of a leg of chicken and a simple apple syrup based sauce. Top to bottom this was dinner in less than an hour. I started with a quick saute of zucchini, tomatoes and patty-pan squash because I needed a whole bowl of veggies. That's the nice thing about being a gown-up, eat however you want!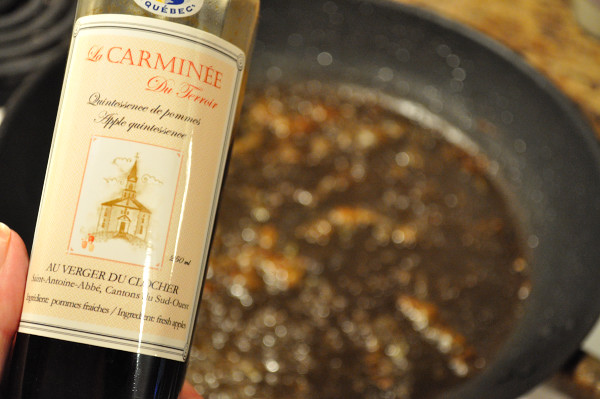 The base of this the glaze/sauce is one of our pantry favorites, a product of Quebec, Canada, it is an apple syrup, or "apple quintessence" called La Carminée Du Terroir. It has an almost molasses quality to it, sticky and sweet. I've seen several similar products in health food and gourmet stores in many cities. If you can't find an apple syrup, deglaze with a splash of brandy and then add your favorite apple jelly, thinned with a tablespoon or so of water and reduce over low heat until slightly sticky. This will give you a similar taste and consistency.
Now, let's walk you through this so you can get cookin'.
Rosemary Apple Glazed Chicken
with Dried Cranberries & Bacon Polenta – Recipe
Prep Time: 10 minutes
Cooking time: 40 minutes
Serves Four
4 chicken legs, thighs attached
1 tablespoon fresh rosemary
2 tablespoons oil for cooking
1/3 cup apple syrup 1/4 cup dried cranberries
salt & pepper to taste
Bacon Polenta
4 cups boiling water
1 1/2 cups fine ground cornmeal
1/4 cup bacon – cooked, well drained & chopped
salt to taste
Preheat oven to 375*F (190*C)
Method:
1) Dice and cook bacon, over medium heat until well cooked and slightly crisp. Drain fat and reserve. (If you favor the pig as I do you can use that fat to sear your chicken. Or you can toss it and use a fat lower in cholesterol, like olive or sunflower)
2) Prep and season chicken. Dry your chicken well, this will help to ensure it does not stick to the pan, then season lightly with salt. pepper and about 2 teaspoons of fresh, chopped rosemary. (Reserve the remaining rosemary for your sauce and plate garnish.) In this instance, I de-boned the thigh and stripped back the leg to reveal the bone, which I cut just below the joint.
The de-boning serves to help the thigh cook faster, the leg was prepared primarily for presentation purposes. If you choose to de-bone you will notice that one side of the thigh is thicker than the other, to even this out just place it between two pieces of plastic wrap and whack it a couple of times with your meat mallet, or substitute a heavy bottomed pan like I did.
3) Add oil (or bacon fat) to large, oven-proof pan, and place over medium-high heat until oil is hot and meat sizzles when it touches the pan. Place chicken in pan, and sear until golden brown on both sides, about 3 minutes on each side. Remove from heat, remove excess oil if necessary and place pan in oven, on the middle rack to cook through, about 30 minutes, turning at the half way point.
Gypsy Note: If you de-bone the thigh, it will take less time to cook and should be removed earlier than the leg, otherwise they will both take the same amount of time to finish.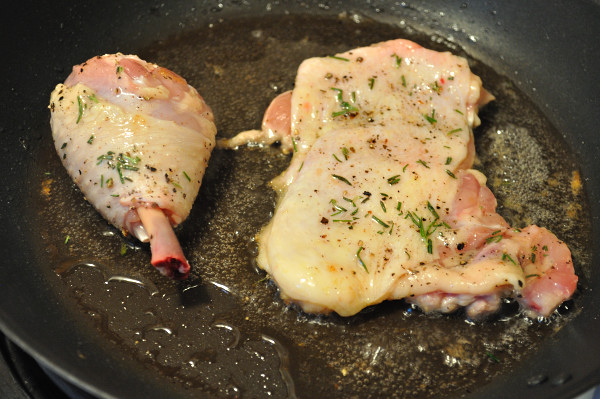 4) Remove chicken from oven, check to ensure doneness. If cooked through remove from pan and rest. Remove excess grease from pan and reserve.
5) Boil water and measure cornmeal for Polenta.
6) Place pan on medium heat add apple syrup. Lightly scrape with wooden spoon to remove chicken brownings from the bottom of the pan. Add about a tablespoon of water to thin sauce if necessary. Reduce temperature to low and toss in dried cranberries and remaining rosemary and stir to combine. Return chicken to the pan, turn to coat with sauce then allow to simmer on low heat to soften cranberries and re-heat chicken, about five minutes.
6) While chicken is simmering, slowly add cornmeal to boiling water, whisking as you go to remove any lumps. The cornmeal will swell and cook immediately, add additional water if needed to achieve the right consistency; a semi-firm mash. Add bacon, taste and add salt if needed.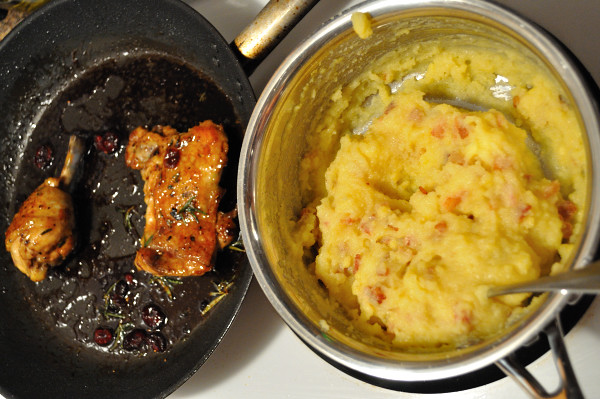 To plate: Use polenta as a base in the center of your plate, arrange chicken on top, spoon a small quantity of sauce over the chicken – just enough to add shine and taste. Drizzle sauce on plate in a creative arrangement depending on the size and shape of plate. You can add greater dimension to your plating with placement of cranberries, rosemary and any remaining bacon.
Serve and enjoy. Stay warm, I think it might be time to break out the sweaters.