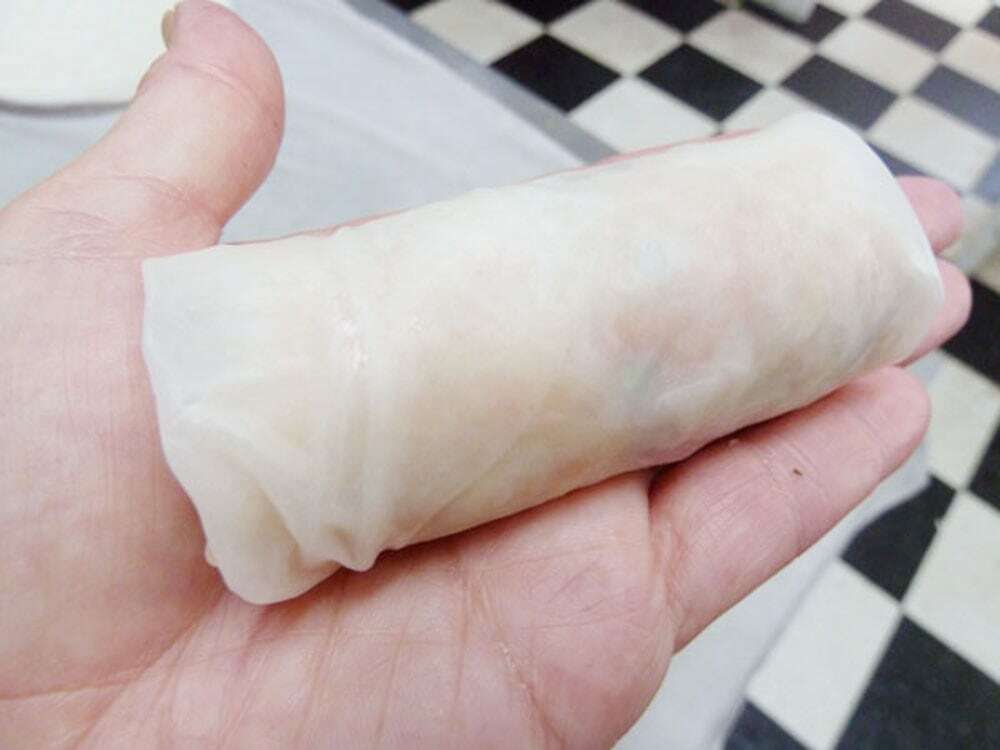 The secret to beautiful Asian Spring Rolls is the art of the perfect roll. These are a rice paper version; bright, fresh and packed with flavor, the deep fried variety features the same rolling technique with a different wrapper. Once you have this down you're a spring-rolling machine.
Last week I perfected the spring roll after churning out a couple hundred of theses babies in the big shiny kitchen. Working in a dynamic, creative kitchen, is perfect for sharpening skills and learning new techniques.
Featured on many a menu as "salad rolls" or "rice paper wraps" this is an Vietnamese inspired recipe, with little fat and loads of possibilities. Perfect for seafood: try shrimp or lobster varieties. Also delicious: Asian spiced pork, thinly sliced Asian sausage or straight vegetarian. Asian spring rolls make a sassy little appetizer or cold starter on a hot day.
I like them spicy, heavy on the cilantro, with a hint of mint and just enough rice vermicelli to make the sauce stick. Here's a step-by-step guide so you can roll like a pro.
Fresh Asian Spring Rolls – Recipe
2 cups water
8 – 12 large shrimp (prawns), peeled deveined and chopped
1/4 cup rice vermicelli (cellophane noodle)
1 cup boiling water
1/2 cup shredded carrot
1/4 cup thinly sliced red onion
1/4 cup thinly sliced red pepper
1/2 cup thinly sliced napa cabbage
1/4 cup finely chopped fresh cilantro (or coriander)
1 teaspoon finely chopped fresh mint
6 rice paper, rounds 8 inches in diameter
Sauce To Dress:
2 tablespoons hoisin sauce
squeeze of fresh lime juice
1 1/2 teaspoons Asian garlic chili paste
Peanut Dipping Sauce:
2 tablespoons hoisin sauce
juice of one lime
1 1/2 teaspoons fish sauce
1 1/2 teaspoons unsalted natural-style peanut butter
1/2 teaspoons Asian garlic chili paste
1 pinch brown sugar
Method:
1 In a saucepan, bring the 2 cups water to a boil. Add your shrimp and immediately remove from the heat. Cover and poach until pink and opaque, about 5 minutes. Remove shrimp from hot water and transfer to a bowl of ice water to stop cooking process and cool, about 3 minutes. Drain and cut each shrimp and coarsely chop (or cut in half lengthwise) then refrigerate until ready to use.
2. In a heatproof bowl, add rice vermicelli to boiling water and soak for 8 – 10 minutes. Drain well, rinse then return the noodles to the bowl and chill until ready to use.
3. Cut, grate and other wise ready the carrot, red pepper, onion and cabbage. The first three steps can be prepared well in advance, even a day or two out, if covered and refrigerated properly.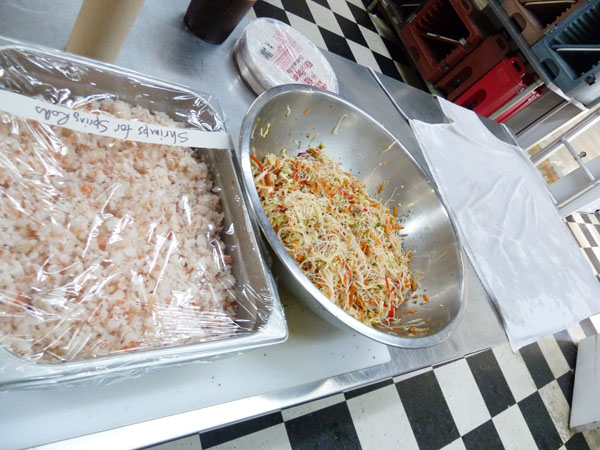 4. Finely chop cilantro and mint, toss with reserved vegetables and rice vermicelli. In a small bowl combine the sauce to dress the filling: hoisin, lime juice and chili garlic paste. Pour over vermicelli mix, toss gently to coat. Leave shrimp dry and cold, removing from fridge only when ready to roll.
5. Place a wet, clean, flat weave kitchen towel on your work surface, this will prevent the wrapper from sticking to the counter. Fill a large, shallow bowl with water. Place a rice-paper round in the water and soak until JUST pliable, count about 6 seconds. Transfer the wrapper to your wet, waiting towel and wipe away excess water with your hands.
Gypsy note: It's OK if your rice paper is still a touch stiff, it will continue to soften as you work. I find them easiest to work with if they are just soft enough to fold.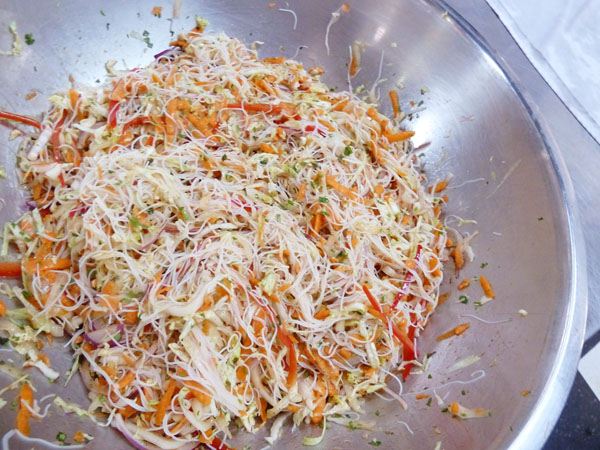 6. Arrange about three tablespoons shrimp (chopped) or three half shrimp and approximately of 1/3 cup of the noodle mixture on the bottom half of the wrapper. Fold the bottom edge up, toward the center, wrapping around the filling. Fold the right and left edges of the wrapper over the filling to form a little envelope.
I find this keeps the filling in place and helps to prevent the wrapper for ripping or tearing. It also creates nice, straight seams along the sides for beautiful presentation.
Yes, you can make them bigger. These are two-bite spring rolls, perfect for entertaining. For appetizer size; increase filling to a 1/2 cup.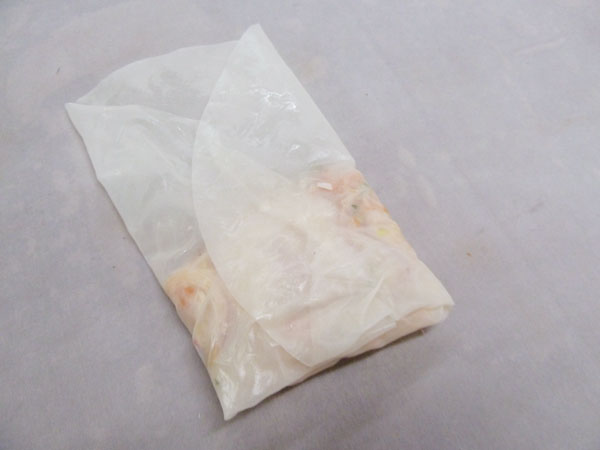 7. With tips of fingers, gently drag the filling down to fill the bottom portion of your envelope and form and nice tight roll. Don't worry if there is a bit over the fold, it will roll up as you go. Gently press and roll, keeping edges straight and filling tight. As you approach the end, if you find the edge is not sticky enough to seal, simply wet your finger and apply a little water to the inside edge and finish the roll.
Repeat with the remaining wrappers, filling, and shrimp. If making in advance for entertaining, transfer to a plate covered with dampened paper towel, pat a drop or two of water on each roll with your finger tips, cover with plastic wrap and refrigerate until needed.
Gypsy note: Do not refrigerate wrapped spring rolls overnight, the rice wrapper will dehydrate and become too chewy. These are best served fresh, so only allow to stand a few hours at most.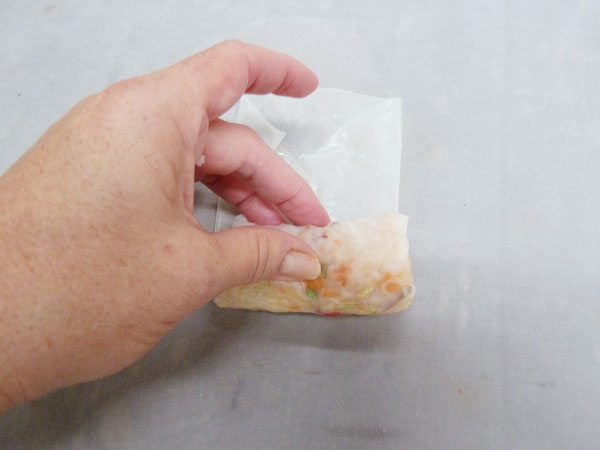 To make the dipping sauce: Combine the hoisin sauce, lime juice, fish sauce, peanut butter, chili garlic paste and brown sugar in a small bowl and stir until blended. To serve, cut the rolls in half on the diagonal and plate, in a decorative manner, with a little bowl of dipping sauce that can be replenished.
Practice makes perfect. The first few might be a bit loose or uneven but after your first fifty, you'll really nail it!