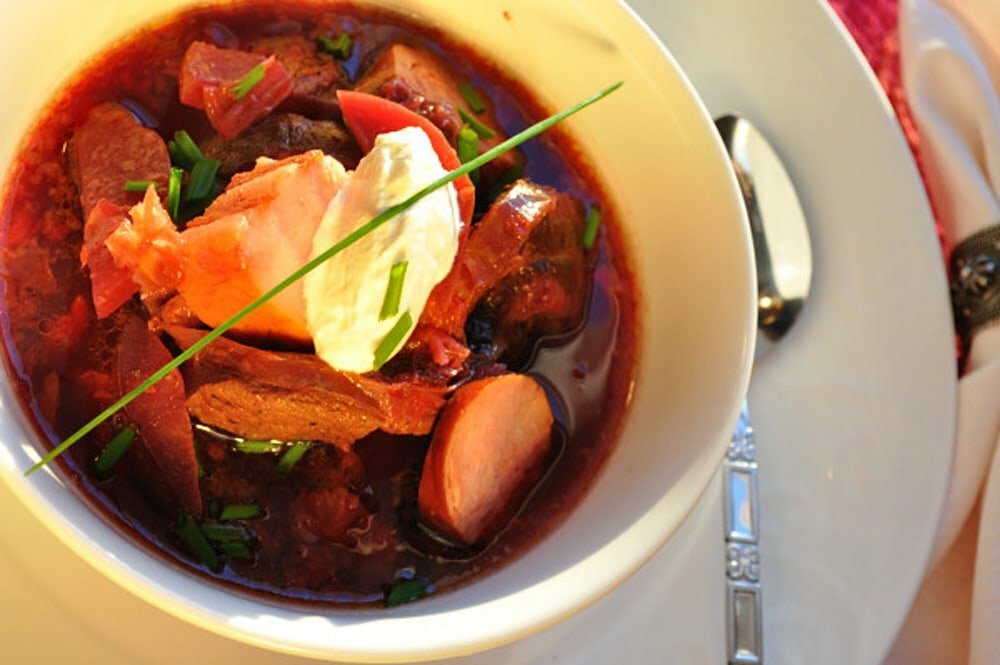 Russian Borscht, Beety & Meaty
Made with beets, cabbage, onions and three meats including a smokey kielbasa sausage, salt pork and a nice shank of beef, a good Russian Borscht is winter comfort food that is as rich in aroma and flavour as it is in colour.
Deep red colour and warm winter roots, borscht is a soup from my eastern bloc roots, many a white shirt has born the mark of my mother's big pot of mid-winter Russian borscht. When I eat a bowl I laps into my best Russian accent, call myself Natasha and go looking for moose & squirrel.
There is something deeply satisfying about good, hearty peasant food. They are perhaps my favorite foods in any cuisine; soups, stews, potted pies, casseroles and one pot curries. They were invented to feed a family as cheaply as possible with ingredients that were the most readily available.
In the winter, long before the advent of refrigeration we relied on the family cellar to keep our food, and at this time of year, in Eastern European countries, that cellar would be filled with roots, tubers, cabbages, plus salted and cured meats.
Combined low and slow in the big cast iron pot over the fire beef would braise, pork would stew, and all the vitamins from those hard, cold beets and cabbages would fill the room, and every belly. The earthiness of the beets, in a hearty, fortified broth with an added dimension of smokey richness from a link of kielbasa that we just could not resist. This is a Borscht that would have made Grandma proud.
It's a fine day to eat well.
Russian Borscht Recipe
Prep time: 30 minutes
Cooking time: 21/2 hours
Serves: 6
1 pound slice of meaty bone-in beef shank
1 link of smoked kielbasa, cut into three equal pieces
1/2 pound salt pork, blanched (as per step one)
1 large onion, peeled, chopped
2 cups (half a medium head)cabbage, sliced
4 large beets, peeled, chopped
6 cups chicken stock*
oil for cooking
salt pepper, to taste
sour cream to finish
METHOD
Fill small pot with COLD water, place salt pork in immediately, then bring to simmer for about five minutes. Pour off liquid and rinse meat in COLD running water. This will remove impurities and salt.
In a large, ovenproof pot sear beef shank over medium high heat until well browned then remove and reserve. Add salt pork and sear well on all sides then remove and reserve.
Reduce heat to medium, add onion to pot and sweat lightly. As onion begins to soften add cabbage and stir well vegetables cook, the whole time scraping the browned bits off the bottom of the pot, cook about three minutes.
Add chicken stock* (in this case we were looking for a bright, light broth for this soup, so we used chicken stock it is more traditional to use beef stock) until vegetables are covered and floating, just slightly. Scrape any remaining suc of the bottom of the pan then add the meats, including sausage, so that everything is submerged in the broth. Reduce heat, cover, and simmer until meat is tender, about 2 and a half hours.
Transfer meats to work surface; trim fat, sinew and bone and discard. Coarsely chop meats; return to pot cover and chill until cold, at least 4 hours and up to 24 hours.
Spoon fat from top of chilled broth and discard. Return to heat, cover, and simmer until entire pot is warm through, about 30 minutes. Season to taste with salt and pepper.
Ladle soup into bowls. Top with sour cream and get a big spoon.
Avoid wearing white…