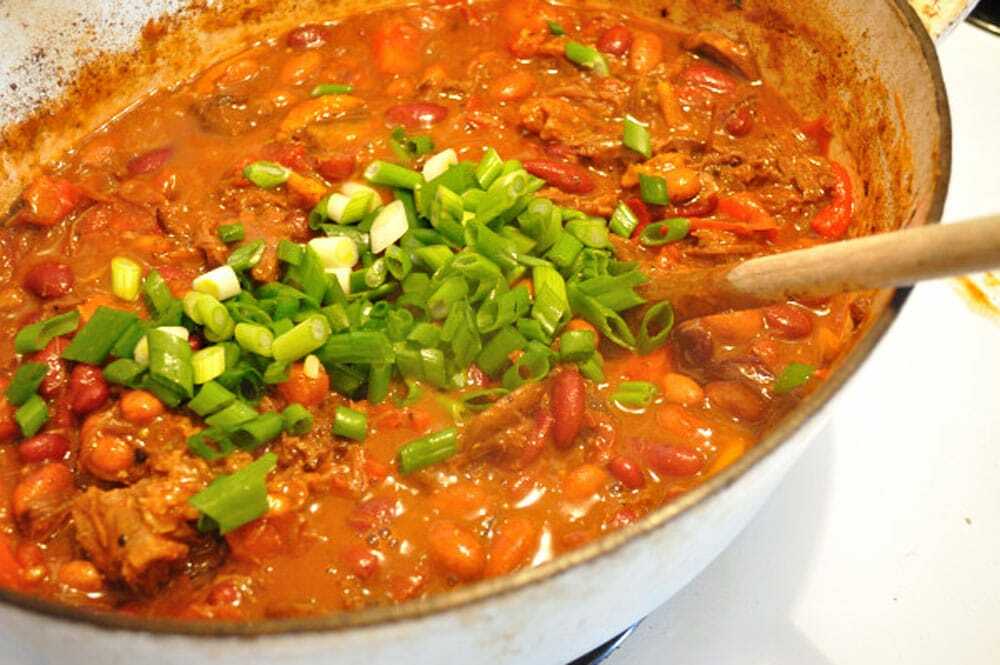 How to warm up on a cold winter night, just wrap yourself around a big pot of Texas Style Chili.
Slow braised beef, stewed with beans, tomatoes, peppers, mushrooms and spices.
Yes, we've added beans, which might rile some Texans, but the biggest difference in a Texas style chili is the meat. Rather than using ground meat and sauteing, we use a blade roast and slowly braise it until it's pull-apart tender for big, beefy texture and big chili flavour.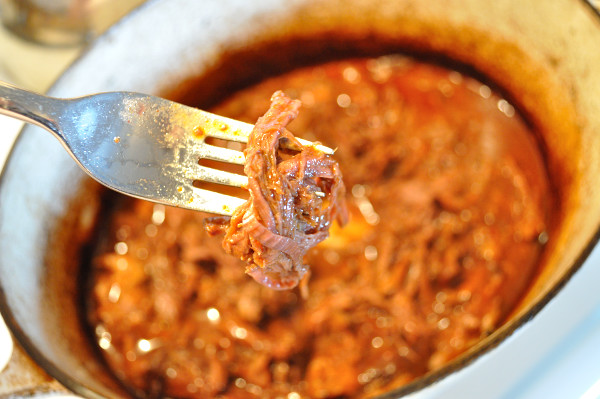 I'll be honest, this was a two day chili. Got off to a late start in the kitchen and (for whatever reason) this chunk of beef must have come from one slow-ass cow, because it took twice as long to cook as the same cut when I kitchen-tested the recipe a week prior. This resulted in a cascade failure; tears, threats to toss the whole works in the compost and sandwiches for dinner.
As any chef would tell you: "in cuisine there are no problems only solutions."
The solution here was: stop the drama and get back in the kitchen and cook it longer. Sooner or later, when you braise beef, it will fall apart and that's the idea.
The end result was a winner and as a consequence of associated kitchen meltdown, I have a much better idea of timing so you don't have to feed the fam cheese sandwiches. (Call me crazy, thinking you might not enjoy the 24 hour method.)
So, break out the beans kids, we're making chili.
Texas-Style Chili Recipe
Prep time: 15 minutes
Cooking time: 5- 6 hours (dutch oven) 6-7 hours (slow cooker)
1/4 cup rendered bacon grease or vegetable oil
3 pound blade or chuck roast
4 tablespoons chili powder (divided)
3 tablespoon ground cumin (divided)
2 teaspoons (Mexican) oregano (divided)
2 teaspoons salt (divided)
1 teaspoon freshly ground black pepper
4 to 5 cups beef stock
1 large white onion, chopped
5 cloves garlic, peeled and crushed
1 teaspoon dried crushed chilies (optional)
4 large tomatoes, chopped
2 large sweet (red or yellow) peppers, chopped
12 large mushrooms, sliced
1 (12 oz) can of red kidney beans
1 (12 oz) can of black eyed beans
6 green onions, finely chopped
Finely chopped green onions to finish
Method:
Dry meat well with paper towel. In a small bowl combine 1 teaspoon chili powder, 1 teaspoon cumin, 1 teaspoon oregano, 1 teaspoon salt to create a dry rub. Rub spice mix into meat and then allow to stand for about 5 minutes at room temperature.
In a large heavy pot (such as a cast iron Dutch oven), heat the fat or oil over medium-high heat. Add the roast, whole and sear on all sides until no longer pink. Lower the heat to medium.
Add enough beef stock to come up to about one third the way up the sides of the roast. Preheat oven to 375*. Bring liquid to a boil on the stove top, scraping all the brown bits off the pot and into the sauce, then cover and place in oven for 3 – 4 hours. OR… take all those lovely juices and transfer to a slow cooker, on high, for 4 – 6 hours. This way you can set it in the morning, do your thing (ie: go to work or skiing or run errands) and finish it in the evening and still have the same results.
You know the meat is cooked when it's tender when pierced with a knife and can easily pull apart with a fork. Using two forks pull apart beef into bite sized chunks, it will continue to breakdown as you finish cooking. *If using slow cooker, at this point transfer to a large pot to finish on the stove top.*
Over medium-high heat add the onions, garlic, chilies, and remaining chili powder, and cook, stirring occasionally, until the onions are transparent, 4 to 5 minutes. Add the remaining cumin, oregano, salt, and pepper, and cook until fragrant, about 1 minute. Add tomatoes, peppers and mushrooms and cook for about a minute. Add both cans of beans (un-drained) and about 1 cup of beef stock and deglaze, scraping down the sides of the pot to add all that flavor to the chili. Stir well, and bring to a low boil.
Reduce heat and simmer partially covered, stirring intermittently, about 30 minutes. Add remaining stock if the chili is too dry/thick. You're looking to warm the beans through and bring all the flavour to the forefront, without over cooking and breaking down the beans.
Remove from the heat, stir in green onions, season to taste and skim any excess fat from the surface. Ladle into bowls and garnish with chopped green onions.
Serve with hot cornbread or corn chips and an assortment of chili customization condiments such as sweet mango salsa, hot jalapenos or grated old cheddar, then FEAST.
May there be no tears and tantrums. Live, love, EAT well.