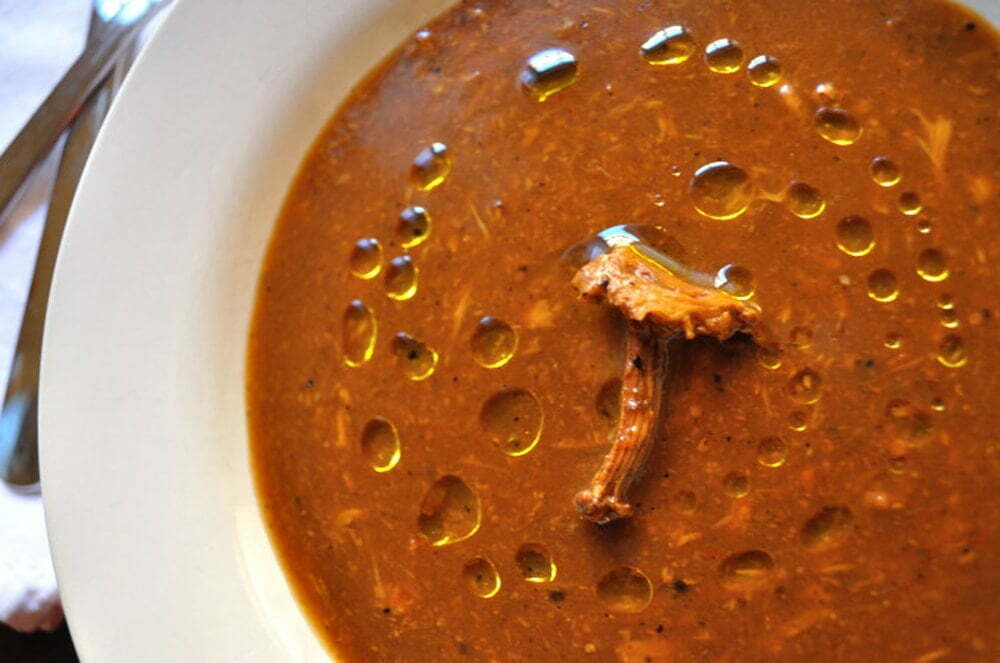 Rustic Wild Chanterelle Soup
The fact that I am cooking with mushrooms is something of a minor miracle, less than a year ago I avoided mushrooms like the plague.
First, they're "fungus" and that in itself is less than appetizing, but that coupled with their texture, slimy, slippery, spongy and they squeak on my teeth – ugggg. Thing is, I like the taste of mushrooms, I love the way they smell, the richness of them. For years I was adding mushrooms only to remove them or cutting them incredibly fine, so they would be undetectable.
(Yes, I was tricking myself into eating mushrooms, shhhhh don't tell me…)
Then I attended Fancy French Cooking School, and discovered that I'd never had a properly cooked mushroom in my life. That and the fact that different mushrooms have different properties; some have a more firm texture, some have a smokey taste, some are sweet, some are small and tender, and some and dark and juicy.
This has resulted in something of an awakening, a renaissance, a liberation of the fungus.
Not only am I learning how to cook them, I'm now learning which ones I prefer and that is what brings me to this little gem of a hearty, Wild Chantrelle Mushroom Soup.
Earlier this week we kicked off 'VEG HEAD' Month on Food Gypsy with two simple vegetable stocks – one roasted, sweet and robust and the other poached, delicate and clear. Both simple, but they require a bit of time cook and extract all the flavor and nutrition of all of those lovely veggies.
After that, they moved to the back of the fridge until today; when we deliver not one, but two mushroom soups.
Both with similar ingredients but different approaches. Because we did all that cooking on Monday, today was a snap, simmering the stocks for about 30 minutes to adjust the flavor, both soups were finished, shot and done in under 45 minutes – which is exactly why I love having big containers of stock in the fridge. (Or in the cupboard as the case may be, there's no shame in using off-the-shelf stock, pick a good one, go organic, it's well worth it. But when you have the time, making a stock is a dam fine way to clear out the fridge.)
Our first soup was an Enoki Phở – in a chanterelle enriched, clear vegetable broth. Delicate, Asian, light.
Now for our second, using the roasted vegetable… dark, sweet and lusty… so I naturally shift to culture of cooking that, to me is all of those things and borrowed a little flavour from Italia.
Where the other stock is refined and clear this one is course and opaque, vegetables roasted at high heat, the pan deglazed with white wine to capture all the sweet, caramelized flavours then simmered low and slow. To tweak it to regional flavor I added a generous grind of black pepper, a pinch of salt and a splash of wine (if you're using packaged stock you may need to add roasted garlic & a touch of tomato paste).

OK, so it may have been more of a glug than a splash of wine. I happened to have some, it off if you don't use it, that happened to me once and I may never forgive myself.

Finally, I added a package of dried, wild chanterelle mushrooms, to re-hydrate and simmer for 25 about minutes.
I chose chanterelle because of to their colour — a rich pumpkin-like hue — and their sweet nose. I also noticed that they come from the area of BC's Lower Mainland that I come from, so they must be good.
Alas, re-hydrated chanterelles have that squeakiness I loath, so broke out the handheld blender to give them a quick buzz. I should have photos of this step, however there was something of a mishap that involved the physics of swirling liquid in a smallish pot.
*Pause to clean counter, stove… ceiling.*
That zap broke down those lovely soft, orange-coloured mushrooms and (what was left) was laded into a bowl, drizzled with a trickle of white truffle oil and served with a chunk of aged parmesan and an ancient grains roll.
The final product was a unrestrained, bawdy, meaty broth with texture and depth with the added bouquet of white truffle. The accent of the salty cheese against the sweet, fleshy soup was (for me), an inspired choice. Paired it with with a simple Cab-Sav and indulged – greatly.
Chanterelle mushroom soup is a soup I could serve to my Father (also not a fan of the fungus) claiming it to be perhaps… a beef soup and he would love it, licking the bowl and asking for more until I tell him it's actual contests and he accuses me of attempting to poison him. (Not that I would do such a thing.)
Under an hour (cleaning included), a perfect rainy day soup, to warm you from the tips of your toes.
Worth cleaning the ceiling for.