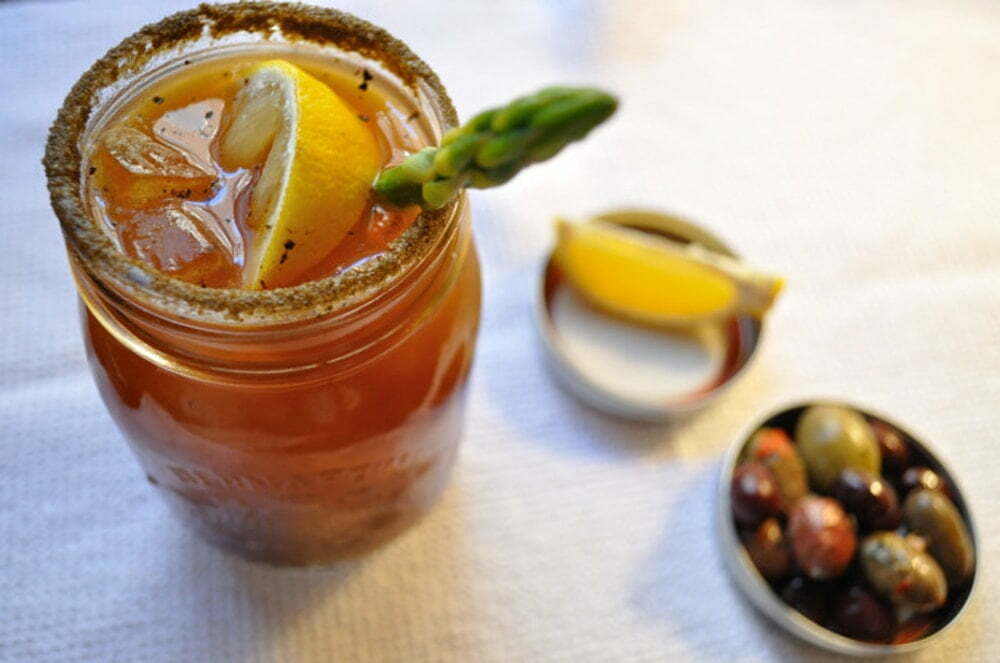 Friday Afternoon Quickies continue on Food Gypsy…
Thought we'd have a little fun with a couple of cocktails that have been rattling around my head for 'VEG HEAD Month', our tribute to all things vegilicious for spring. I find the best way to break out of a rut is to stretch and try new things until you find that new groove that really works for ya'.
My first attempt at a vegetable cocktail was rather a sad little failure. Spinach Martinis. Love the fun twisty sticks for the amber cherry tomatoes, the snacks good, but the cocktail= yickity-yick. It got in my mouth. What, you thought I was going to give up? I refuse to be defeated by produce.
As I continued with my rather daring experimentation I began to question the wisdom of cocktail posts mid-afternoon. For the record, I'm a total lightweight cocktailer. One, maybe two and I'm toast. Wine… is a completely different story. I can drink all night and still operate a corkscrew, the BBQ and the stereo.
Good news- this post did not require the operation of heavy machinery, or sharp knives. What it DID require was a trip next door for ice as the freezer here at Chez Gypsy is less than good.
In cuisine there are no problems only solutions, next door is Colonnade Pizza they have PLENTY of ice (thank you Peter) and I have plenty more vodka so — here we go.
In this little elixir we used the roasted vegetable stock we made earlier this week (but any roasted vegetable stock will do, available at local health food stores), a dark, sweet stock we then treat it just like a Bloody Mary; lemon wedge dragged around the rim, rim edged with celery salt, ice, vodka, veggie stock, dash of Worcestershire and hot sauce, a generous grind of pepper and finishing with a freshly blanched, chilled asparagus spear.
You'll note I did not say "Tabasco" but hot sauce… I have more than 17 different hot sauces in the pantry and for this I chose the Marie Sharp's Nopal Green Habanero which is lower on the scoville heat scale but it's cactus based for a fresh 'green' favor.
After the green rubbing alcohol of the Spinach martini this was a welcome flavor change. Easy to sip and enjoy. The stock is unsalted so the celery salt hit it perfectly. I could see this on a bleary-eyed Sunday morning or a Friday night before that "here-comes-the-weekend" BBQ.
The Veggie Mary – successful little twist on a classic. (HA. Take that spinach goo…)
Did I mention the catastrophic carrot juice spill? (Clean-up… isle nine.) There is WAY too much stuff in my fridge (having nothing whatsoever to do with alcohol consumption).
Go ahead, drink your veggies.