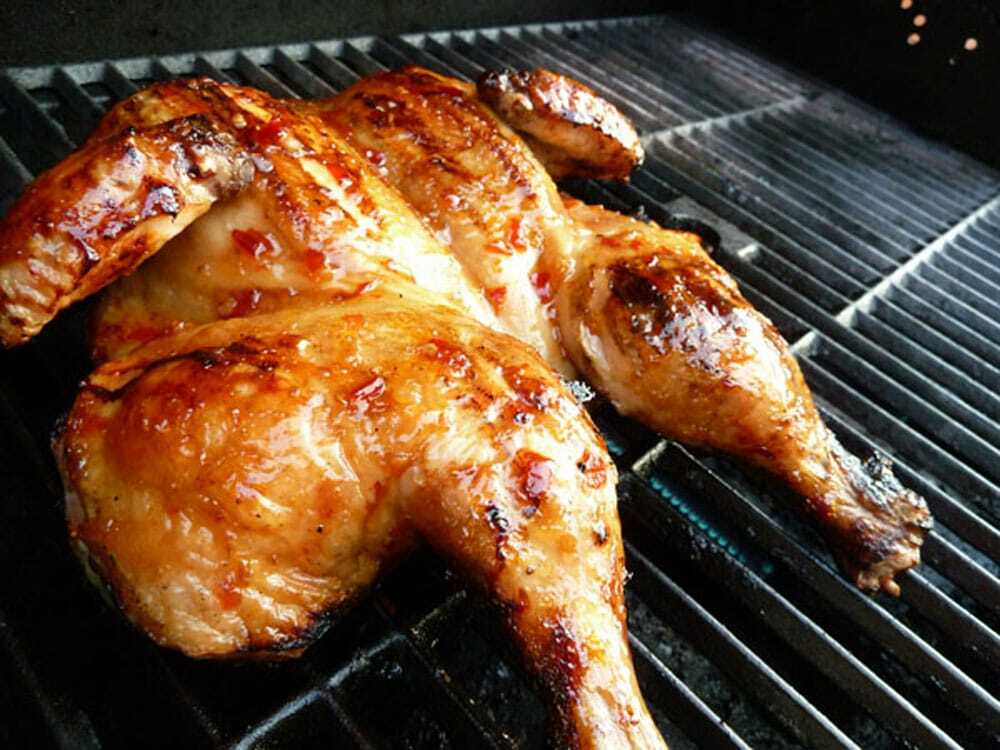 Thai Chili Chicken ~ a lá Gypsy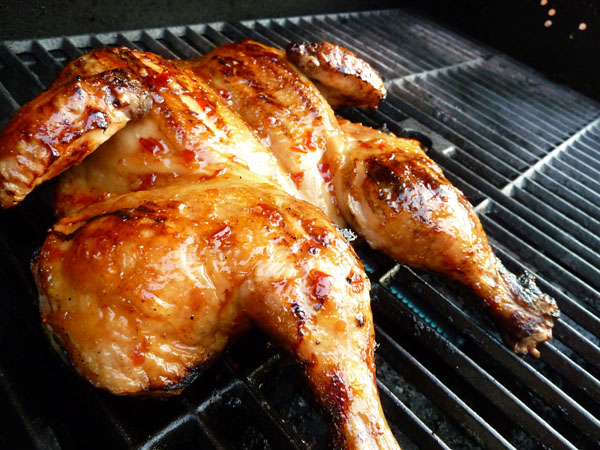 Sometimes it's the simplest things that strike a chord.
Like this pretty little chicken. I'll be honest, I didn't intend to publish this because two ingredients; one of them being "chicken" and the other being "jar o' sauce" does not a "recipe" make.
After posting this impromptu photo of well… dinner… on my Facebook page, I had several inquiries, it's not a recipe per say, but it is solid TECHNIQUE for the grill, and using it you'll get beautiful results every time.
I love to do four or five Thai Chili Chickens at a time for a party. So easy. Serve them hot or cold.
Fell in love with Sweet Chili Chicken traveling though Thailand on a tight budget, it became a daily challenge to eat as well as we could for as little as possible so we had more money to spend on fun stuff like riding elephants and shiny trinkets. In Chang Mai we found a little hole in the wall called "BBQ Chili Chicken" – imaginative I know. Their menu? You guessed it, barbecued chili chicken and your choice of rice or noodles.
Our meal; two chickens, one side of rice, two cokes, a bottle of water and a split of Mekong whiskey — $7 (including tip).
Can't beat that.
Now for the home version: one organic chicken, $14. You must cook it yourself and bring your own sauce. There is no back room for a "massage".
Little 'Cue Technique:
With a sharp knife of kitchen shears 'butterfly' your chicken by cutting down either side of the spine to remove the back bone so it lays flat. Remove wing tips at 'elbow" joint. Brush with olive oil both inside and outside. Sear meat over high heat, to crisp the skin and seal in the juices. Approximately 3 – 4 minutes on each side depending on the heat of your grill.
Turn one burner off, the others to medium-high (internal barbecue temperature 400*) and move the chicken to the "off" side. If using charcoal, simply mound charcoal to one side and again, remove chicken from direct heat, to the side.
This off-heat method creates an oven effect in your grill. The flame is not directly under, but beside the bird, maintaining heat without direct flame.
"The most common mistake most of us make is cooking at too high a heat." ~ Gypsy

No? Just me? Fine. Be that way.
Brush surface liberally with Thai Sweet Chili Sauce to glaze. Finish cooking, lid down, turning and glazing as needed. This way the sugar in the glaze doesn't burn/catch on fire (because that's annoying) and your fowl stays nice and juicy.
Cooking time 35 – 45 minutes depending on the size of your bird.
Did I make the sauce? No I did not. I could, but I didn't. This sauce was a gift from a friend recently returned from Thailand. Fancy!For those not able to jet to Thailand for sauce; super convenient, Sweet Thai Chili Sauce is available at most super markets. Shot a couple for you here.
Good food doesn't have to be complicated… or take two days to make. It can, but it can also be simple and done start to finish in an hour (including 10 minute beer break).
It's summer… relax.