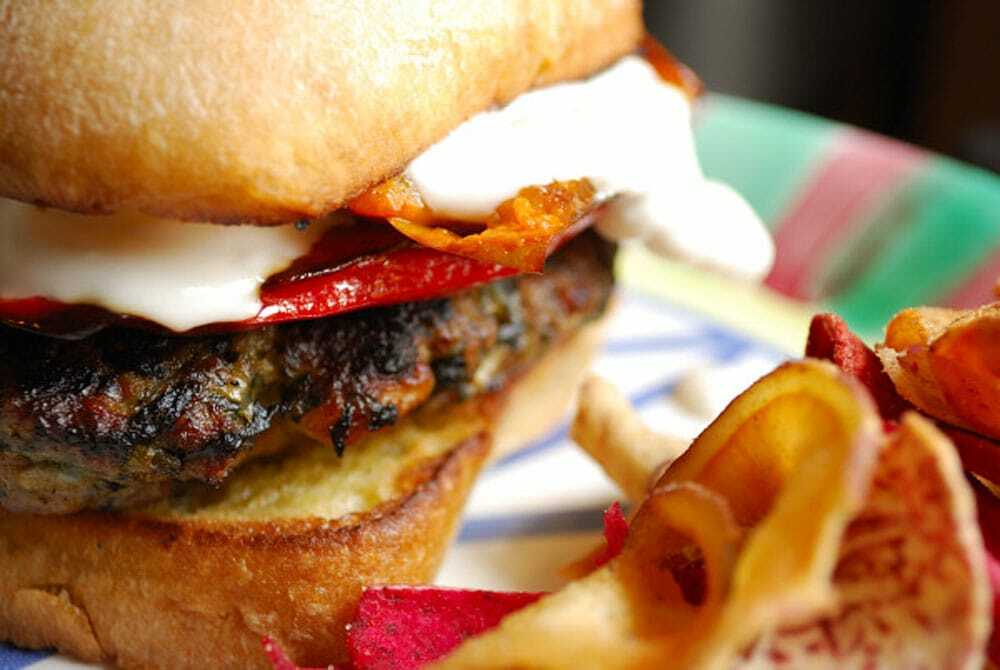 Burger night?  Skip the hamburgers and do , a lamb burgers instead!  Favoured with oregano and garlic, punched up with spinach and salted by feta and mint.  Inspired by Greece, this lamb burger borrows from keftedes or Greek meatballs, made with beef, garlic, oregano and – mint.
After making versions of this recipe for several years, I was looking for a way to push just a bit so I leaned on my favourite flavours in Greek cuisine to embrace a deeper cultural flavour.  Instead of beef, I chose lamb, added the onions, garlic, oregano, egg, breadcrumbs, pepper, chopped spinach and feta but this time I added that key flavour note that defines a keftede – mint.
The result was terrific.  That bright mint lifted the lamb to a new savoury intensity with the slight saltiness of feta and the moisture of spinach cooked right into the burger.
My first job in the food industry saw me waiting tables to pay my way through college in a cute little room, painted bright blue and white with scenes of the Aegean Sea on the wall; Andrea's Taverna in Calgary, AB. Long since gone and replaced by a swanky cocktail lounge, Andrea's was an education on the Mediterranean diet.
Olive. Grape. Lemon. Garlic. Onion. Tomato. Feta. Spinach. Cucumber. Herb. Seafood. Meat. Yogurt. Honey.
Previous travels exposed me to to spanakopita, kalamari, souvlaki, saganaki, moussaka, tzatziki , delicate flaky, honey laden desserts and all the vowels associated with pronouncing each delight; made selling and serving a snap.  Under Andre's tutelage I discovered Greek wines, including retsina (reminiscent of sucking the juice out of a pinecone), and ouzo, which we may have occasionally overindulged in.
Colourful times.
It was my first introduction to espresso, and Greek Easter which featured lamb, rubbed with olive oil and plastered with garlic and oregano, then roasted in a covered pit for 24 hours until it was so tender it fell apart.  If i close my eyes, I can still smell that lamb.
As the summer festival season rolls on, many cultures host events sharing their customs, music, art and food. This week in Ottawa, ON, the Greek community hosts GreekFest August 10 – 21, 2011 at their event site; 1315 Prince of Wales Drive.  (http://www.ottawagreekfest.com/)
Chef B and I were just debating how much we can eat in the space of a few hours and what to bring home for later.  This will be my first Ottawa GreekFest. On my way to Montreal the other day I happened to drive by the festival site as they set up tents and stages. It should be noted that Montreal is in the opposite direction (still new here).
Prefer not to think of this so much as "lost" but rather as "wandering"… I am after all, a Gypsy.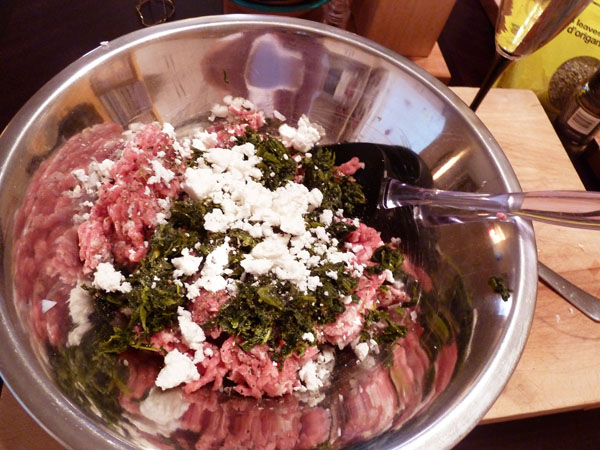 Greek Burger Recipe – Burger el Greco
Prep time: 20 minutes
Cooking time: 15 – 20 minutes
Yield: 4 burgers
Ingredients:
1 pound of ground lamb
½ large onion, minced fine
1 large clove garlic, minced fine
1 egg
½ cup bread crumbs
1 teaspoon dried oregano
2 teaspoons dried mint
½ teaspoon ground black pepper (to taste)
½ cup frozen chopped spinach, thawed & drained
½ cup feta cheese crumbled
2 red or yellow sweet peppers, cut flat into four pieces
1/2 cup tzatziki, Greek yogurt dip
2 – 3 tablespoons olive oil, for cooking
Method:
In a large bowl start with ground lamb, season meat with oregano, pepper and mint. Mix lightly.
Add minced onions and garlic to seasoned meat. Add egg, spinach, breadcrumbs and feta. Mix well, by hand or with a spoon, until all ingredients are well blended.
Form by hand into 4 meat patties, place on a tray or plate and chill for a minimum of ten minutes in the refrigerator. This helps the meat to firm and makes the patties easier to grill (or fry).
Brush patties with olive oil, place on hot grill over medium-high heat to sear on both sides (about 3 minutes on each side), then reduce temperature to medium (approximately 300*) to finish cooking to desired doneness.
Grill pepper pieces with olive oil until just cooked.  Toast buns over grill with a brush of olive oil on the inside.  Remove from heat to rest.
Assemble burger: lower bun, layer of tzatziki, lamb patty, grilled pepper, layer of tzatziki and the top of the bun to finish and serve.  Personally, I like to leave lamb burgers just a touch pink in the centre.
For fun and colour, served with Terra "Mediterranean" exotic vegetable chips; sweet potato, parsnip, batata, taro and yucca chips (some coloured with beet juice) flavoured with olive oil, lemon and garlic.  They're a new summer favourite, great dipped in extra tzatziki (or hummus).
Opa!