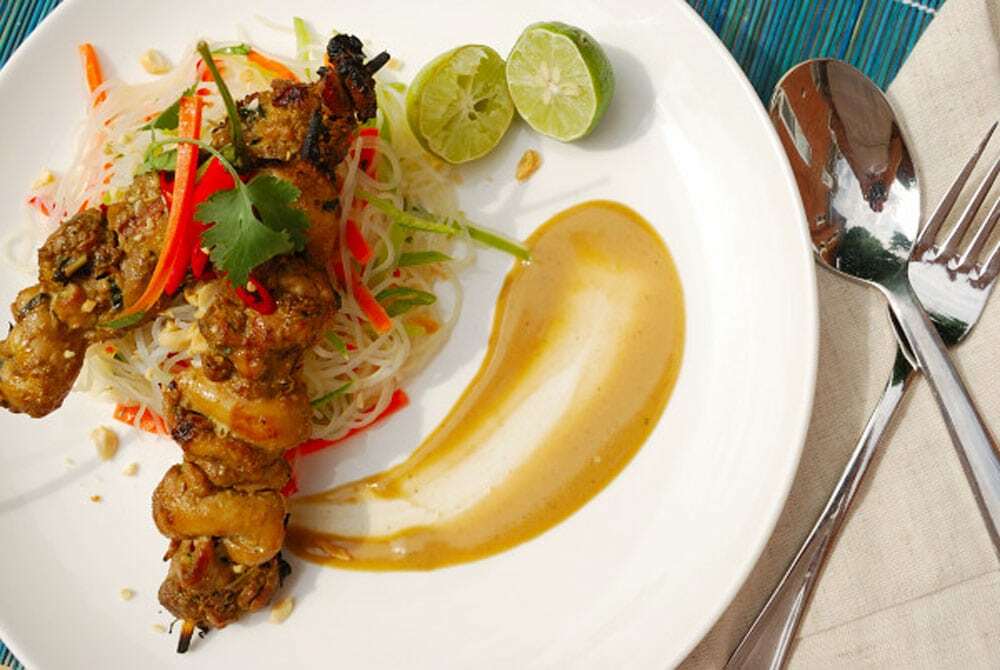 Inspiration strikes in the most unlikely of places. Over the weekend, as we traipsed over the countryside trying to avoid the Royal Couple in their whizzing black sedans and police escort as they went about their royal duties (blocking roads), we found ourselves on the patio of one of our favorite pubs for a Thai Chicken Satay Salad.
Beverages appeared. Snacks soon followed and in that line up of tapas was a most disappointing chicken satay… which lead us down the slippery slope of "there is no excuse for bad food".
It's true. A bit of forethought and some flavor was all that was lacking. This was a phoned in effort. Thankfully, our server agreed, the kitchen sent out a fresh attempt (while better, still dry and lacking in taste) and the item was deleted from our bill.
On our high horse of "there is no excuse for bad food" we decided to create our own take on a satay salad; packed with bright, Asian flavor – a joint effort in the Gypsy Kitchen with Chef B., him leading the charge on the marinade and my take on direction & interpretation.
A cold vermicelli salad with bright fresh veg, lightly dressed with a lime, rice wine vinaigrette. Hot chicken satay, moist, pull-apart tender (and totally delicious) finished with a peanut sauce. Balanced harmony in summer cooking, with a couple of "secret" techniques that make this satay a new favorite.
Chef B. : "Hey I'm just a French guy and I've never been to Asia, but I know that tastes good."

Right you are Darling, among the best satay I've ever had… in any country. Authenticity and intensity. Never comprise on taste. The galangal really makes it pop.
Combining garlic, ginger, galangal, lemon grass, lime leaves, a hint of chili, cumin, curry (powder and leaves) and coriander we have a gooey pulp that is base of flavor that will move your pallet throughout the dish.
For the chicken; we take the satay base (aka: goo), mix with a light soy & some oil. In the peanut sauce, we infuse water with 2 tablespoons of the (reserved) satay base for a continuity of flavor & aroma, and in the dressing, the infused water is added to sesame oil, rice wine vinegar & a touch of soy for an herbal brightness and light acidity for punch.
It's a tasty satay three-way.
And just how, pray tell, do you get that fall-off-the-stick, melt-in-your-mouth tenderness we're going for? That my friend is technique. Using dark, skinless, boneless chicken thighs we cut them into chunky, thread-able pieces, placed them between to pieces of plastic wrap and gave them a good with the bottom of a frying pan.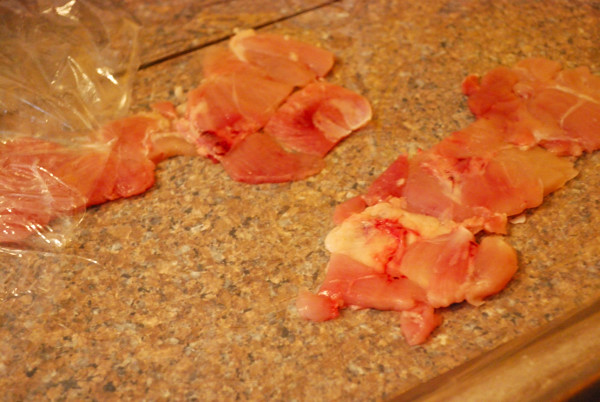 The point here is to gently break the fibers of the meat. No need to go crazy, we worked them for a few seconds each, flattening to about 1/3 of an inch thick. Then dropped the chicken pieces into the marinate and refrigerate for at least 90 minutes, preferably overnight.
The result was a smooth, buttery texture. This applies equally well in any dish where you want marinated, tender chicken. (Dark meat has more fat and therefore more flavour than white meat and is a favorite in the Gypsy Kitchen. It's often cheaper too.)
Being summer, I'm moving the cooking outdoors. I want light, I want cool, I want simple. But simple is surprisingly hard to do. Miss a layer of flavor and you have "boring" – balance is key.
We choose rice vermicelli as a starch base with bright fresh vegetables for a simple clean taste. Rice pasta cooks in minutes; rinse well, toss with a bit of oil and it will refrigerate for days. Also travels well if a person were to be heading for the cottage or to a pot luck in the neighbours backyard.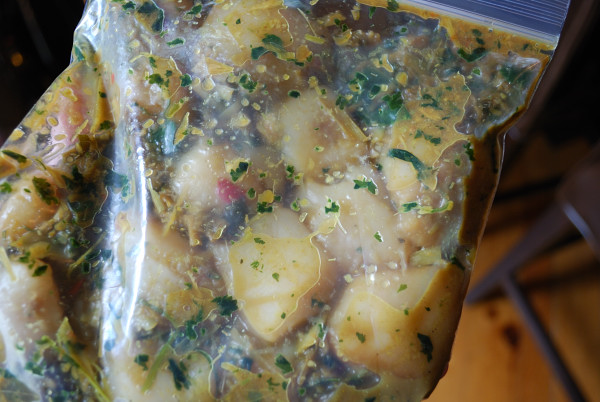 Don't let the list of ingredients intimidate you, I broke it down into three sections for ease in preparation, or if you wanted to make teh satay as a stunning appetizer, but basically it's much of the same in different quantities.
Good ingredients, good technique and a whole lotta' love, and you've got great food.
Let's get cooking… we've not phoning this one in.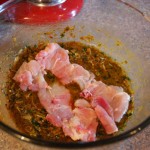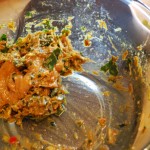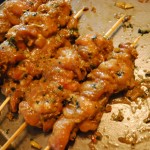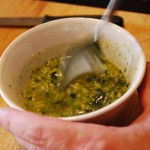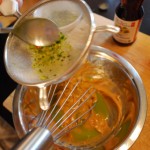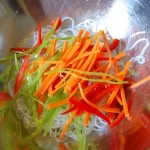 Thai Summer Satay Salad
Prep time: 1 hour
Cooking time: 15 minutes
Ingredients:
3 cloves garlic, crushed
1 tablespoons ginger, sliced
1 tablespoon galangal, sliced
2 fresh, red chilis, sliced
3 lime leaves
1 1/2 teaspoon cumin powder
1 1/2 teaspoon curry powder
1/4 cup fresh packed coriander leaves
2 generous pinches, dry curry leaves
2 tablespoons vegetable oil
1/2 teaspoon 'light' soy sauce
1 pound (approximately 6) boneless, skinless chicken thighs
1/4 cup peanut butter
3 teaspoons sesame oil
3 teaspoons *marinade infused water (see method)
2 tablespoons coconut milk
1 dash of hot sauce (to taste)
1 dash of light soy sauce (to taste)
1 package rice vermicelli noodles
1 carrot, finely sliced (or shredded)
1/2 a red pepper, finely sliced
1/2 cup fresh snow peas, finely sliced
2 green onions, finely sliced
1/4 cup fresh, chopped coriander
1 tablespoon sesame oil
1 tablespoon *marinade infused water (see method)
2 teaspoons lime juice
2 teaspoons rice wine vinegar
1 teaspoon sugar
1 dash of hot sauce (to taste)
1 dash of light soy sauce (to taste)
chopped, roasted peanuts (to finish)
Method:
In food processor combine garlic, galangal, chilis, lime leaves, cumin, curry, coriander & curry leaves. Pulse lightly until mixed to course paste. In this recipe, we went old school with a mortar & pestle to crush the ingredients together until both fragrance and flavor fuse.

*Reserve 2 tablespoons marinade 'pulp' in small bowl, add 1/4 cup of water to infuse flavor, let stand 15 – 20 minutes.
Strain & reserve.

Cut thighs into three equal(ish) pieces, and gently 'pound' between two sheets of plastic wrap to approximately 1/3 of an inch thick. Drop into marinade, coat well, refrigerate (turning occasionally) for a minimum of 90 minutes (as long as 24 hours). Remove chicken, rush off excess marinade and thread onto skewers for grilling.

Place on hot grill, brush with oil if necessary. Grill for approximately 10 minutes, turn as meat begins to darken and char until cooked. Remove from grill and serve immediately on dressed salad, with peanut sauce.
Peanut Sauce:
In a small bowl, add peanut butter, whisk to breakdown. Add drizzle of sesame oil, whisk, this will make it looser, smoother. Add drizzle of marinade infused water, this will encourage it to congeal and thicken. Repeat, alternating between the oil (fat) & infused water (liquid) until sauce is smooth and harmonious in favour.

Whisk in coconut milk. Add hot sauce and soy sauce if needed for heat and seasoning balance.

Let stand at room temperature for 30 minutes to an hour.
Gypsy note: Keep in mind this sauce will intensify as it stands, at room temperature. The heat will be truer, the flavours will bind and it will take on a new character. Leftovers can store in the fridge for up to a week.
Chilled Vermicelli Salad:
In a medium sauce pan bring salted water to a boil, add rice vermicelli, cook (according to package instructions) until translucent (approximately five minutes). Drain. Rinse with cold water. Shake off excess water and chill.

In small bowl, combine seseme oil, lime juice, rice wine vinegar, marinade infused water and sugar. Whisk to blend. Taste. Add soy and hot sause as needed.

In a large bowl add cold rice vermicelli, sliced carrot, snow peas, red pepper, green onions & coriander. Toss with vinaigrette.
Gypsy Note: to be honest I reverse engineered this vinaigrette – tossing the noodles in sesame oil, adding the liquid/acid and sugar (etc) then tasting, until it was spot on. I call this "winging it". It's fun. So long as you have approximately 1/3 oil to 2/3 acid, you're good.
To plate: start with a portion of vermicelli salad, two to three satay sticks, a generous dash of peanut sause and finish with chopped peanuts. Serve immediately. Do not pass go, this is too good to waste, and even better the second day.
Go forth. Make good food.