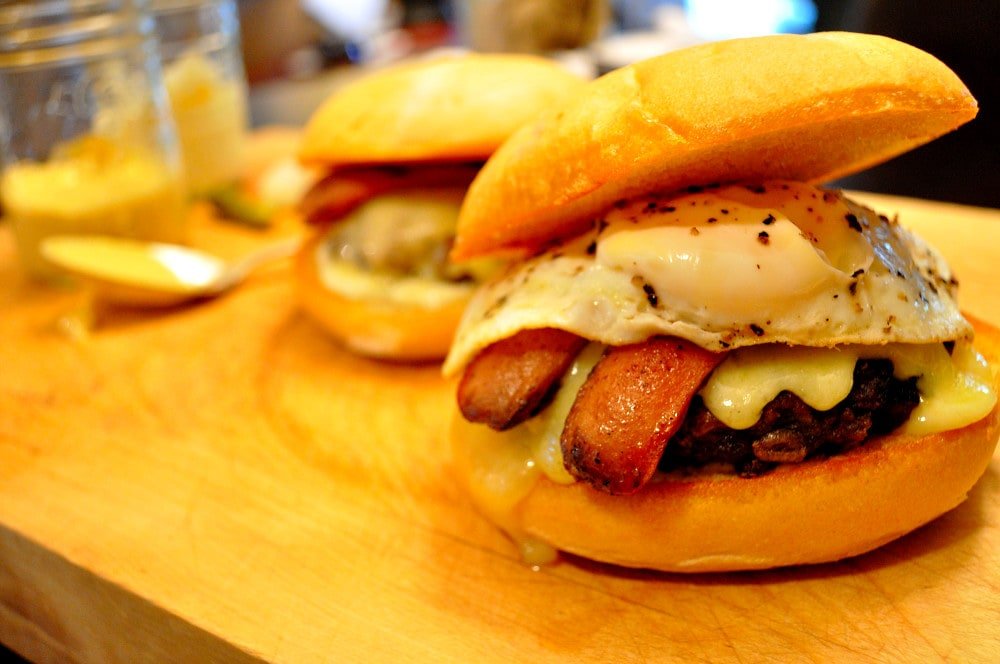 The Ollie Burger, Just for Dad
Dad is a meat n' potatoes kind of guy. On Father's Day years ago Mom created a burger with all of Dad's favorite proteins which quickly became legend, even appearing on the menu of his local watering hole. "The Ollie Burger" – an all-meat tribute to my father, Ollie Horton.
The Ollie Burger: Heavy on protein, light on anything green. The bun is toasted in butter like his beloved grilled cheese, the beef patty is done retro mom-style complete with onion soup mix and oatmeal. (May the chef Gods strike me dead for that one…) It's topped with aged cheddar, a grilled pork hot dog and an egg, sunny-side up, firm. Dad would famously order it 'no goo, hold the salad'. No condiments, no lettuce, onion or tomato please.

"Salad… is what food EATS." ~ Dad
Active and healthy, keeping weight on was always an issue for my Dad, that's why massive protein concoctions like this one became a regular part of childhood barbecues. (Usually accompanied by a rum & coke.) He's since added a few leafy greens and nutrient rich fruits to his diet (I almost fainted when I saw him eat broccoli for the first time), but he's still a meat a potatoes man at heart.
Happy Father's Day, to my Dad & yours. May there be a burger with his name on it.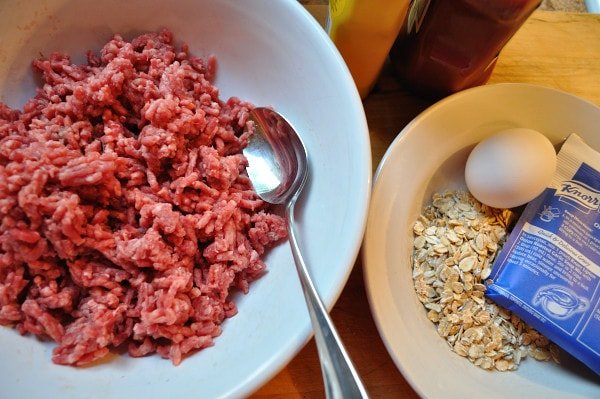 The Ollie Burger Recipe
Prep time: 20 minutes
Cooking time: 30 minutes
Yield: 4 – 1/4 pound burgers
1 pound lean ground beef
1 egg
1 package roasted onion & garlic soup mix
2 tablespoons ketchup
1 teaspoon yellow mustard
1/4 cup quick-cook oatmeal
generous grind of fresh pepper
2 teaspoons light oil (or non-stick spray) for cooking
4 hamburger buns
1/2 cup aged cheddar, shredded
4 hot dogs, split lengthwise
4 eggs
3 tablespoons butter (for cooking)
Method:
In a large bowl add together ground beef, egg, ketchup, onion soup mix, oatmeal & pepper. Mix well by, hand or with a spoon, until all ingredients are well blended. Form into four meat patties, place on a tray or plate and chill for a minimum of fifteen minutes in the refrigerator. (This helps the meat to cool and firm, making the patties easier to grill, or pan cook).
Brush patties with light cooking oil (or non-stick spray) and place on hot grill over medium-high heat to sear on both sides (about 3 minutes on each side), then reduce temperature to medium (approximately 300*) to finish cooking to desired doneness. Brush hot dog with light oil, grill until lightly golden.
Brush buns with melted butter and toast over grill (or in a saute pan, like a grilled cheese). Remove from heat reserve warm. Melt remaining butter in a pan until bubbling, cook egg, sunny-side up. Top burger with cheese, and melt.
Assemble burger: lower bun, beef burger with cheese, hot dog, then egg. Top with remaining butter-toasted bun and tell your arteries to 'suck it'. Serve with your favorite condiments and sides — even salad.

For Dad, across the country in Falkland, BC. If you're visiting the Falkland Pub, you can still find a bar stool with his name on it, but the burger is only available now at family get-togethers. Love you Pops.